'Marvel's Cloak & Dagger' Season 2 Premiere: Being the Heroes They Want to Be [PREVIEW]
With Freeform's Marvel's Cloak & Dagger returning for its second season this week, dynamic duo Tandy (Olivia Holt) and Tyrone (Aubrey Joseph) are continuing to not only understand and control their powers – but to see where those powers put them in a world that feels like it's changed for them over night. No longer choosing to play defense, Tandy and Tyrone set out to establish themselves as heroes in their own right – choosing to take control than be controlled.
But as the famous saying goes, "With great power comes great responsibility"… and this season's "responsibility" includes facing off against the vigilante Mayhem, human trafficking, gang violence – and finding time to have lives.
Here's a sneak preview for this week's two-hour, two episode season premiere of Freeform's Marvel's Cloak & Dagger:
Marvel's Cloak & Dagger s02e01 "Restless Energy": Now living very different lives, Tyrone and Tandy try to stay under the wire while still honing their powers. After coming to terms with their destiny, the two now find it difficult to just stand by and do nothing while bad things continue to happen throughout the city. Meanwhile, Brigid is struggling with her recovery.
Marvel's Cloak & Dagger s02e02 "White Lines": Desperate to help, but only finding they cause more problems than solving them, Tyrone and Tandy continue to struggle with their situation. What is the point of having superpowers if you only seem to make things worse?
As if you need more convincing – and to be honest, we're really just doing this to toy with your emotions since we know you're ready to tune in – here's a look at a righteous amount of official preview images for the second season:

https://www.youtube.com/watch?v=6kay8vAp-S8
Critically acclaimed series "Marvel's Cloak & Dagger" is the story of Tandy Bowen (Olivia Holt) and Tyrone Johnson (Aubrey Joseph)—two teenagers from very different backgrounds who find themselves burdened and awakened to newly acquired superpowers, which are mysteriously linked to one another. The only constants in their lives are danger and each other. Tandy can emit light daggers and Tyrone has the ability to control the power of darkness. They quickly learn they are better together than apart.

Season two turns the heat up on our young heroes as Tyrone and Tandy try to find their place as more active heroes in this world. As they learn and grow emotionally, so will their skills. In season one, we saw Tandy and Ty dip their toes into the world of hopes and fears; this season, they will dive deeper into this metaphysical pool. With enhanced powers and a decision to make about the type of heroes they want to be, they make the choice to run into the danger, head first. They tackle a heartless vigilante and uncover an evil that's been preying on the young women of the city, as the show takes on more serious topics like gang violence and human trafficking.
Here's a look at the official synopsis for what lies ahead this season on Freeform's Marvel's Cloak & Dagger:
Marvel's Cloak & Dagger s02e03 "Shadow Selves": After learning about a group of young girls who have gone missing, Tandy and Tyrone look to see if they can find out what has happened to them. As they get further into their investigation, they realize someone else is trying to rescue the girls too, but in her own vigilante justice type of way. Meanwhile, Mina may have discovered a side effect to the big Roxxon leak.
Marvel's Cloak & Dagger s02e04 "Rabbit Hold": Still on her quest to find out more about the sex trafficking ring, Tandy takes a dangerous trip to find Mayhem, who may have the answers she is looking for. Meanwhile, Tyrone's past actions catch up to him and put Adina in harm's way.
Marvel's Cloak & Dagger s02e05 "Alignment Chart": Tyrone is faced with a hard decision when presented with an opportunity to clear his name from an unlikely source. Meanwhile, Tandy is letting her anger get the best of her as she becomes frustrated with a possible dead end to her investigation into the sex trafficking ring.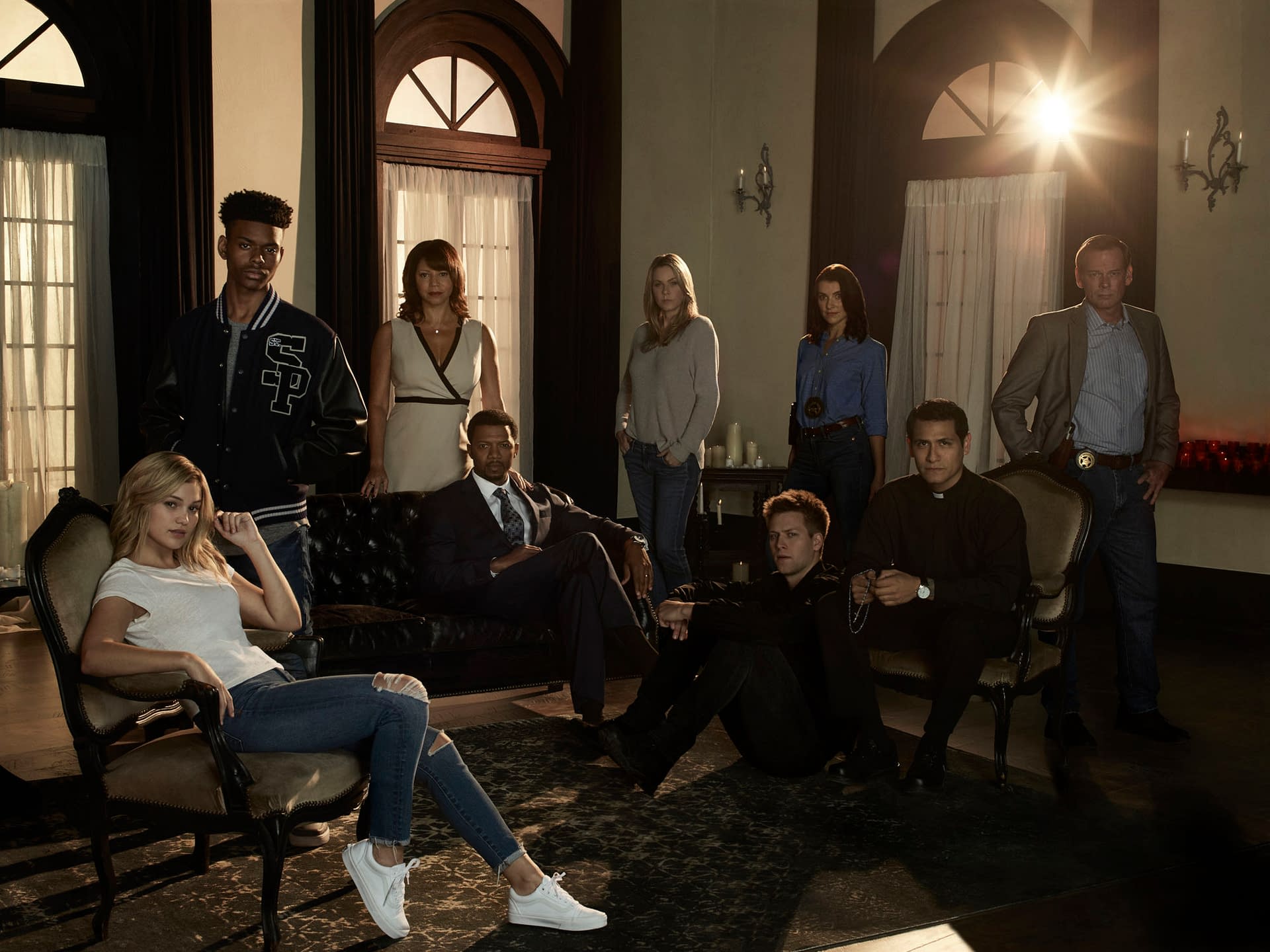 Co-produced by Marvel Television and ABC Signature Studios, Freeform's Marvel's Cloak & Dagger stars Olivia Holt, Aubrey Joseph, Emma Lahana, Gloria Reuben, Andrea Roth, and J.D. Evermore. The series is executive produced by showrunner Joe Pokaski (Underground, Marvel's Daredevil) and Marvel's Head of Television Jeph Loeb (Marvel's The Punisher, Marvel's Jessica Jones).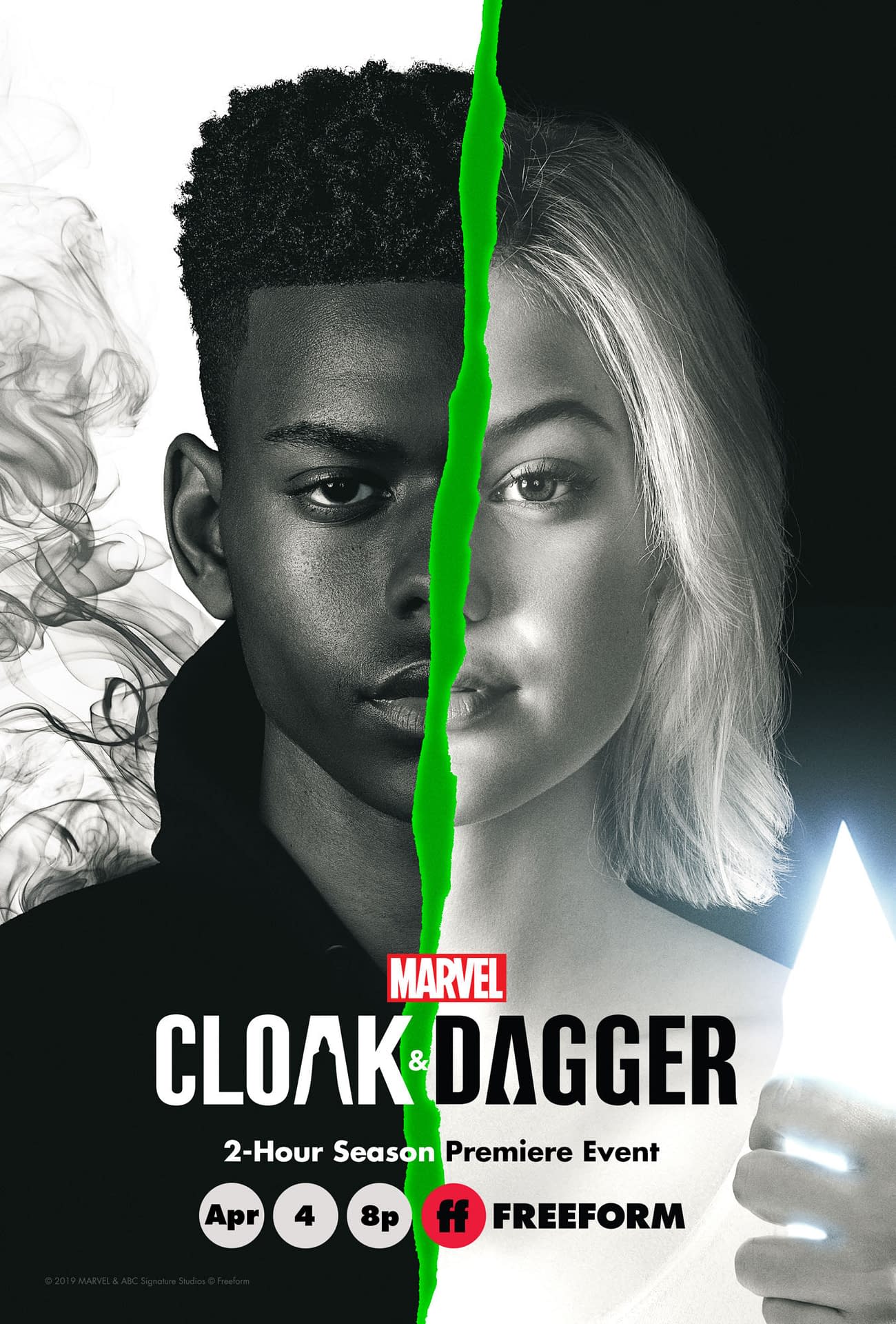 Here's a look at some new additions to this season's cast:
Brooklyn McLinn's (Black-ish) Andre Deschaine is a charismatic leader and man who wants to change lives. In a previous career, Andre was a musician until life had other plans for him. Still driven to change the world in some way, he refocused all the energy he previously put into his music into serving the community.
Dilshad Vadsaria's (The Oath) Lia Dewan is the daughter of immigrants, who tried to entertain her parents' wishes to get into medicine, but seemingly gave it all up for a man. Her background gave her enough knowledge to become a community support group leader specializing in victims of abuse. She uses her own tumultuous personal history to connect with Tandy and the women in her support group. If she can't save herself, she will focus on other women.
Cecilia Leal's (Mr. Mercedes) Mikayla Bell is a friendly, but troubled, woman from Tandy and Melissa Bowen's support group. Mikayla's shy demeanor hides an insecure woman desperate for acceptance, and defensive against advice. But she's inherently likable, and we're rooting for her. Always. She's allowed herself to be forced to attend a support group for battered women, even if she refuses to believe she has anything in common with the other victims.