Motherland: Fort Salem Season 1 Finale Witchbomb Reignited Our Faith
The season finale of Motherland: Fort Salem was a perfect lead into the second season for the recently-renewed Freeform series. Many questions were answered, with some of those answers leading into some rather interesting new questions (and concerns). "Witchbomb" ended up being a silly string can of surprises: some more predictable than others, but still pulling out a few twists-n-turns. By far, the best episode of the season and a sign that it is starting to get a better sense of itself. It really made me wish we had gotten more like it. We get people who seemed bad probably not be so bad after all, while others have some seriously nefarious plans of their own. I have seen nothing to convince me that the Spree are anything but a crazy cult, and the biggest blessing is that the General will be a series regular next season.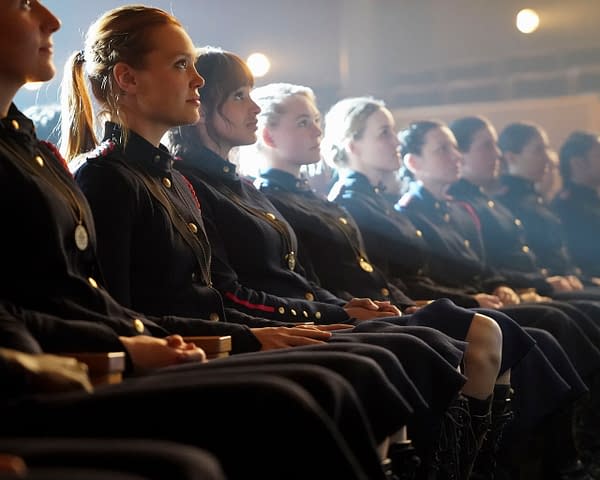 The one thing I still had issues with at this point was pacing: it feels like we're missing large chunks of time that should have been developed more. In particular, more scenes showing the budding relationship among the unit before we end up on graduation day. Turns out our witches in-training failed their goal to get into War College. It almost seemed as if they were targeted. Hmmm… by someone in power who might actually want them to fail? However, Abigail's (Ashley Nicole Williams) mom made sure to secure a spot for her even without her unit. Showing how much she has changed since the season started, Abigail ended up joining Raelle (Taylor Hickson) and Tally (Jessica Sutton) as they were about to be deployed adding she would never let them have all the "fun" (we all know she also would not let Adil (Tony Giroux) go out there without her, either). Their mission: rescue Adil's people, who are suffering an attack from an old enemy and have taken ill like Adil's sister was.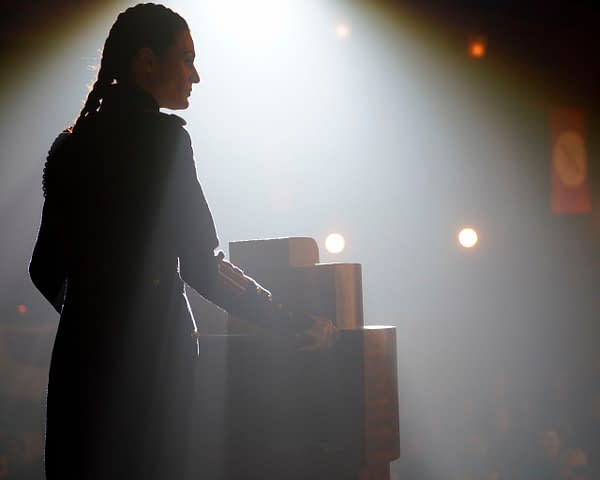 General Alder (Lynne Renee) joined them on the mission and sat for a quick conversation with the unit, saying that they should all be able to trust each other while heading into a dangerous mission. Tally accuses her of killing innocent people and puppeteering the president to stay in power. General Alder states she does not have to defend herself to a unit of witches who barely made it through training. However, she does state that in over 300 years making those decisions has never gotten any easier. The General is quickly becoming my favorite character, and I am so glad we got a chance to spend a little time in her mind. It made her more human and a great way to rule out she was behind everything. I will not lie, my suspicions were really high, and now I am doubting Petra Bellweather (Catherine Lough Haggquist) instead. But then again, maybe this is how Alder wants me to feel? Hmmm.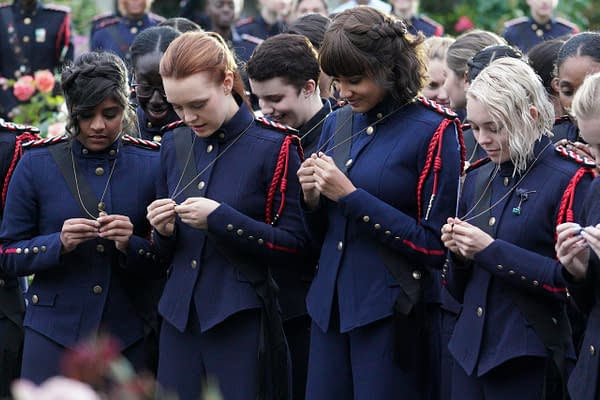 The mission itself went well initially, finding Adil's people and Raelle healing the children. Tally's senses have sharpened insanely since training and the unit sure shows how much they have grown in combat. It was "summer action movie" fun to see them in action and working as a unit. Once again, I have to say I wish we would have gotten more of this and I am definitely looking forward to more action next season. I would love to see General Alder's full powers unleashed as well as a flashback episode highlighting her backstory as well as more of the show's alt-history. As soon as I saw Raelle touch her charm earlier in the episode, I knew what her fate would be. That said, I did not see Tally becoming a biddy happening, so that blew me away. Abigail jumping in to save Raelle and having both of them left behind was also a quality cliffhanger to lead into the season break with.
I think the biggest surprise this episode was seeing Anacostia (Demetria McKinney) show the level of emotion she did. She says goodbye to the unit, keeping her emotions in check but almost "ordering" them to come back sage, but then she turned around and let Scylla escape. This was pretty close to ruining the episode for me until I realized she tracked Scylla (Amalia Holm) all the way back to her home. When Scylla goes in, we see snippets of the Spree life, where the biggest (and predictable) bomb was dropped on us: Raelle's mom turns around and tells her she was supposed to bring her daughter back. Before cutting out, we see a very scared Scylla and a vibe that has me wanting that second season. It was a surprisingly fun episode to watch (if a bit predictable at times), doing an excellent job setting up the second season of Motherland: Fort Salem to be able to go in some interesting directions.