"Mr. Mercedes" Cast, EP/Director Jack Bender Take Viewers Inside Season 3 [EXCLUSIVE]
With critically-acclaimed thriller-drama Mr. Mercedes set to return for its 10-episode third season starting September 10th, AT&T's AUDIENCE Network and Bleeding Cool and offering viewers a new and exclusive look behind the scenes at the series return.
In the following video, cast members Brendan Gleeson (Bill Hodges), Breeda Wool (Lou Linklatter), Justine Lupe (Holly Gibney), and Gabriel Ebert (Morris Bellamy), and executive producer-director Jack Bender take some time on set to offer insight into how the third season evolves a number of the themes developed over the previous seasons.
Our favorite part: Gleeson leading a discussion on an actor "becomes" their character enough to know how they would act and react to situations – insight that proves invaluable to the creative process:
Here's a reminder of the two previous behind-the-scenes looks at the season's production:
In the official trailer for the series' return, Hodges and those around him find themselves caught up in two deadly-different games of "Finders Keepers" – games none of them might win.
(For a quick recap of season 2 and a look ahead to the third season, make sure to check out AT&T AUDIENCE Network's Mr. Mercedes overview here.)
While Brady appears to be long gone, Detective Hodges surely isn't. Season 3 of Mr. Mercedes will pull from various Stephen King works, including the third Bill Hodges novel, End of Watch. Among the newcomers to the show is Natalie Paul as Assistant District Attorney Sarah Pace. Pace will be trying to convict Lou for the murder of Brady. Elsewhere, we get to meet Jonathan Rothstein (Bruce Dern) a celebrated author, Morris Bellamy (Gabriel Ebert) his violent fan, and the rest of the Rothstein family. At the center of this new mystery is an aging Detective Hodges.
In the following previews, Lou is either losing her mind – or Brady's reign of terror has found a way to extend beyond the grave, while it appears someone who knows (admires?) the "Mr. Mercedes Killer" case is destined for a dust-up with Hodges. Then… is it possible? After everything that's happened – after the pain and loss suffered – is Brady back for one final haunt? Let's just say the mini ice cream trucks are not a good sign. Finally, the last teaser will chill viewers still haunted by the previous two seasons with Hodges' final words:
In early June, viewers learned from the author whose works have been adapted what he thinks about the upcoming season. Spoiler? He's a big fan. Stephen King took to Twitter to assure fans that not only is season 3 on par with the previous two – it might just be the best one yet:
Here's a look at the cast of characters in play for the third season of AUDIENCE Network's Mr. Mercedes: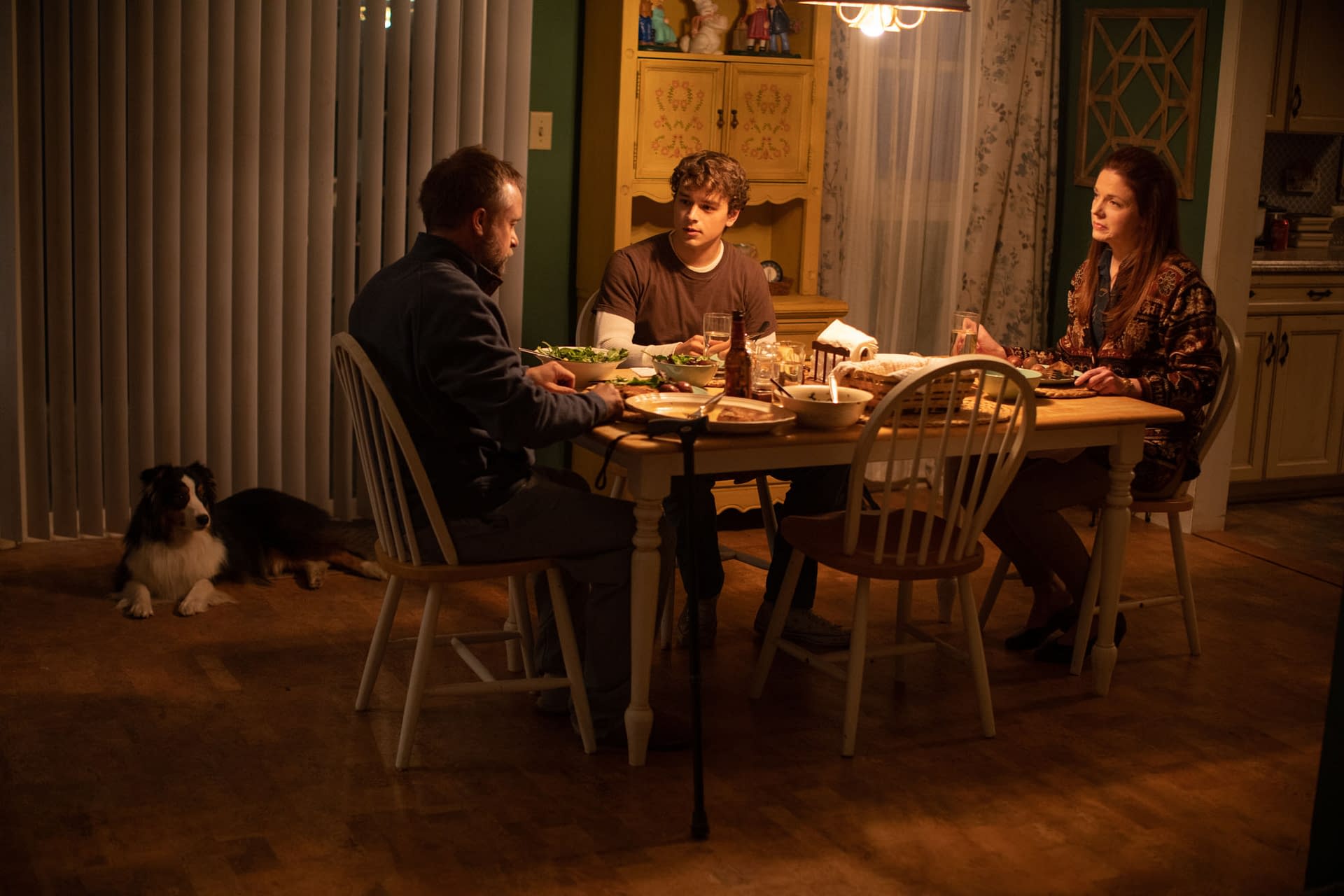 ● Gabriel Ebert's (Ricki and the Flash) Morris Bellamy is intelligent, well-educated if not middle class, a volatile and charismatic wolf in sheep's clothing. When he was younger he had ambitions of becoming a famous writer but ended up with a much less exciting life in Ohio.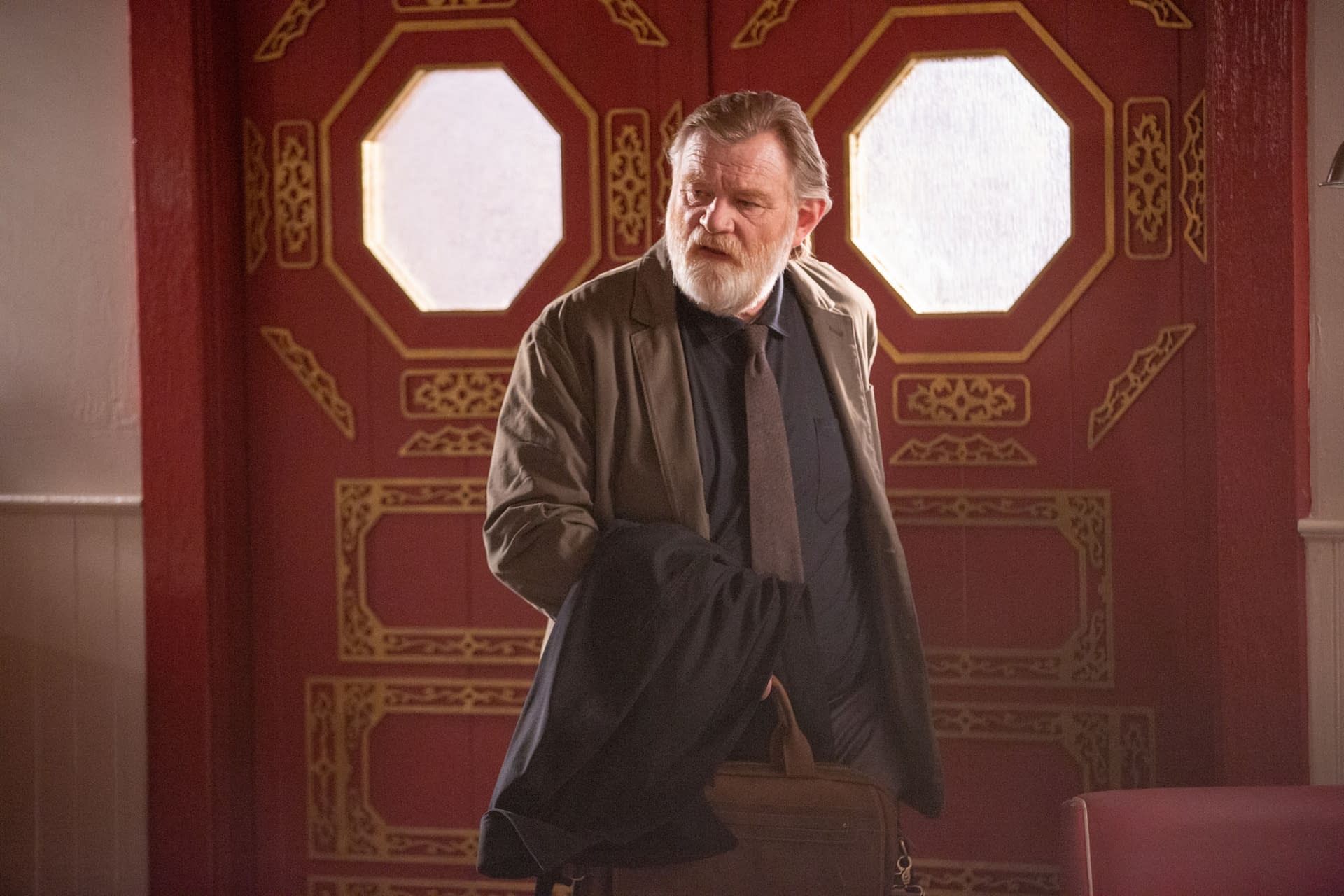 ● Rarmian Newton's (Rise) Peter Saubers is 16, smart and personable, he's a junior in high school and on the college track. From a seemingly happy home, but that picturesque Midwestern life was derailed when his father was disabled during the Mr. Mercedes massacre.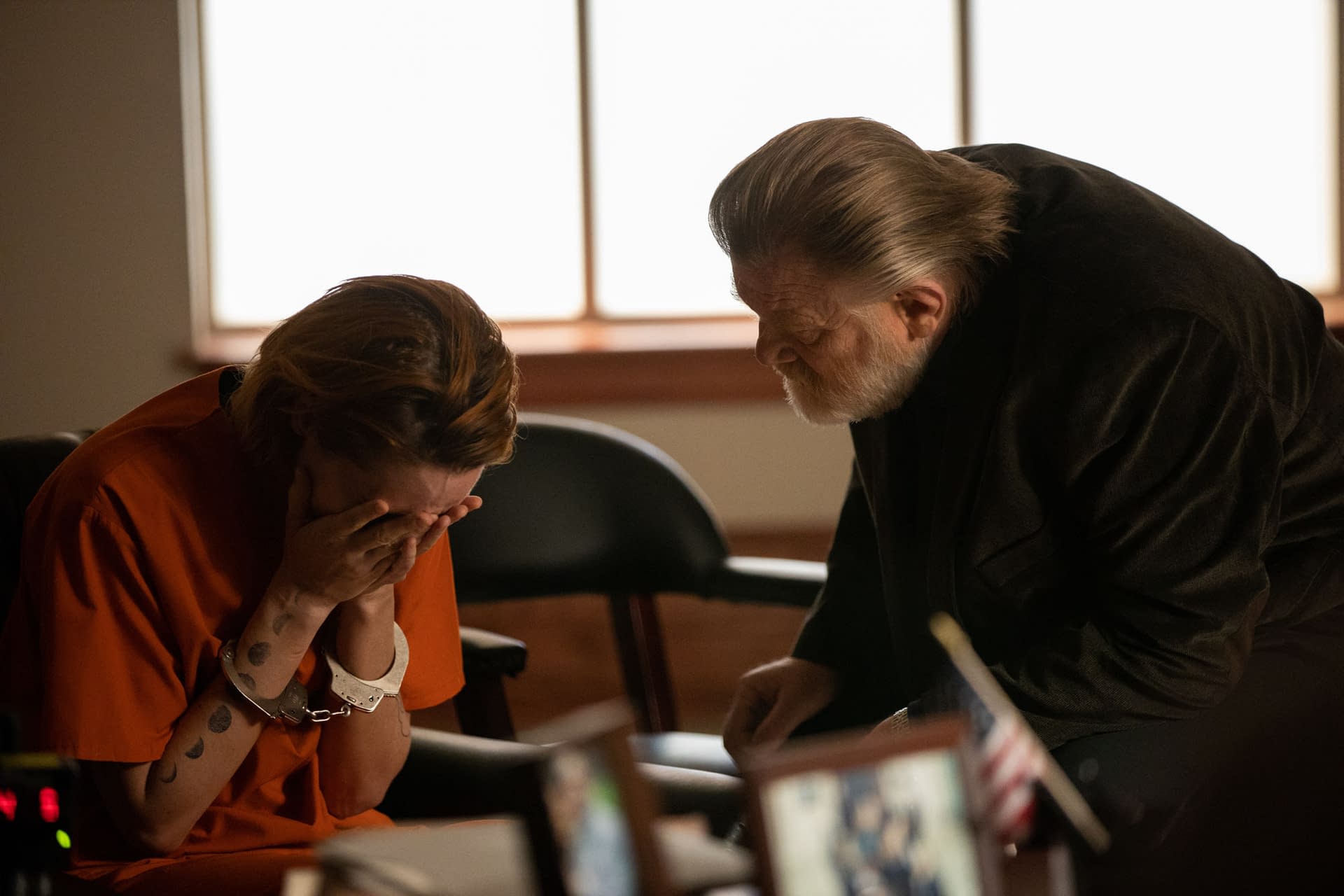 ● Glynn Turman's (How To Get Away With Murder) Judge Bernard Raines is the no-nonsense judge presiding over Lou Linklatter's murder trial, he suffers no fools and takes no prisoners. He is none too pleased with the lawyers working on this case who seem hell bent for trial.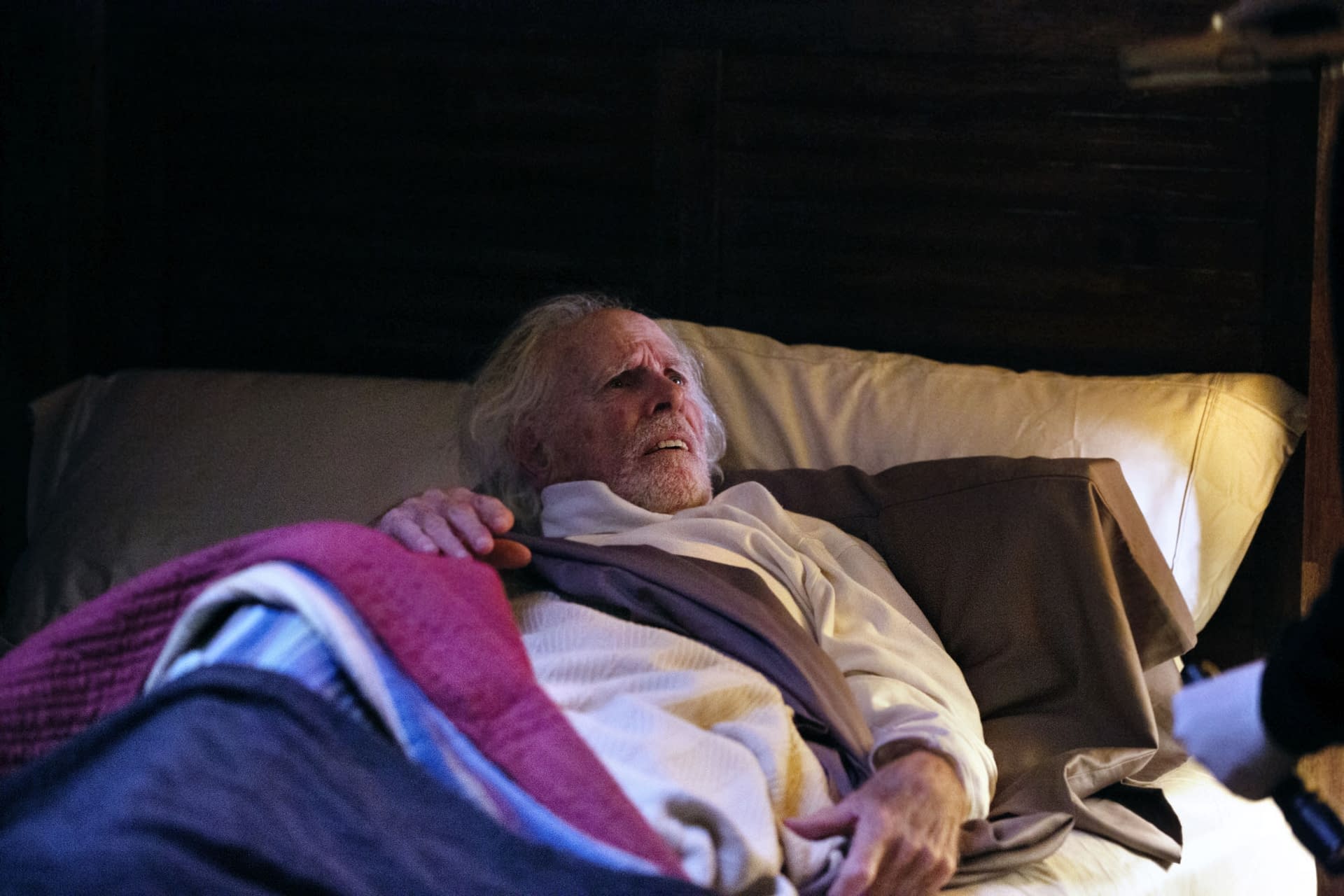 ● Bruce Dern's (Once Upon a Time in Hollywood) John Rothstein is a famous and reclusive writer living on the fringes of Bridgton, Ohio.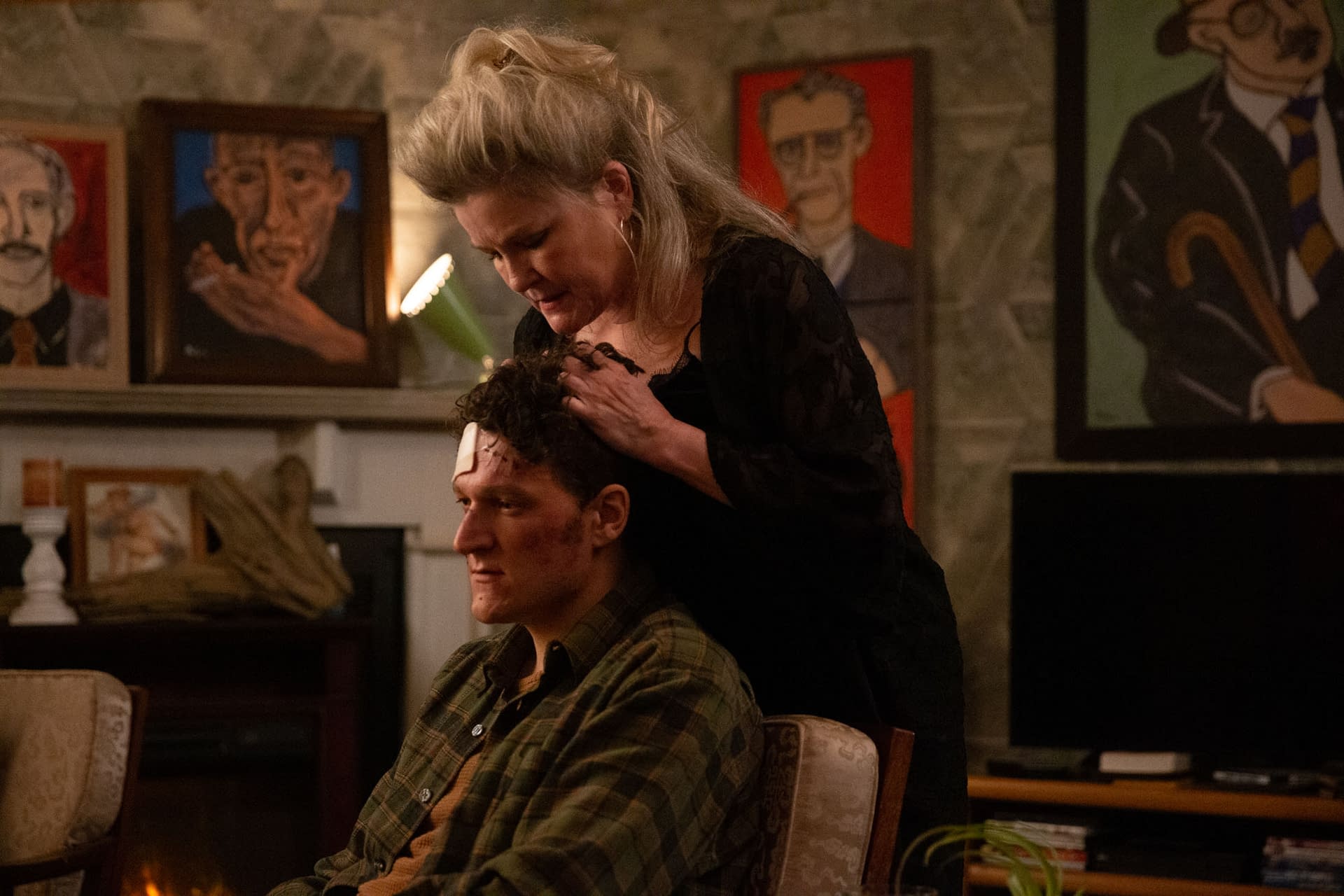 ● Kate Mulgrew's (Star Trek: Voyager) Alma Lane is another life-long resident of Bridgton, Ohio, and a compelling force in Morris' (Ebert) life since he was a boy: a bit vicious and a lot smart.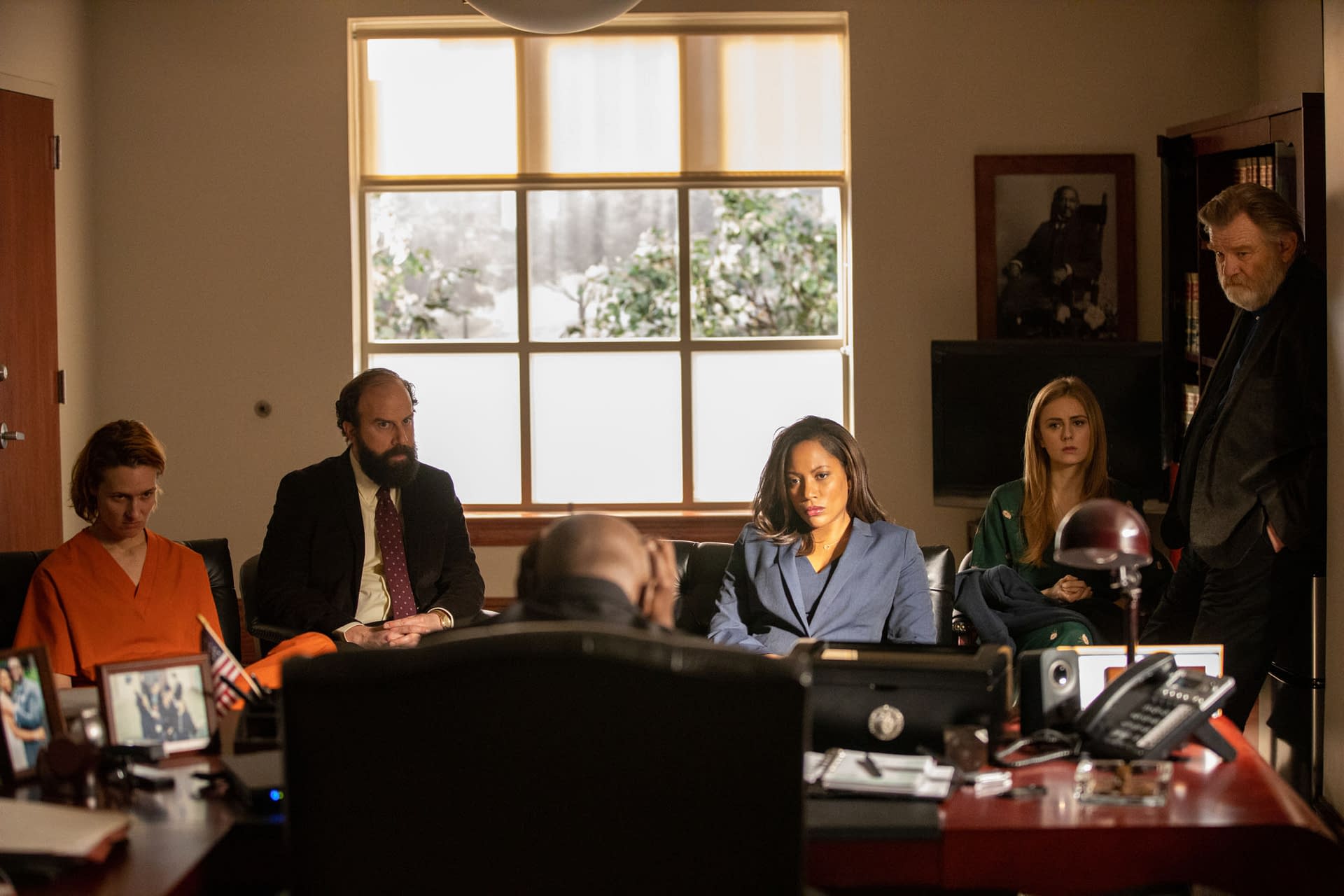 ● Brett Gelman's (Stranger Things) Roland Finklestein is a smart, passionate defense attorney who is representing Lou Linklatter (Wool) in her murder trial. He believes he can win the case if they go to trial and keep Lou out of prison.
● Natalie Paul's (You) ADA Sarah Pace is the prosecutor on Lou's case. At first glance one might think her soft, but she is a hardcore prosecutor with a strong moral compass. She doesn't support or believe in Lou's vigilantism and refuses to back down from pursuing justice.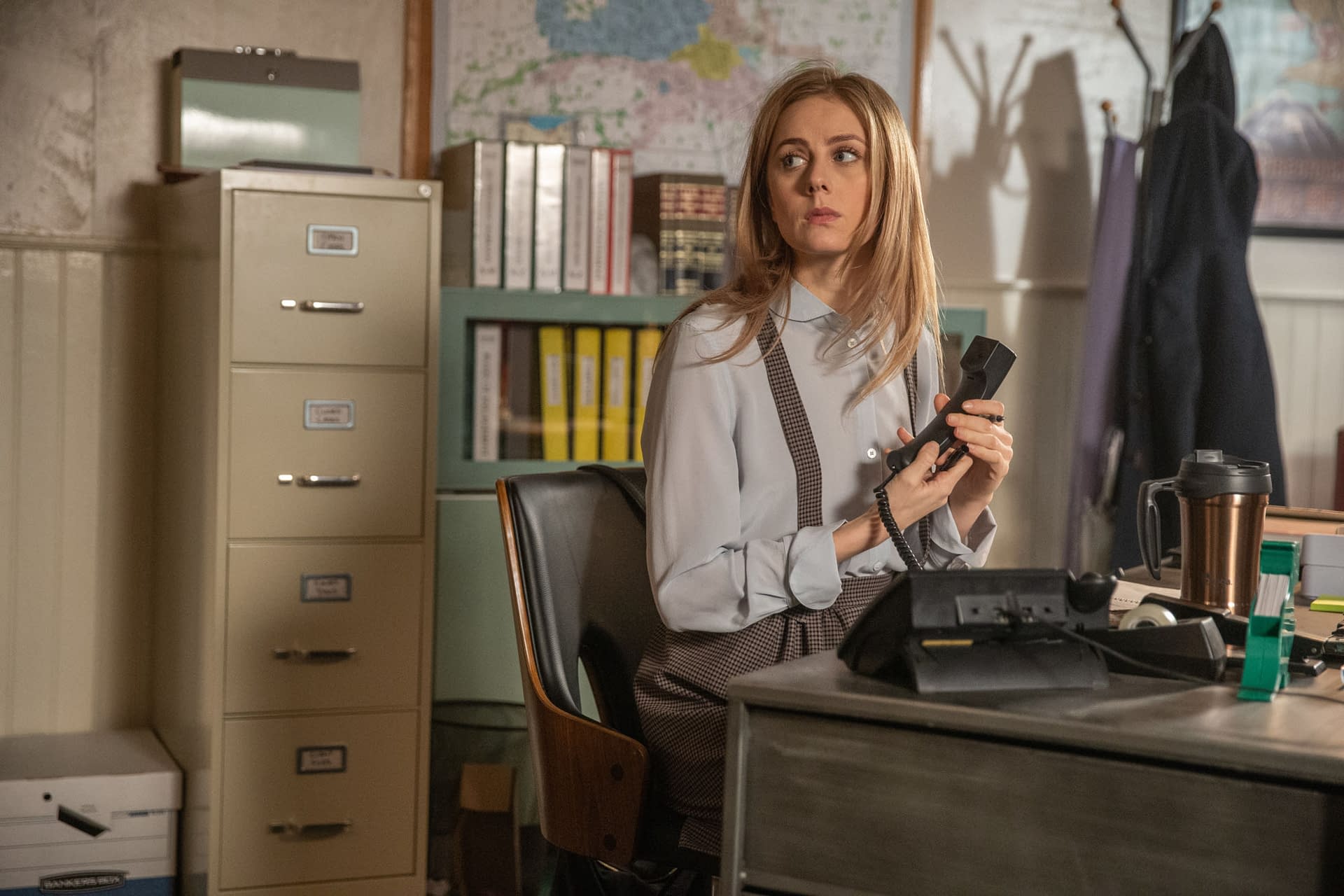 ● Meg Steedle's (I'm Dying Up Here) Danielle Sweeney is Morris' affectionate yet slightly naive girlfriend who finds herself out of her depth when she questions his strange relationship with Alma.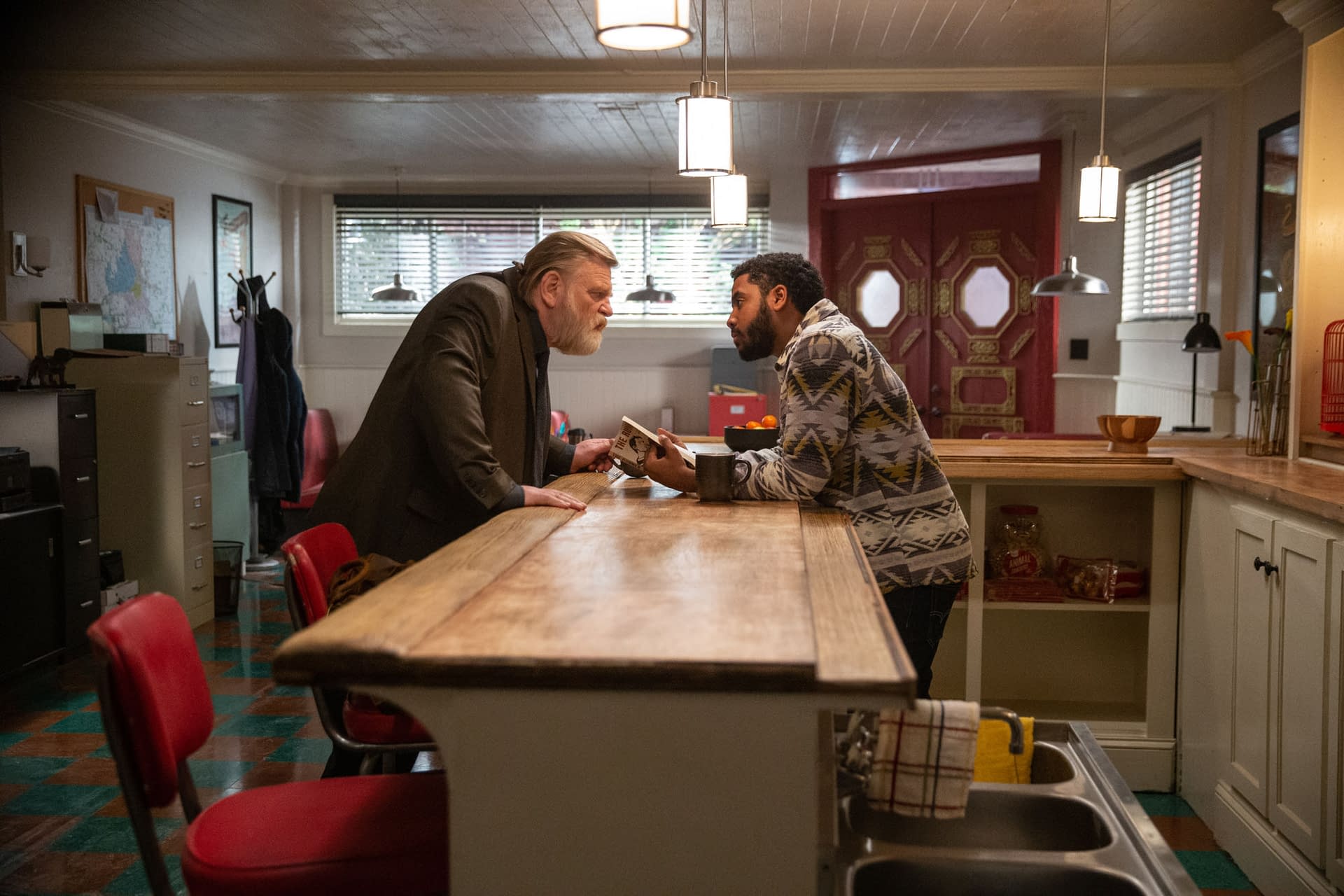 [All images: AUDIENCE Network]
Based on King's Bill Hodges trilogy (Mr. Mercedes, Finders Keepers, and End of Watch), the series focuses on a demented serial killer who taunts a retired police detective through a series of disturbing letters and emails. Knowing he's the only one who can stop the killer, the ex-cop undertakes a personal and deadly mission to stop his murderous reign before he claims another victim.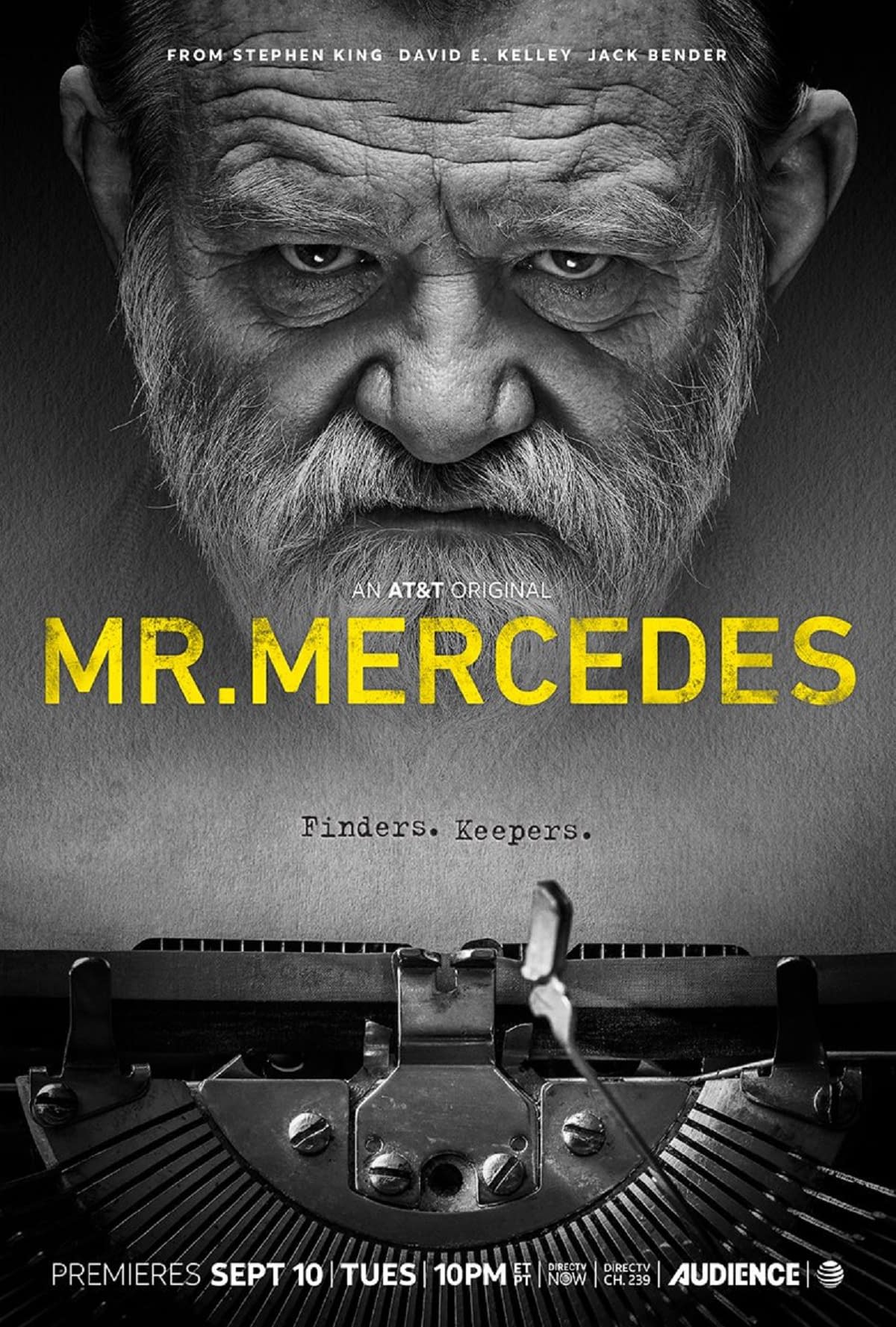 Though actually the second volume in the trilogy, 2015's Finders Keepers serves as the basis for the third season: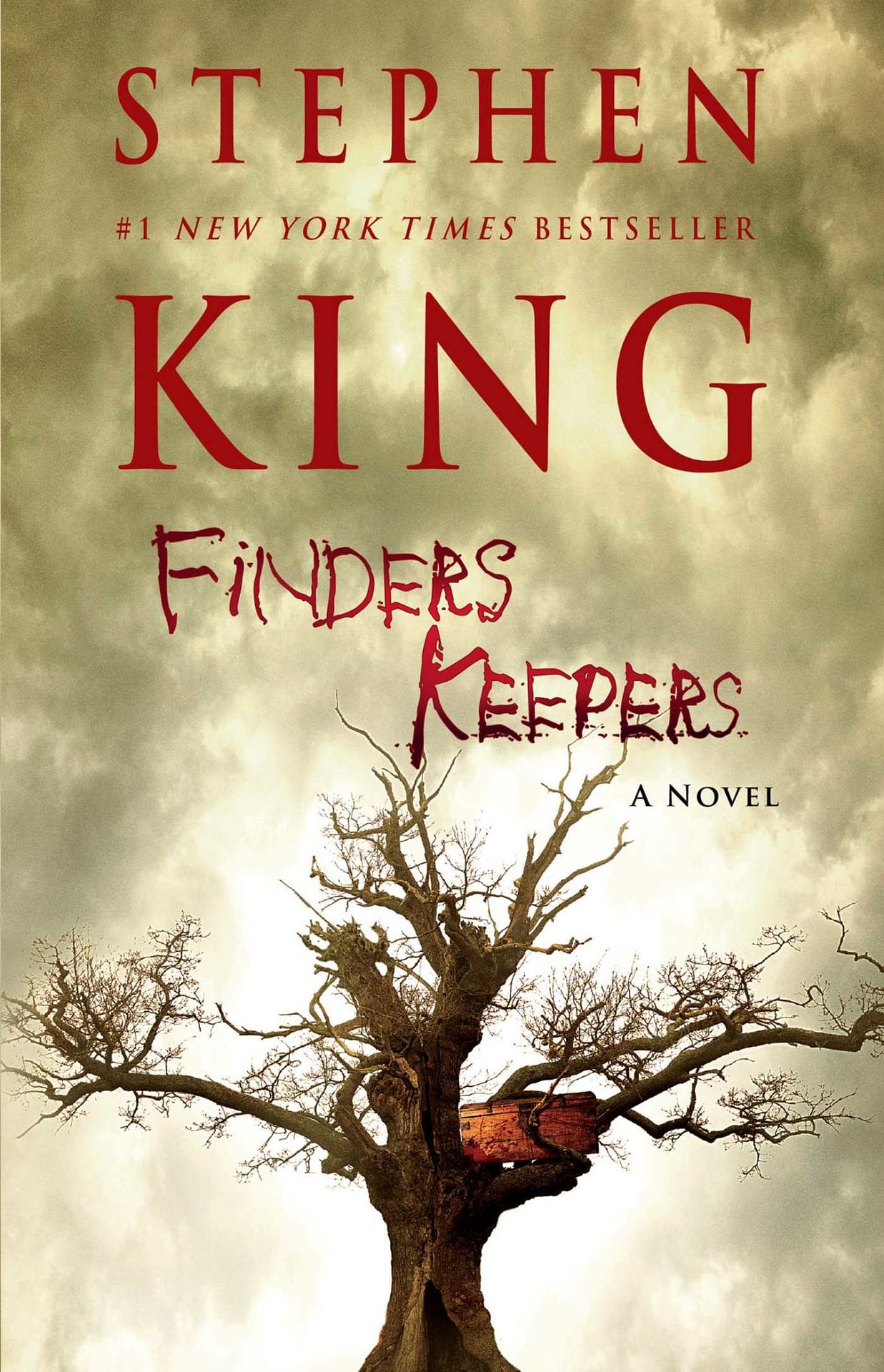 Wake up, genius.

The genius is John Rothstein, an iconic author who created a famous character, Jimmy Gold, but who hasn't published a book for decades. Morris Bellamy is livid, not just because Rothstein has stopped providing books, but because the nonconformist Jimmy Gold has sold out for a career in advertising. Morris kills Rothstein and empties his safe of cash, yes, but the real treasure is a trove of notebooks containing at least one more Gold novel.

Morris hides the money and the notebooks, and then he is locked away for another crime. Decades later, a boy named Pete Saubers finds the treasure, and now it is Pete and his family that Bill Hodges, Holly Gibney, and Jerome Robinson must rescue from the ever-more deranged and vengeful Morris when he's released from prison after thirty-five years.
Bender, King, and David E. Kelley executive produce, alongside Temple Hill Entertainment's Marty Bowen and Wyck Godfrey, Sonar Entertainment's Tom Lesinski, and AUDIENCE Network's Shane Elrod and Kate Regan.