'Nailed It!' Season 3: Netflix's Kitchen Crime Scene Series Returns for Another Baked Goods Beatdown [SPOILER REVIEW]
Comedian Nicole Byer and co-host/chef Jacques Torres are back with a third season of Netflix's Nailed It!, and let's face it: if you watched the previous two+ seasons, there is absolutely no expectation for the masterpiece baking creations to look great. Instead, this season delivered cakes that resembled reproductive organs, missing limbs, osteoporosis, and headless clowns (a phobia of mine) – and tastes that can only be described as eating dry wall. With The Statue of David wearing a thong, not sure more needs to be said about the hilarious anecdotes nor the contestant's creative spins on their interpretation of "glamorous" cakes.
As a quick reminder, Nailed It! consists of two rounds:
● Round #1 – Baker's Choice: Contestants are given 30 – 60 minutes to recreate an episode-themed small cake-like or cookie item. The person who produces a quasi-edible creation borderline resembling the original wins a mixer, sometimes some baking pans, but most important? The hideous, sparkling gold chef hat!
● Round #2 – Nail It or Fail It: Competitors are mortified at having to recreate a detailed, sophisticated cake in two hours. Each competitor is given a "Panic Button" which allows them to seek guidance from one of the judges for a total of "three whole minutes."
● The contestant who ensures that all three judges are still standing after both seeing their work of art and tasting it wins $10,000.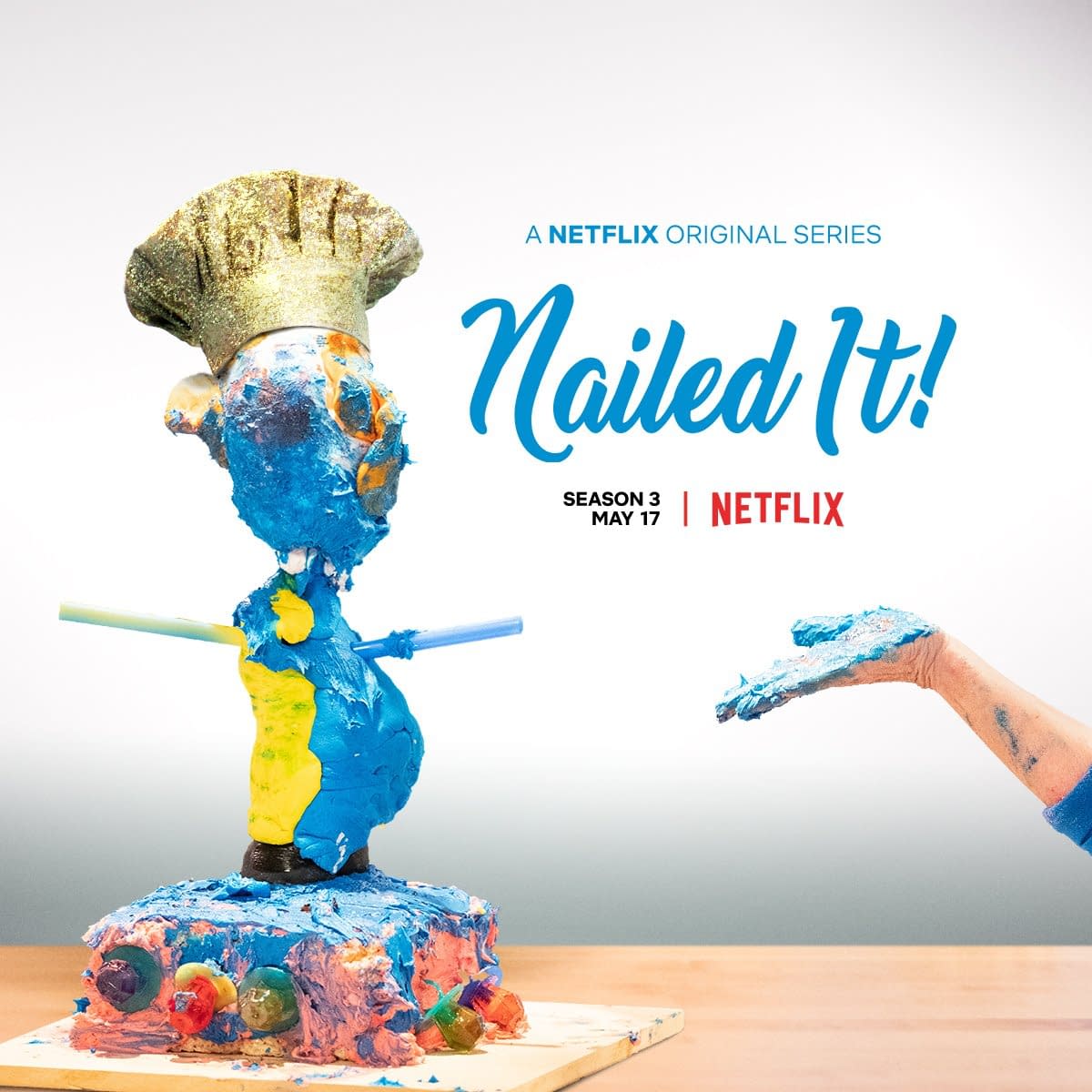 Here are some of funniest moments from the third season:
Episode 1: "The Marvel Episode"
In Round 1, contestants were expected to recreate Marvel cupcakes and cookie toppers. "With great power comes great responsibility" – or for one contestant being able to tell the difference between sugar and flour. Another contestant spent the entire first round tasting everything in the pantry – apparently, he skipped breakfast. Just in case you're wondering? No, he did not win. From underdone cupcakes to ingredients being mixed by hand, the results were a uterus, a plate of garbage with an apple for a head and Iron Man and Captain America. Yep, in comparison, one contestant did a pretty descent job although left paper on his cookies. Round 2 was a "3D Black Panther Cake". To start us off, one contestant couldn't figure out how to put a latex glove on. Yes, you guessed it: same one who spent most the episode binge-eating. The Black Panther cakes were black, so the contestants got that much right… minus things like facial features, having all 5 fingers, etc..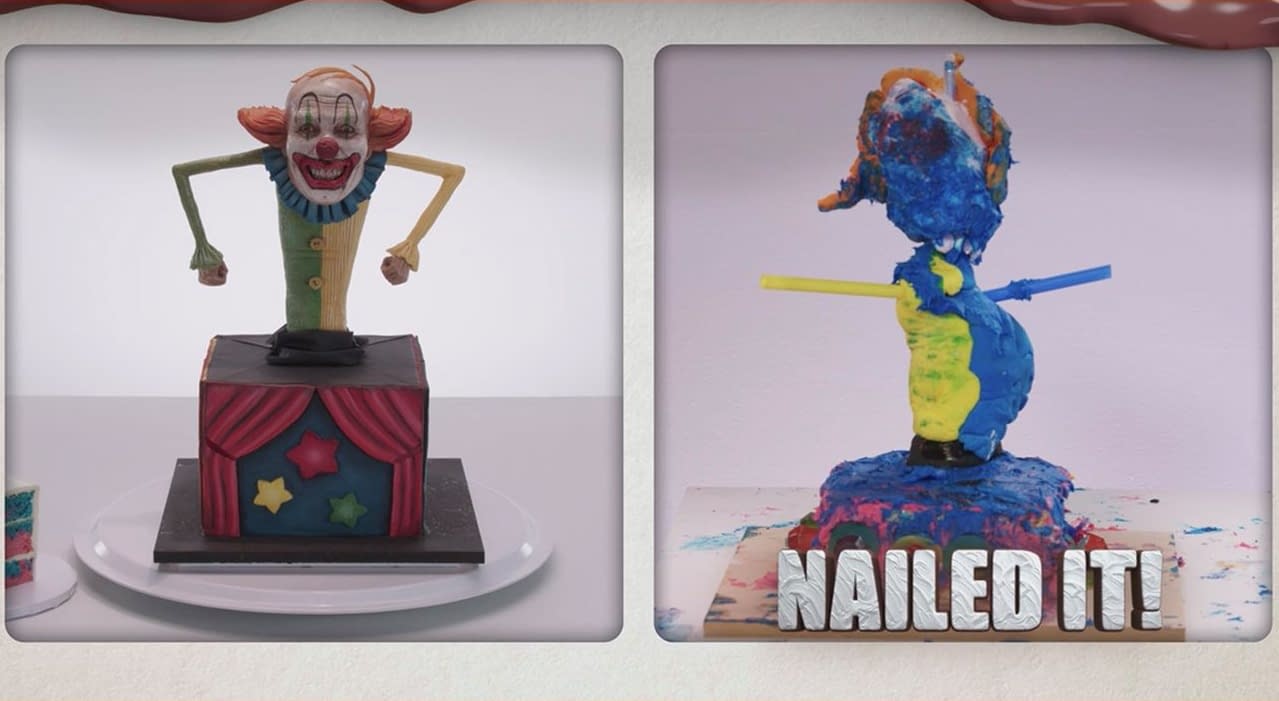 Episode 2: "Cake-O-Phobia"
Bring on my worst nightmare! As much as I love Halloween and all things horror, being petrified of clowns made this episode a little difficult to stomach – but proudly I stuck with it, having to shut an eye here and there. In Round 1 the amateur bakers were asked to make hideous bug cookies to test their phobias. I'm pretty sure one contestant was more interested in killing her spider cookie than making it, then she also struggled with turning on the mixer. In the end the spider resembled a teddy bear with 6 legs and 4 eyes; the cockroach looked like dog poop decorated in gold pearls, and the wasp… resembled a wasp??? What a disappointment. Round 2 saw the dreaded "Clown in a box cake" – I give the contestants serious points for creativity. A grapefruit for a head? One contestant never actually served cake; while another's clown looked like the robot from Batteries Not Included – but headless.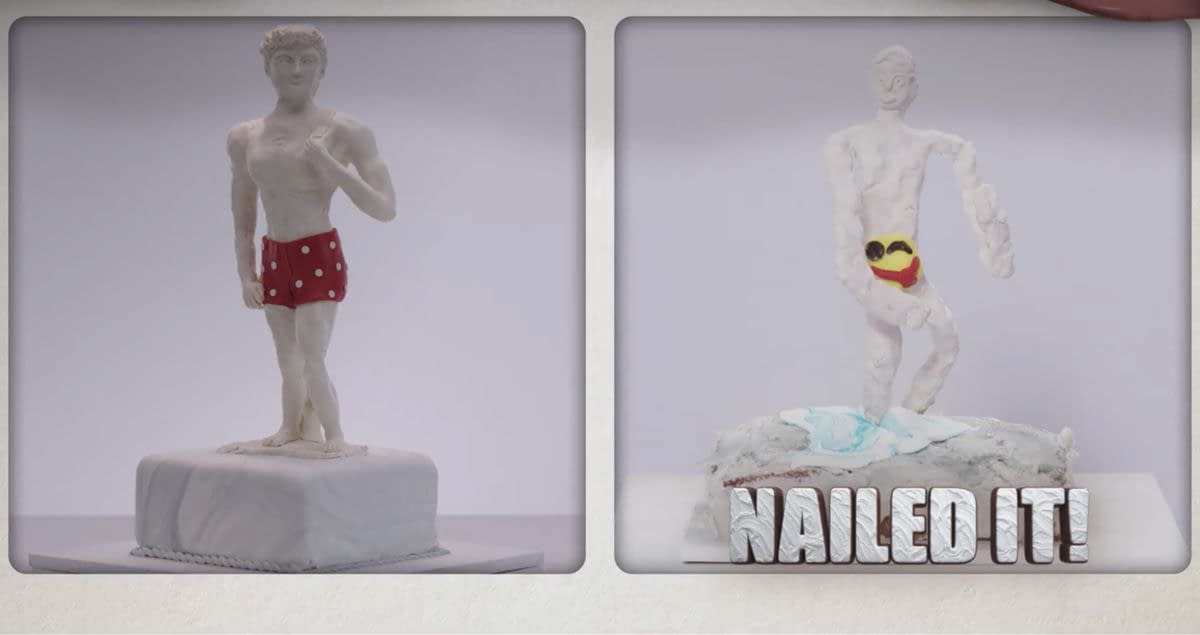 Episode 3: "Masterpiece or Disasterpiece"
This one was all about gingerbread contestant selfies. "I think I look lit!": enough said. Round 1 results looked like Jack the Ripper's victims and tasted like the bottom of a shoe. Round 2 contestants had to reimagine The Statue of David – this is a family show, so naturally he had to have red boxers on. I have to say, I completely agree with the one contestant who decided David should absolutely wear a black thong – although he did appear to look a little malnourished. Another one had an emoji covering his privates and the third – my ultimate favorite – resembled a voodoo doll with one leg.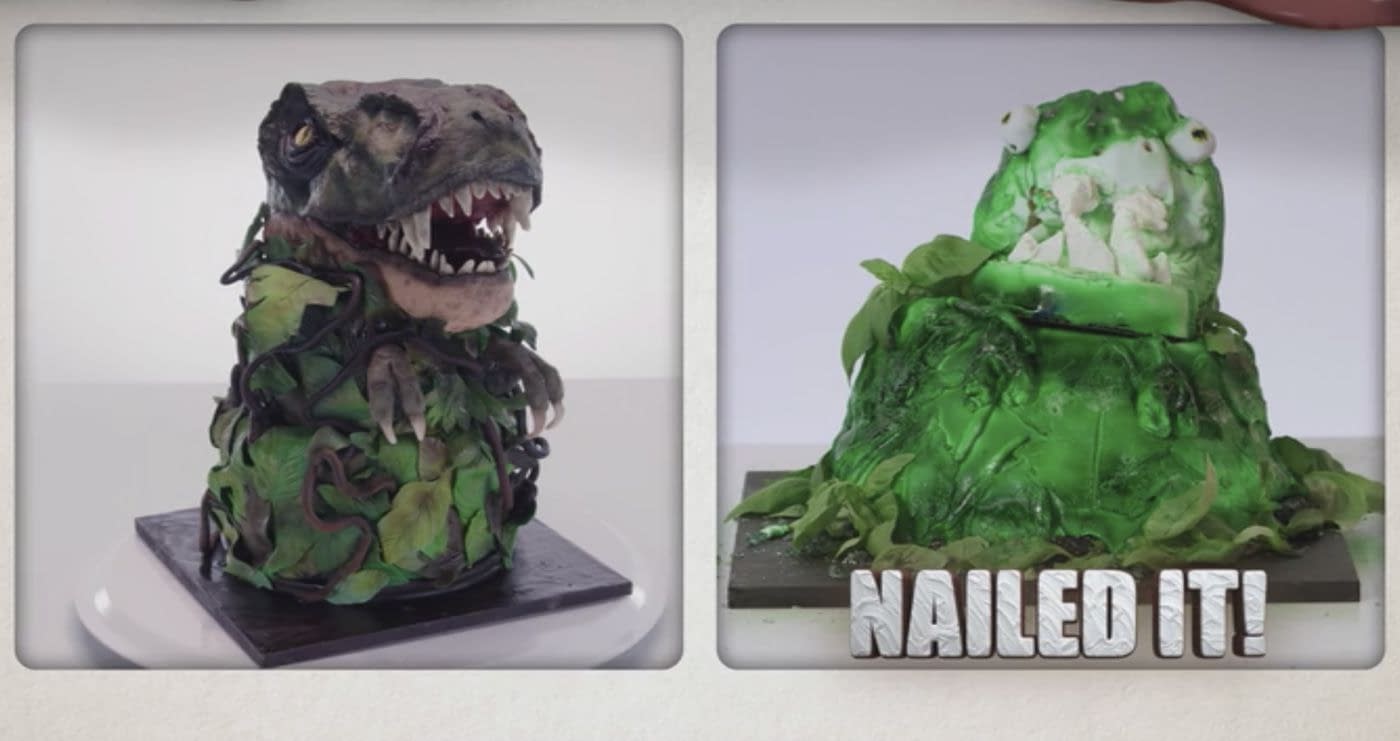 Episode 4: "Prehistoric Bakes"
"Baker's Choice" had the contestants recreating inside-out Neanderthal cupcakes. Inspired by our extinct ancestors, one competitor asked to be given 3-5 bussiness days to make it happen. The baby Neanderthal looked more like a swaddled bee, the Neanderthal papa was a drunk snowman holding on to a lavender bat and Neanderthal mama lost her head. I definitely say "Nailed It". Second round we got a T-Rex cake – which totally redeemed the show after the "clown" incident. Comedically, one contestant did a dinosaur impression, the walk, and a pitiful "Roar" to get things started. Poor T-Rex ended up as a dead fish, a crocodile, and a snake cartoon.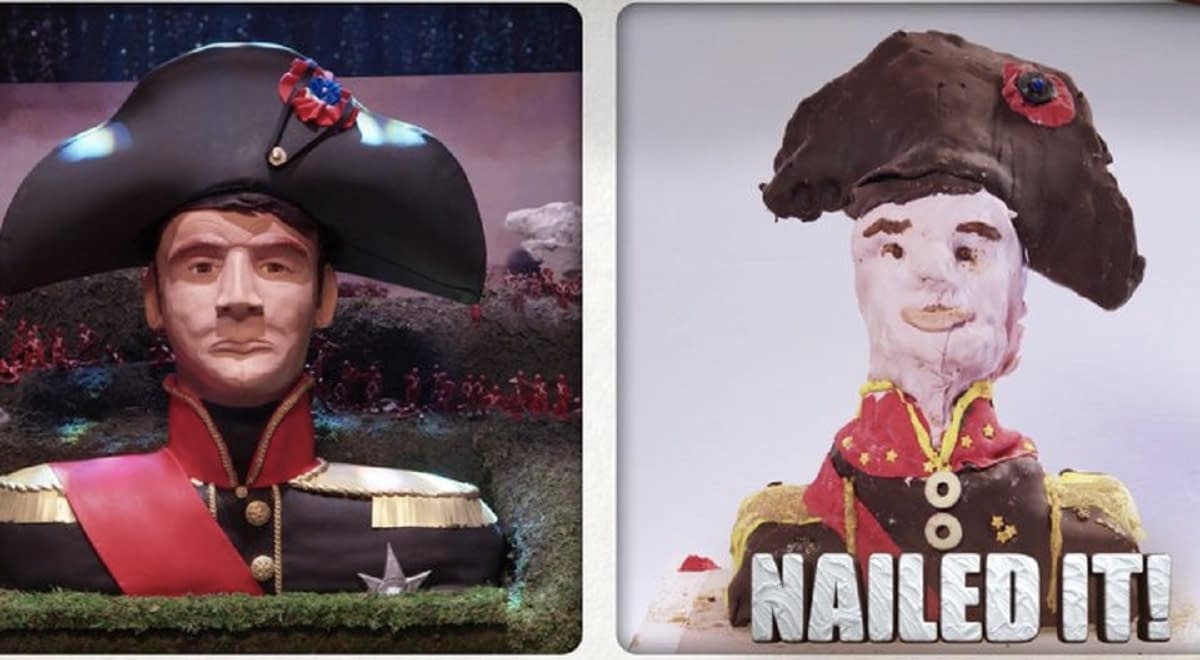 Episode 5: "Oui Can't Bake!"
Let's make some chocolate eclairs – wait, was the Frenchman supposed to look drunk and dead… or dead and drunk? Round 2 the judges enjoyed some wine and cheese (I firmly believe they should drink every episode). Contestants were asked to recreate a Napoleon Cake none of them knowing who Napoleon actually was, but he did apparently have peanuts for eyes, another had no face, but his eyebrow looked fantastic and the last was a victim of a fire.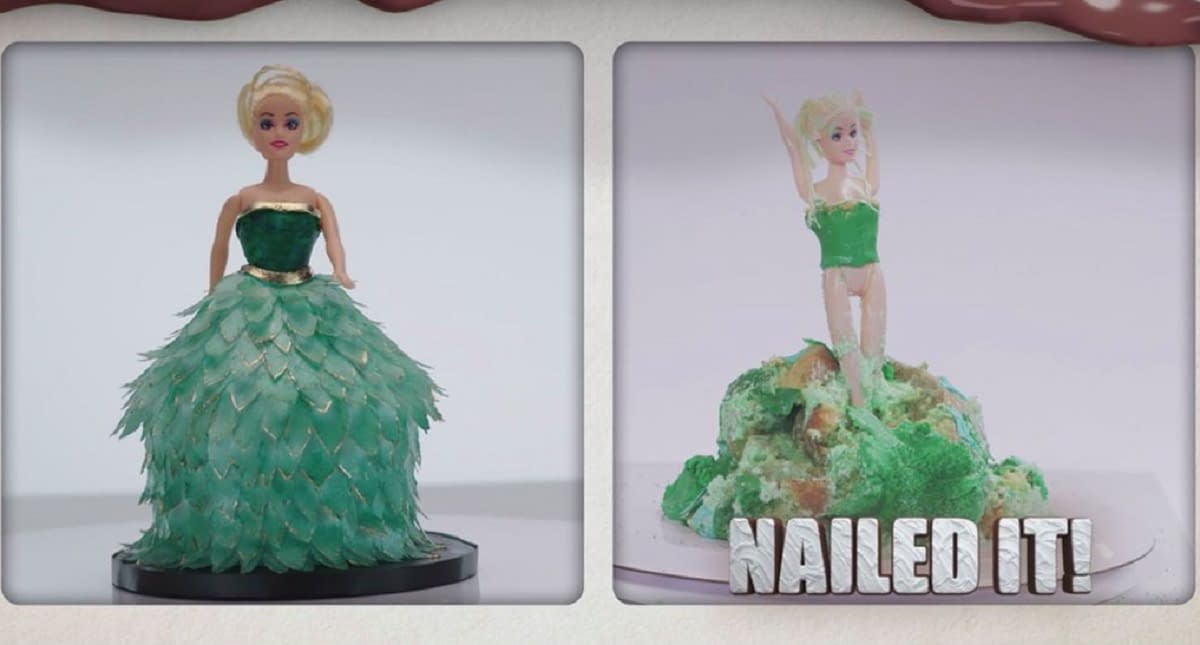 Episode 6: "Ready to Wear, Ready to Eat"
Round 1 welcomed high-fashion doll cakes… and you know what? I mean, who needs directions when one contestant decided to just throw stuff in a blender to "see what happens"? The new trend was also to roll fondant on the floor – I hope they wash the floors on the set and props to the judges for being brave to taste it. I did appreciate that one contestant dedicated time to trimming the doll's hair – and possibly giving the judges a little extra to taste. What can I say, one doll clearly had one too many martinis and had that whole "post after-party" look going. For the finale, an edible head dress with the line, "you can lick her face." I really wouldn't. Not when one head was crying a river of blood and another had wire around her neck. Think something from an upcoming Saw installment.

Overall, a great season of Nailed It!: fun, spunky, and always enjoyable to watch Byer's and Torres's chemistry. My only request?
Please bring back Sylvia Weinstock as a guest judge!
For a look back at Bleeding Cool's thoughts on the first two seasons of Netflix's Nailed It! as well as the holiday special, check out our reviews/recaps here, here, and here.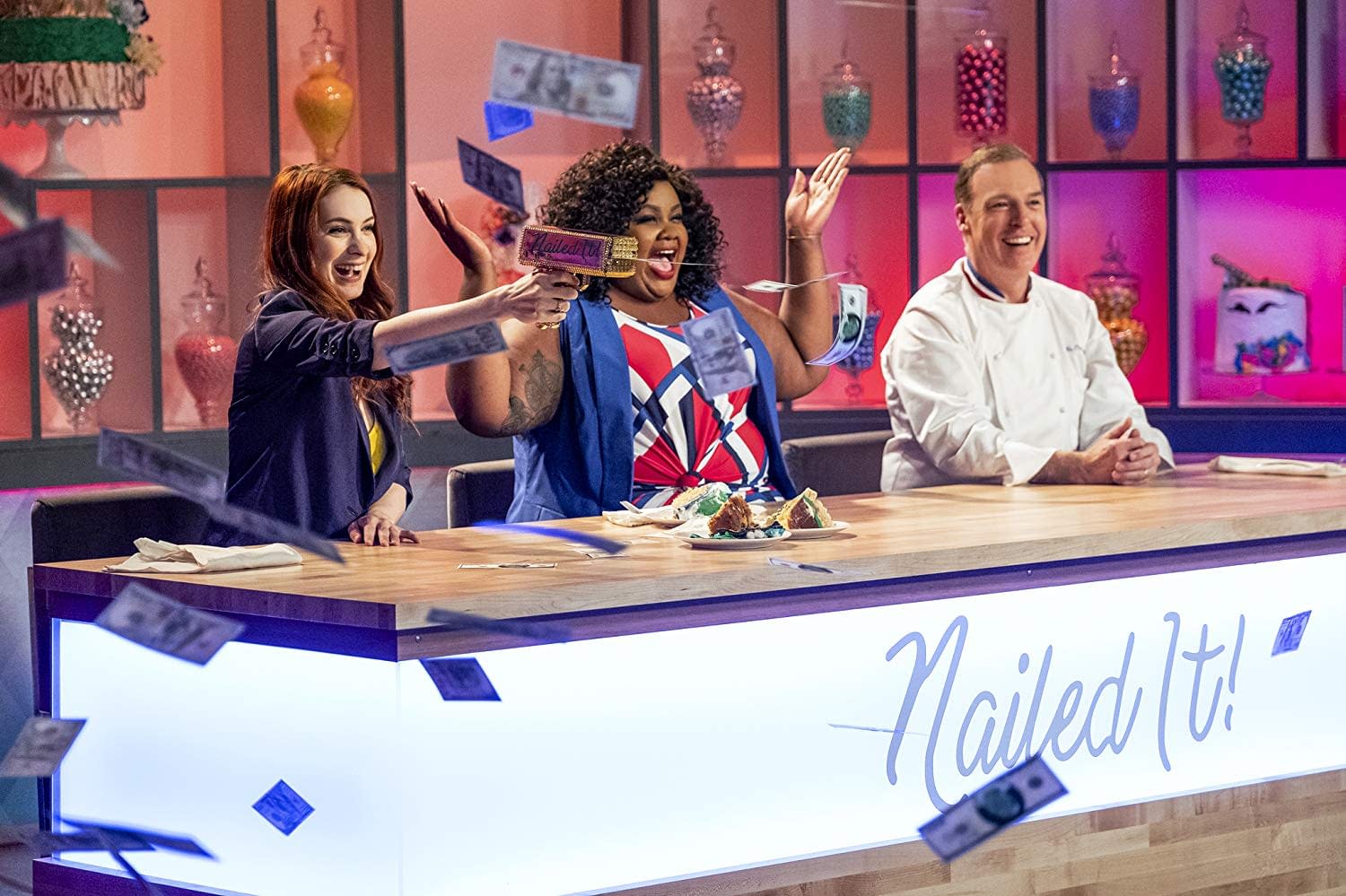 Margo Staten is a Ukrainian born, raised in Brooklyn, organically driven, coffee loving, twice-divorced mother of one baby Einstein. Has a passion for books, yoga in the park and all things 80's and New Orleans.