Promoting the Shiny, New Batman: The Animated Series Blu-Ray Set at NYCC
By Rich Epstein
On October 30th a completely remastered, limited edition box set of Batman the Animated Series will be released. To promote the set, Warner Brothers sent legendary producers Bruce Timm and Eric Rudomski and actors Diane Pershing (Poison Ivy), Loren Lester (Robin/Nightwing), Tara Strong (Batgirl), and the Batman himself Kevin Conroy.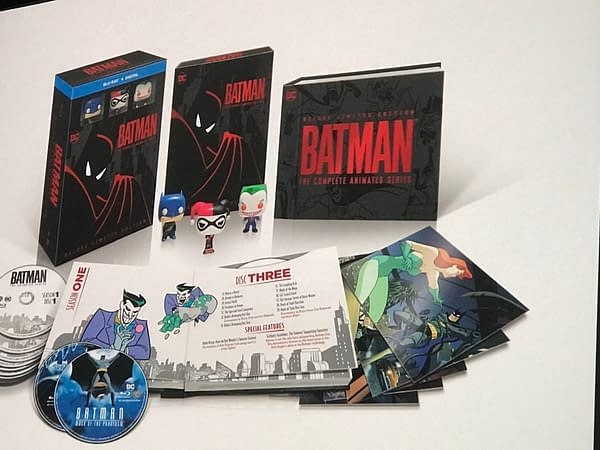 First of all, the remastering looks great. We saw a few clips, split screen between original and remastered and the remastered is really vibrant. The set will include all 109 episodes, Mask of the Phantasm, Subzero, and an all new ninety minute documentary about the series called Heart of Batman, as well as three exclusive pop figures.
Timm started the panel by describing what the producers do, which is to oversee pretty much everything from the art direction to the casting. They also ended up directing some episodes as time was short. He and Rudomski were basically joined at the hip throughout the process. Luckily, they were on the same page throughout, only disagreeing as to which scripts were strongest. Even that ended up working out, as they were able to switch episodes to direct when they preferred other scripts. While Timm stayed through the next two iterations, Superman the Animated Series, and Justice League, Rudomski left after the original run. That ended up being a five year journey, which launched a lot of careers. Rudomski hadn't known much about comics prior to working on the series, but ended up learning a great deal from Timm, who had always been a fan.
Conroy raved about the environment that Timm and Rudomski created. This was his first voice role, and he was able to learn on the job while having fun. Rudomski pointed out that he and Timm were also learning as they went, so they decided to just have fun with it and see what they could do. Pershing spoke a bit about her character, Poison Ivy, calling her "Tinkerbell on adult hormones." In addition to the animation she had worked on prior to Batman The Animated Series, she had done a number of commercials, often being called on to play either the knowledgeable authoritative woman or for cosmetics commercials. She read for Ivy and immediately knew that the voice would be the cosmetics commercial voice, with a bit of the intellectual thrown in.
Timm and Conroy credited Andrew Romano as one of the unsung heroes of the show. After they had listened to about 500 different voices without finding their Batman, Romano, who did casting at the public theater, suggested Conroy, who had performed there. It was the perfect choice, as Conroy's classical training ended up allowing him to really nail the role. Conroy said that his hook into the character was to realize that Batman was the character, Bruce Wayne the mask. That's why when Bruce appears out of costume, but with only people that know his secret, he still speaks in the Batman voice. That's his natural voice.
When asked for his favorite line in the series, Conroy just laughed before belting out Am I Blue to the delight of the crowd. One thing he never counted on when getting the job was surely putting his singing ability to use. Lester then suggested doing Batman on Broadway, A better idea may be King George in Hamilton, as Conroy showed off a few notes of You'll Be Back. Strong didn't have a favorite line, but pointed to Girls Night Out as her favorite episode, loving the "chick power" that it showed. Pershing loved when Ivy told Harley not to let a man speak to her in a certain way, then told the audience how amazing it has been when women come up to her, telling her how much that resonated with them and how much strength it gave them while in a tough relationship.
The first thing Lester said when he met Strong was "You don't look like Batgirl." Strong remembered feeling terrified when she started due to the impressive talent in the room with legends such as Conroy and Mark Hamill. She mentioned that not every great actor can be a great voice actor, but Hamill really managed to embody the part using just his voice, and was a generous actor to those around him. Conroy also raved about Hamill's ability to show the light and the dark of the character using just his voice.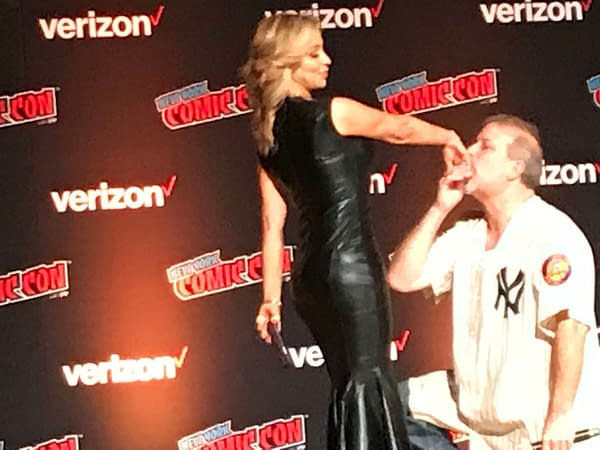 Lester, who was sporting a beard for the panel, joked that he borrowed it from Hamill before Timm called him "Dick Grayson as NightBeard." Lester was not only the first voice of Nightwing, he remains the only actor to play the character from Robin to Nightwing, a testament to the longevity of the show and the ability of Timm to adapt and bring in different elements as the show went on. Timm went into the job thinking every day that he was going to be fired. He and Rudomski kept raising issues, seeking to push things. Strong mentioned how Barbara Gordon is the only character of her long career that she has done in her own voice. She said she has always been drawn to the darker side of Batman, which is why the show spoke to her.
Conroy told a story to the audience about how he knew Batman The Animated Series was a hit. He went to drop off some mail at about 5 in the morning on his way to work. There was a homeless man who recognized him as Batman. Conroy was stunned to be recognized, and the man responded that everyone knows he's Batman. The man then asked him to do the intro, which he did, rising in volume as he went at the man's instruction. When he got to "I am Batman" and the homeless man cheered he suddenly heard somebody scream from above "Would you shut the f*** up?"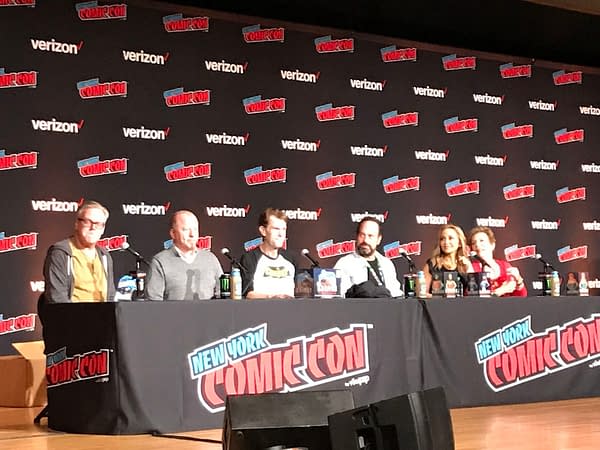 Will we see more of Batman The Animated Series? Everyone on the panel seemed game, and Timm said he has some stories in his big pocket, so who knows.