STARZ series Outlander has returned for season 4, and with it comes an uncomfortable discussion about timely issues of the historical era- namely, slavery.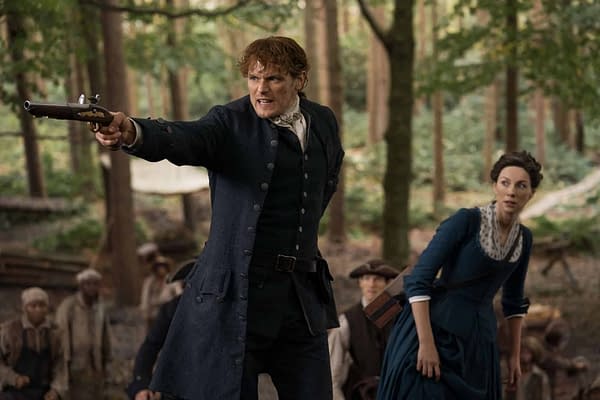 Episode 2 of season 4 "Do No Harm" has Claire Fraser (Caitriona Balfe) deal with slavery in the colonies head-on, while visiting Jamie Fraser's (Sam Heughan) aunt Jocasta Cameron (Maria Doyle Kennedy) at her lavish plantation estate, River Run.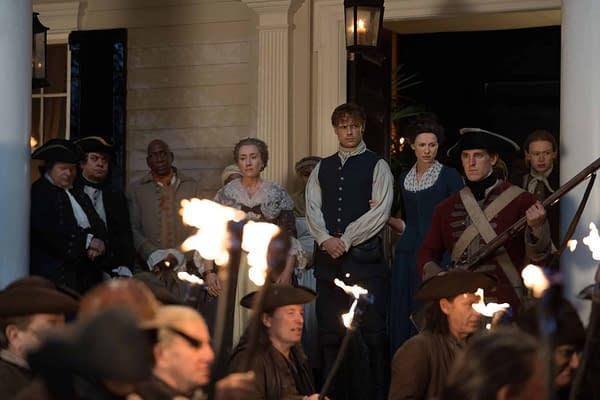 Claire obviously comes from a different time; when civil rights are the name of the game, as well as her friendship with African American doctor Joe Abernathy and his family.
Balfe recently spoke with The Hollywood Reporter about the episode, and what it was like to film the scenes:
"It is such a huge part of the book and we couldn't have done this season without exploring this. And unfortunately, it still has a resonance in today's current time, which is quite awful. It's never easy to film these scenes, and it's never easy to take on these issues in a show like ours. But it's important that we look at what America was in that time and face some of the realities of that time.

In this episode it's the first time — or maybe not the first time but the first time in a long time — that you see Claire acting truly from a place of emotion. We've seen a much more mature and rational Claire over the last two seasons, and when she's faced with this horrific firsthand view of slavery, it just unsettles her to her core.

What happens with Rufus (Jerome Holder) is just so awful to her [Claire] that she doesn't necessarily think of the consequences to her actions. She goes straight ahead and is trying to do the right thing, but in doing that has caused a greater disturbance and escalated the situation more than she intended to.

It's best to tell these stories when you let each character tell their own story. It was important to let Rufus be able to tell his story as much as possible and not just tell it from, 'Oh, poor Claire, she's seeing this and it's so horrible for her.' It's a difficult line sometimes [to balance] because we are telling this story through the eyes of Claire and Jamie. But as much as we could, we did try to let Rufus and other characters be the masters of their own destinies."
Executive Producer Matthew B. Roberts told Variety that the production team "consulted multiple historians and historical accounts," and that "violent atrocities and the very institution of slavery even more difficult to accept." He continued:
"At her core, Claire is a surgeon and a mother, and her first and natural instinct is always to help any person in need, and to that end, she feels a responsibility to save those she can when faced with the realities of this appalling practice."
Outlander season 4 airs on STARZ on Sundays.
Enjoyed this article? Share it!