Paper Girls Co-Showrunner Introduced Themselves and Their Glasses
A little more than a year after Amazon Studios announced it had given a series commitment to a drama based on Brian K. Vaughan (Saga, Ex Machina) and Cliff Chiang's (Wonder Woman, Human Target) best-selling graphic novel Paper Girls, fans are learning who one of the co-showrunners will be on the adaptation- and the news comes directly from the source. Christopher Cantwell (Halt and Catch Fire) took to Twitter to not only introduce the social media world to the new cord he has for his glasses to keep him from losing them, but he did it in a pretty smooth way: with an image of his glasses sitting on the daily room notes binder for Paper Girls. Check out Cantwell's tweet below, where he also throws out some love to other members of the creative team: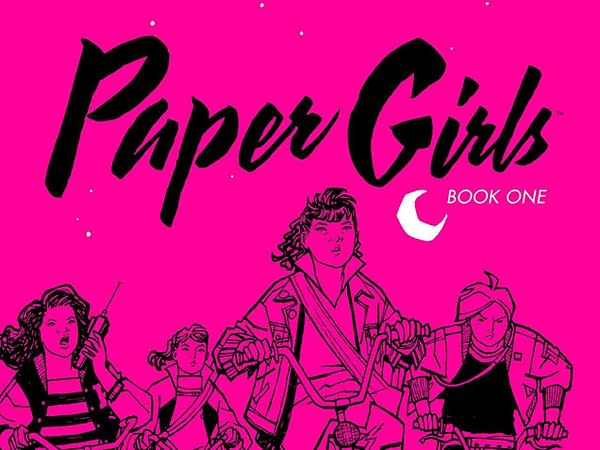 In Amazon Studios' Paper Girls, four young girls, while out delivering papers on the morning after Halloween in 1988, become unwittingly caught in a conflict between warring factions of time-travelers, sending them on an adventure through time that will save the world. As they travel between our present, the past, and the future- they encounter future versions of themselves and now must choose to embrace or reject their fate. An emotional adventure in which the girls and the women they eventually become are tough, their friendships are authentic, and their journey through time is epic. Stemming from Legendary Television and Plan B (12 Years A Slave, Moonlight), the series has tapped Stephany Folsom (co-writer, Toy Story 4) to pen the adaptation. Folsom, Vaughan, and Plan B are set to executive produce.