Proxy: "The Gloaming" Star Emma Booth Set for Sci-Fi Series Adapt
Emma Booth, who is currently starring in Starz's New Zealand import cop series The Gloaming, will be the lead in a TV adaptation of the Science Fiction short film Proxy from Anonymous Content. As Deadline first reported, Proxy was originally directed by Sophia Banks, whose debut feature Black Site starred Jason Clarke, Michelle Monaghan, and Jai Courtney, and written by Dominick Joseph Luna. Booth also starred in the short film Proxy, which has played at over 20 film festivals including the Los Angeles Short Films Festival and the London Sci-Fi Film Festival. Proxy: the TV Series is now being adapted into a TV series by Luna and Halil Ozsan, who recently wrote the reboot of Scorpion Queen for Universal and was a co-EP on Vice's What Would Diplo Do?.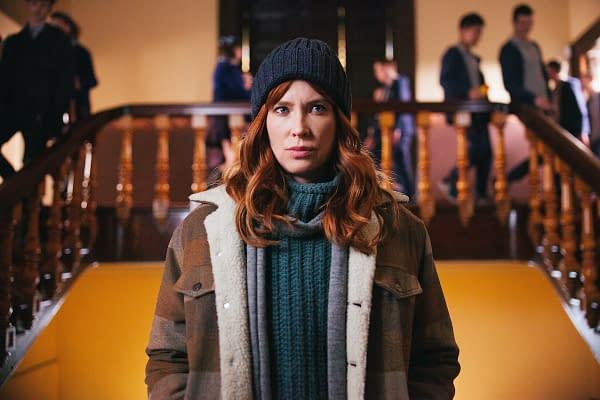 Proxy is a global sci-fi serialized drama set in a near-future where electronic mass surveillance and a social credit system have entirely crippled personal freedom across the world. Proxies— psychological 'surrogates' — have become the only reasonable option for anyone who can't risk losing their wealth and liberty for undesirable behavior. It's a pretty unsurprising dystopian Science Fiction concept, really. All Science Fiction TV shows and movies are dystopian. It's easier to create conflict and drama in a dystopian world where things are terrible and people are in dire straits all the time rather than a utopian story where the world is doing well, scarcity, war, famine, and violent death is done away with where everyone is supposed to be content. Proxy deals with class, the haves and have-nots, the loss of personal freedom and choice, and all the juicy sociopolitical themes that Science Fiction excels at discussing all the time.
AC Studios, the division behind series including Dickinson and Defending Jacob, will serve as the studio on the project, which will be exec produced by Kim Hodgert and Kami Putnam-Heist. Sophia Banks will co-executive produce for Bank Films with David O'Donnell as co-producer.