Red Dwarf Co-Creator Doug Naylor Teases Details on Series' Future
Red Dwarf co-creator Doug Naylor teased that there is "a lot of interest" in bringing back the popular Science Fiction sitcom.
---
Red Dwarf is coming back, but in exactly what form, we don't know yet. Co-creators Rob Grant and Doug Naylor have resolved their rights dispute, freeing each of them to pursue new stories across different media. After the initial six-series BBC run from the 1980s to the early 1990s, Grant opted to write spinoff novels while Naylor chose to continue producing and writing the TV series with other writers. Now Naylor, in a quick video interview with The Radio Times, is offering an update on when the series could return.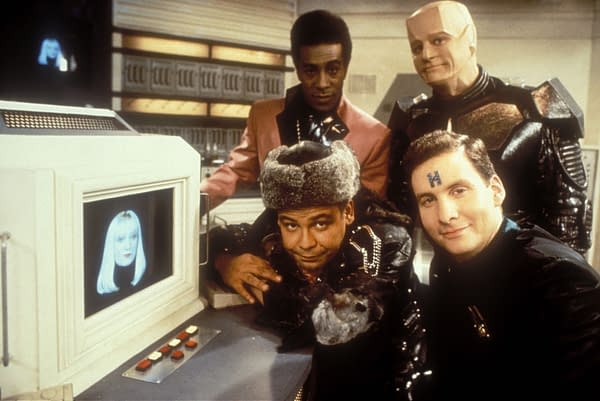 In the interview, Naylor said there was "real interest" in a new television series but nothing concrete just yet. Given that there's a long-running and huge fanbase for Red Dwarf, it would make sense to bring it back to television, whether on a terrestrial broadcasting network like the BBC, ITV, or Channel 5, a cable channel like Sky or Dave (like its last versions) or a streamer like Netflix, Britbox (jointly-owned by the BBC and ITV), Acorn or Amazon Prime (we're just listing the possible outlets here for the readers' reference). The sky's the limit. It seems Naylor's main ambition for the franchise is to continue it as a television series and/or a movie. A long-touted movie had been discussed for decades.
For Naylor, the biggest hurdle is to get the cast back together. He points out that they are all very popular and busy. It's not Red Dwarf without Lister (Craig Charles), Rimmer (Chris Barrie), Cat (Danny John-Jules), Kryten (Robert Llewellyn), Holly (the ship AI played alternately by Norman Lovett and Hattie Hayridge), and later Lister's girlfriend (originally Clare Grogan, later Chloe Annett).
Nevertheless, Naylor seems genuinely excited about the possibilities and the prospect of bringing back Red Dwarf. Given that he's been the main driving force behind the television version, he's almost certainly pitching a new series.