Review: "Avatar: The Last Airbender" 15th Anniversary Steelbook
When you think about a landmark series after the year 2000 for Nickelodeon, one of the biggest series to come to mind has to be Avatar: The Last Airbender. To mark the most recent anniversary for the show, the network released a 15th Anniversary Steelbook Collection of the series. We were sent one of these awesome versions for review. We took some time with it to examine it for all its worth, and here's what we thought of it.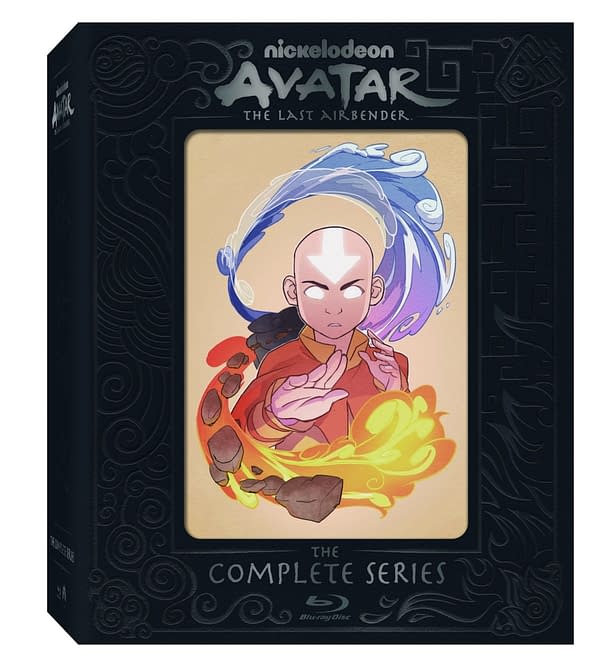 So the steelbook part, kind of misleading. The individual cases they are in steelbook form, but the packaging itself is more along the lines of cardboard. Its a fancy design as you can see above, but I believe that needs to be said so you know exactly what you're buying here. Each individual case houses three different books. Water, Earth, and Fire are represented here. Each one contains three blu-ray discs of each of the three seasons. They all come with fancy artwork on both sides, which you can swap around to show on the front cover of the set, so that's a nice little perk. It also comes with an exclusive excerpt booklet called The Rise Of Kyoshi by F.C. Lee. it's a short story that adds a little depth to the character.

Now overall this is an awesome set, but it has one flaw to it that I can't get around. It's the exact same set of episodes, features, and bonuses from the standard Blu-ray edition released a few years ago. Which is about a complete of a collection as you can get, but it doesn't change the fact that it's an old set in new packaging. So if you already own the previous set, you now know you're getting the same thing in a new box. I love the design of this and I think it's a great addition to a home version if you don't own Avatar: The Last Airbender already. But if you do, you basically have to decide whether or not you want to upgrade to the steelbook or be happy with what you already own. If you wish to get the steelbook, it's going for about $100.