Looking at our respective eastern standard time watches, phones, and bottom-right laptop screen corners, we're only hours away from the return of Dan Harmon and Justin Roiland's dimension-hopping duo Rick and Morty (UK's E4 starting Thursday, May 7). With the remaining five episodes of the fourth-season ready to roll beginning with "Never Ricking Morty", Adult Swim isn't taking anything for granted or wasting a single promotional minute. First up, we have a new preview image that viewers of the trailer will be familiar with. Leave it to Rick to put his own spin on the concept of a "six-shooter", cutting it down to a "five-shooter" but having every angle covered. Side note? Is there an arm with a gun in the back that we're missing? Because then he definitely one-upped the old school version. Following that, some very cool animated art design by Pablo Rochat that shows the Sanchez family resemblance lies with the eyes.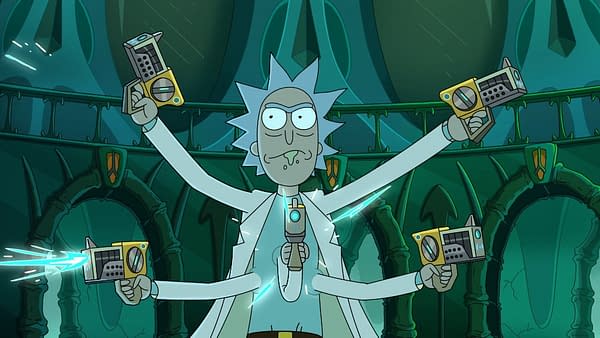 Snowball's return is just one of the things that caught our eyeballs when we first screened the season return trailer. With Rick and Morty apparently helping him fend off a feline invasion, we're left wondering if there's some off-shoot of the Galactic Federation still active (think recent Star Wars trilogy) and backing the cats in the conflict? The laser sword fight between Beth and Tammy has us thinking along those lines, but you can't trust trailer edits and we're not completely sure if the backgrounds match up. With Tammy back, will be lucky enough to get a Phoenixperson sighting? And let's not forget that a very powerful Evil Morty is still out there consolidating power.
Harmon, Roiland, and Adult Swim released an episode titles announcement video that gave a nice "wink-and-a-nod" to The Terminator before revealing the following loaded episode names (with loglines included). Beginning with return episode "Never Ricking Morty," we have "Promortyus" (Get off my face, broth), "The Vat of Acid Episode" (The one with the acid vat, broth), "Childrick of Mort" (Miracle of life, broth. Whole family in this one, broh.), and "Star Mort Rickturn of the Jerri" (Parenting is crazy, broh. Stuff straight disappearin in this one).
Enjoyed this article? Share it!