"Riverdale" Season 4: "Chapter Sixty-Five: In Treatment" for Grandpa Sweaters, Dead Brothers & Snooping Moms [SPOILER REVIEW]
So, this week's episode of The CW's Riverdale was one of recounting past traumas, future plans, and Archie in a lovely fall cardigan!
Questionably-adult fashion for a very juvenile character aside, "In Treatment" features Gina Torres as school shrink delving into the minds of Riverdale's finest teenagers.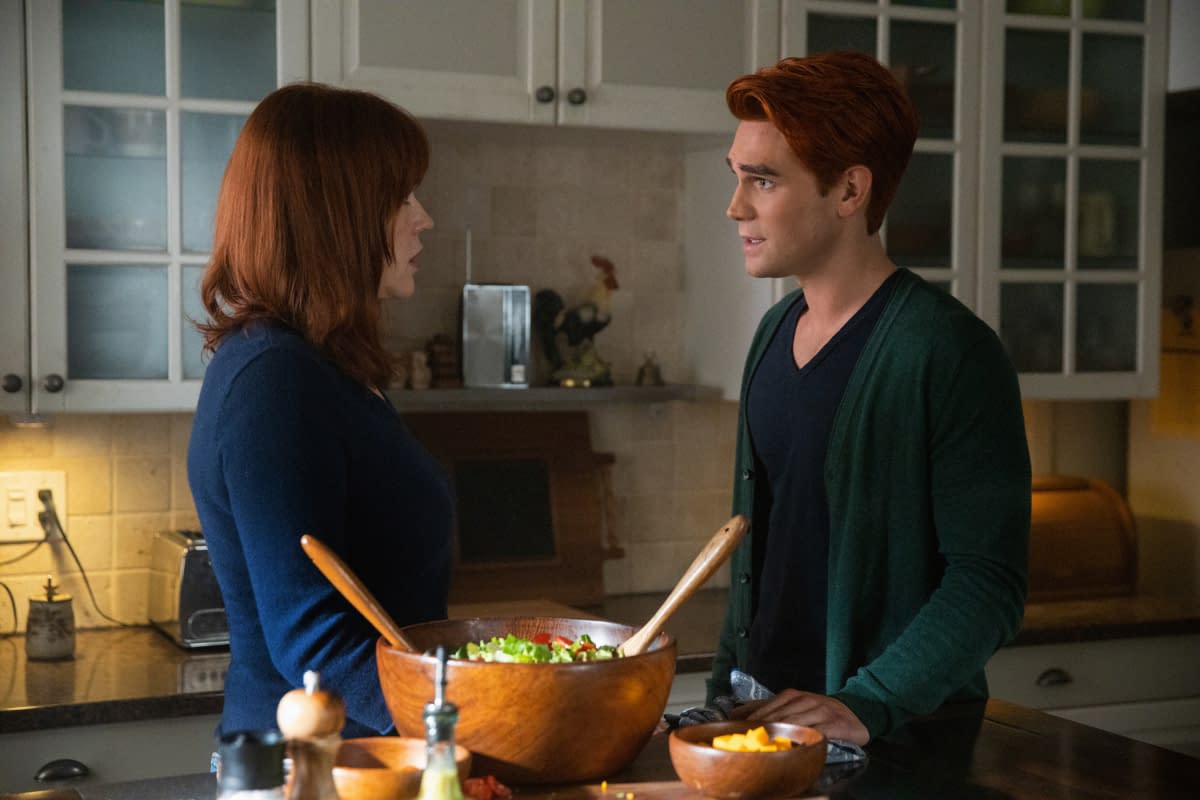 Well, not really. They're all pretty terrible teenagers, but at any rate, they're the ones we're following.
But just…as a holiday wish, can we get a solo Jughead episode? I mean, he's kind of the best character. Well, when he's not being all whiny or attached at the hip to Betty. Sigh. I do suppose they're kind of cute together, even if Betty is super annoying.
"Riverdale" season 4, episode 8 "Chapter Sixty-Five: In Treatment" – GINA TORRES GUEST STARS AS RIVERDALE HIGH'S GUIDANCE COUNSELOR — As residents across Riverdale begin receiving more mysterious videotapes on their doorsteps, the seniors of Riverdale High eagerly await their college decision letters. Concerned that the stress may be getting to them, Mrs. Burble (guest star Gina Torres), the school's guidance counselor, meets with Betty (Lili Reinhart), Archie (KJ Apa), Veronica (Camila Mendes), Cheryl (Madelaine Petsch) and Jughead (Cole Sprouse) to discuss what's plaguing them. Madchen Amick, Mark Consuelos, Casey Cott, Skeet Ulrich and Vanessa Morgan also star. Michael Goi directed the episode written by Tessa Leigh Williams.
Speaking of super annoying, I've about had it up to here (you can't see me, but I motioned to somewhere above the top of my head) with Riverdale's genetic psudo-science. First the "serial killer gene" and now some chimera misinformation. At least they're actually talking about something that exists this time, no matter how twisted they get their science.
Thankfully, Cheryl tests negative as a chimera (someone with two sets of DNA – rarely from an absorbed twin), which means that someone is screwing with her and moving the doll around. I mean, she's still cray-cray on account of the whole "dead brother at the dinner table" thing, but someone is screwing with her. My money is on either her mother (who could totally come back to torture Cheryl) or more likely Nana Rose.
What's that shady old lady got to hide behind that eye patch?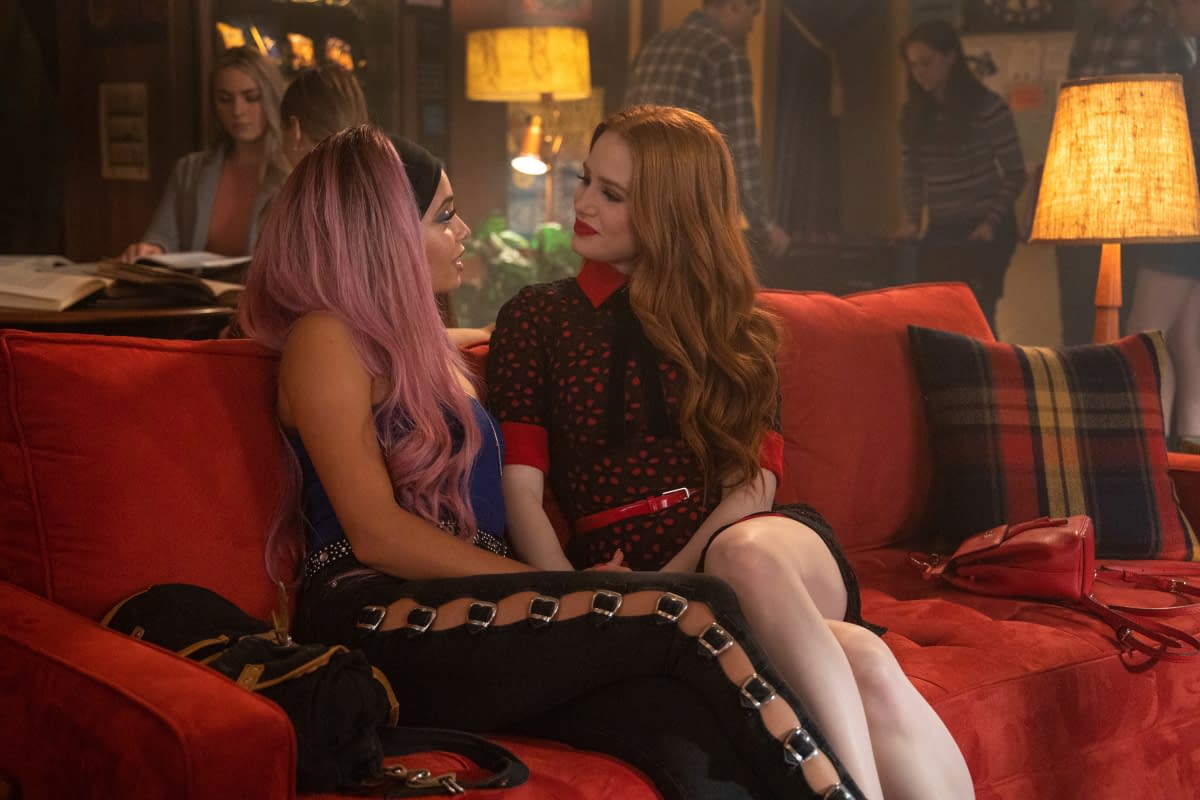 Oh – Archie is back on his vigilante sh*t for like the 400,000th time, and Veronica is "separating herself from Daddy" for like the millionth time. Seriously, don't they have any better storylines for them?
Alice freaks out when she's snooping in Betty's room (aah, back to season 1 Alice. Glad to see she's back to normal after the cult nonsense.) and finds birth control. Like…they sleep in the same bed. Alice knows this. What did she think was happening? I mean, Jughead is a hottie! I mean…we're getting off the subject now.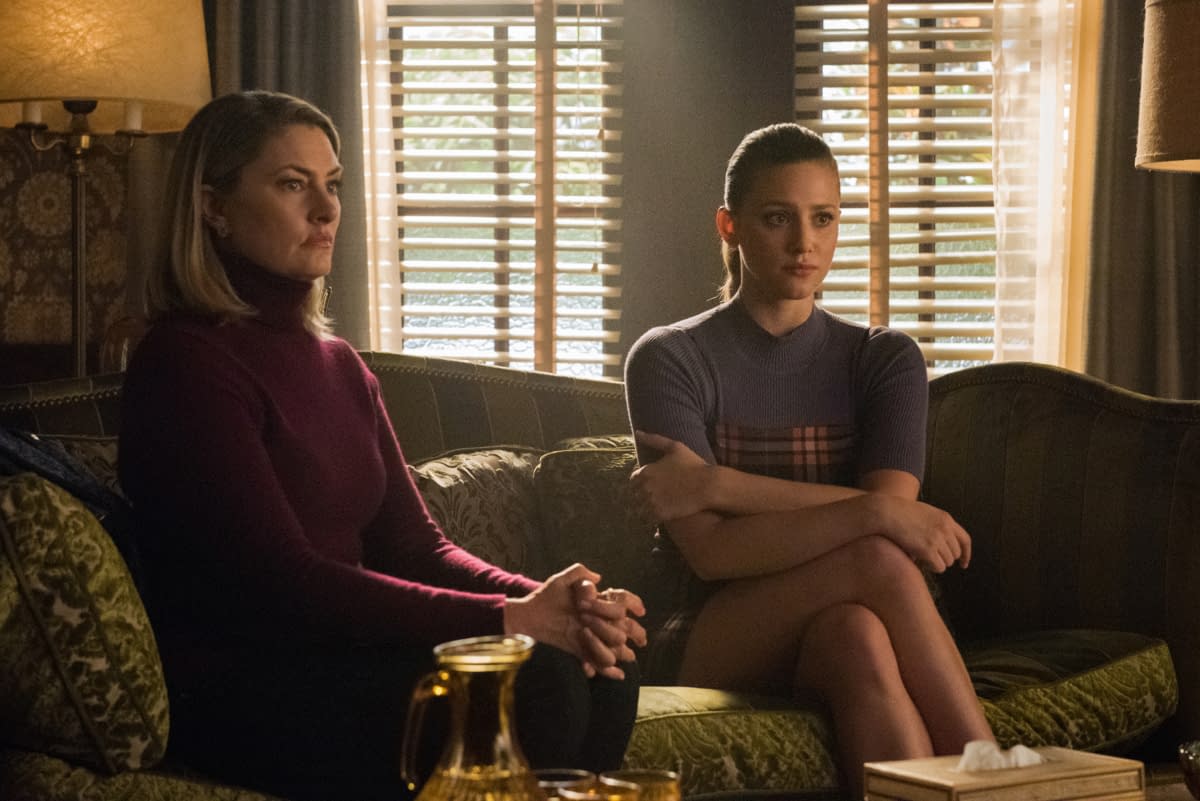 And we finally get another piece of the "dead Jughead mystery" puzzle, and it's a police lineup!
The two stuck-up conspiring kids from Stonewall prep – Brett and Donna – confirm that Betty, Veronica, and Archie are the kids they saw kill Jughead. Dun-dun-duuuuuuun!
I seriously just need to get to the bottom of this whole "Dead Jughead" thing like right now. And more importantly – how are they going to bring him back?!
I mean, it could end up being complete CAOS…