OK, Riverdale – I've been with you through your "teenagers hunt a serial killer" storyline, "local teenagers take down the drug trade" arcs, hell, I've even been on board for "the gang busts Archie out of juvie prison and then takes down D&D satanic panic" ridiculousness.
But really? This season may be where I lose interest in The CW series.
Or maybe I'm just being dramatic. I mean, that is very much a thing – perhaps my weekly trips to the 'Dale are rubbing off on me.
MAJOR SPOILERS ahead…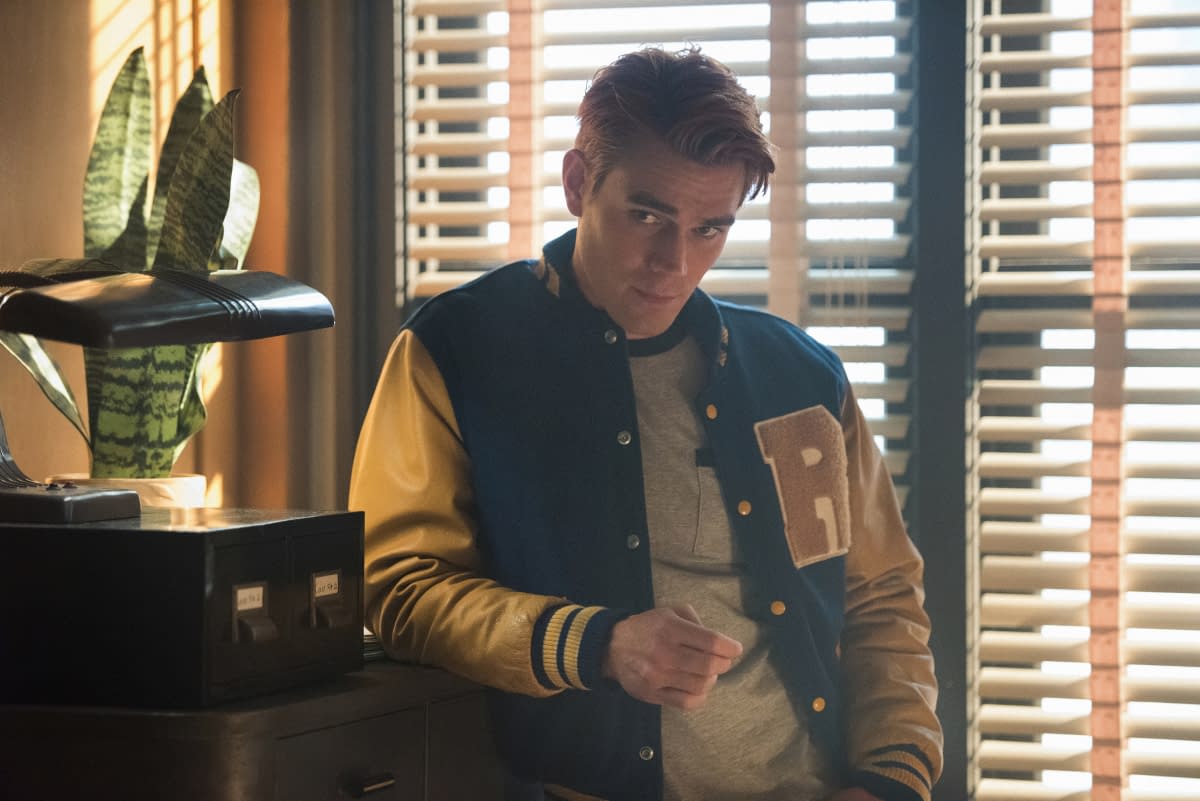 So, this week Archie is back on his "save the community, defeat Dodger" crusade; we see Betty dig into her brother Charles via polygraph, Chick, and serial killer instincts; Veronica gets passive aggressive with her father's other secret daughter and ticked at her parents getting back together; Toni and Cheryl deal with the demon possessed doll of her dead secret brother Julian Blossom.
…Oh wait, no – that is a dumb story line and I hate it, thanks.
Yes indeed – we do spend our hour in Riverdale once again following Archie on his dumb – I mean, very necessary, crusade against crime via community center and putting on a hood and lightly taunting the local drug dealer.
We also get a weird Jughead storyline in which he attempts to prove that his grandfather was a ghost writer for the first book in a series of mystery books a'la the Hardy Boys. I'm guessing that this is the storyline that leads to the "dead Jughead" sting we've been teased, but for the moment I can't exactly see how we get there from here.
Maybe it has to do with the whole "everybody at Stonewall Prep School hates me" nonsense, and he basically did nothing this episode but exasperate that. I mean, he's the broody annoying one who runs around all the time dissing on the other dude in class and screaming that his grandfather was a real writer.
If this is going to make life for you and others 100 times harder at school and cause a bunch of awful things, then maybe it's not important to get someone to admit they stole a story that your dead grandfather originally wrote and just focus on doing your best writing, eh?
Side Note: I'm not sure if there's something in the water lately or this is just in the cross section of shows I watch, but please quit using suicide as a plot device. And please please stop with showing a character manipulated into it. It's not a way to make your main character motivated or demonstrate that they have feelings: it's cheap shock at best and insensitive as hell. Please cut that out.
But I digress. None of the stories in Riverdale this week feel like they're anything but lame dramatic plays for views. Like, when I tell friends to get into the show, I will likely tell them that this is an episode they can skip.
"Watch the first few of the season, then skip to the episode when we see the death of Jughead stuff pick up again."
Also – the whole Blossom family woo woo voodoo stuff is straight up laughable. It's just ridiculous and I kind of can't wait for it to get off my screen.
Did all the interesting stories and characters migrate over to Katy Keene? Is that what's happening here? Come on, Riverdale – dial it back a little on the soap and a little more on the action and mystery we know and love. Please?
If you are in emotional distress or suicidal crisis, you are not alone. Call the National Suicide Prevention Lifeline at 1-800-273-8255 to speak to a trained counselor. It's free, confidential, and available 24/7.
Enjoyed this article? Share it!