Rooster Teeth Announces RWBY Returning for Volume 6 in October
Today at RTX 2018 in Austin, Rooster Teeth formally announced that RWBY would be returning for Volume 6 with brand new episodes. The western-style anime will be returning to their website as well as YouTube on October 27th, but the company didn't show off any videos or a ton of information on the storyline. Here's a brief synopsis for RWBY Volume 6 that Rooster Teeth released along with their announcement, and hopefully, we'll be hearing more about it at PAX West.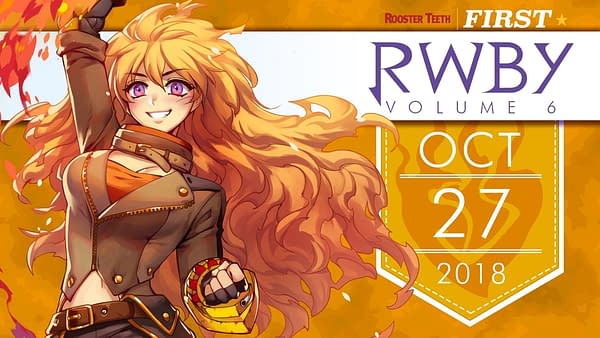 Ruby, Weiss, Blake, and Yang have been reunited and Team RWBY's first mission back is one of grave importance: escorting the Relic of Knowledge to Atlas. With Beacon fallen and Mistral compromised, Remnant's northernmost academy may now be the safest place in the world, but making it there will be more dangerous than anyone could have imagined.

In a world filled with horrific monsters bent on death and destruction, humanity's hope lies with powerful Huntsmen and Huntresses. Ruby Rose, Weiss Schnee, Blake Belladonna, and Yang Xiao Long are four such Huntresses in training whose journeys will take them far past the grounds of their school, Beacon Academy. Though each may be powerful on their own, these four girls must overcome dark forces and work as a team if they truly hope to become the next generation of Remnant's protectors.