Rooster Teeth's "RWBY" Volume 8 & 9 Already Greenlit, At NYCC
At NYCC we had the chance to sit through the panel of RWBY. On stage we had the cast and creators of the Rooster Teeth web series, RWBY, Kerry Shawcross (writer/director) and the voice actors Miles Luna (Jaune), Linsay Jones (Ruby Rose), Kara Emberle (Weiss), Arryn Zech (Blake), and Barbara Dunkelman (Yang). We got a few announcements, trailer, Q&A, and a sneak-peak of the first 12 minutes of Volume 7. Spoiler Alert: It is awesome!
The new chapter on the RWBY manga by Viz Media will be released on October 22nd. The RWBY team will be joining the MOBA game Smite: Battleground of the Gods. Starting October this year they will be printing the first issue of a comics series for RWBY—there will be a variant cover by Jim Lee. Also, Scholastic will release a novel called RWBY: Before the Dawn, coming July 2020.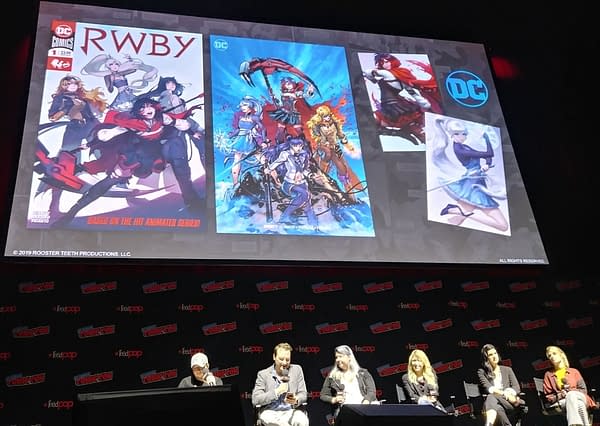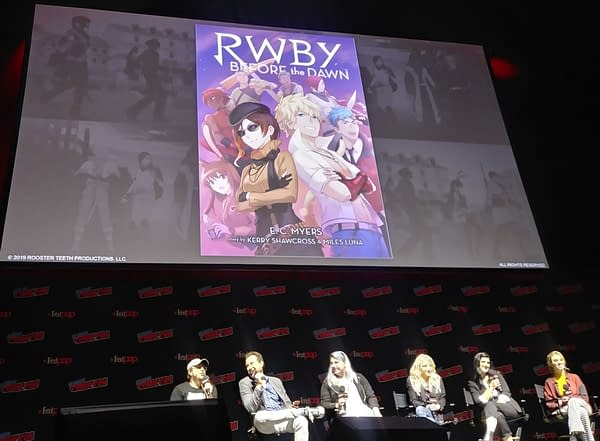 RWBY will also be collaborating with Fan Forge and For Fans By Fans to provide a chance for aspiring artists to submit their own RWBY designs for a contest. The winner will have their art on official RWBY merchandise.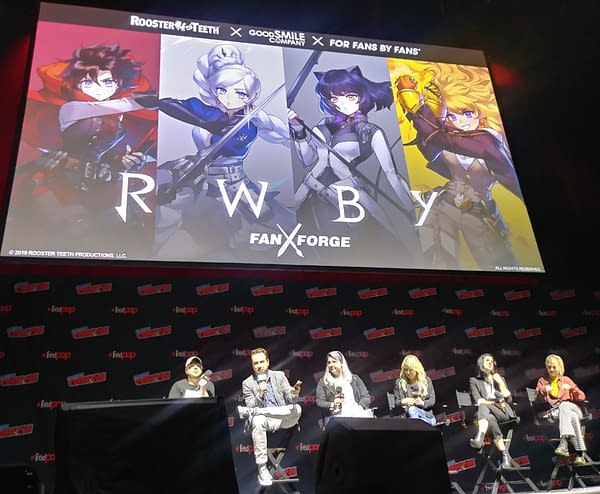 With this, they led into revealing the new outfit designs for Team RWBY. The crowd was happy with the preview that was shown to us. Then to add to the excitement: they showed us the new trailer. It was filled with action and a magical team kicking ass. Shawcross then announced that Volume 8 and Volume 9 have been already greenlit—stating he started working on a draft that same morning before heading to NYCC. Luna then proceeded to inform us that Vol. 8 will be a bit longer than average as it would tie directly into Vol. 7, however, Vol. 9 would be a bit shorter to balance it out.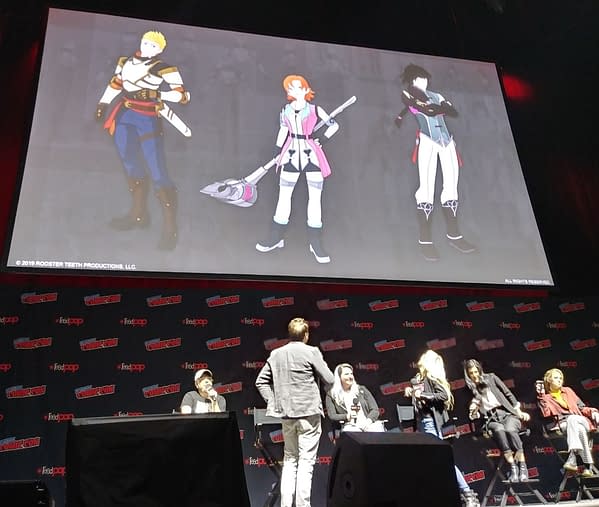 They then proceeded to answer some questions and discuss some characters—unfortunately, they did keep their secrets for Vol. 7 tightly sealed, but: they surprised us with a showing of the first 12 minutes of the first episode. It was so much fun to see the team get to Mantle, the city under Altus and find out things are not as they were expecting. It was packed with rising tension from moment one and quickly turns into action. They left us hanging in the middle of a fight scene, and quite honestly: I really need to see where this goes… Now! The show is set to premiere on November 2nd.