Saturday Night Live, Travis Kelce & Kelsea Ballerini Offer MVP Effort
Travis Kelce, Kelsea Ballerini, and the Saturday Night Live team combined for an MVP effort that might end up being the season's GOAT.
---
Heading into this weekend's show, host Travis Kelce from the Kansas City Chiefs, musical guest Kelsea Ballerini, and the Saturday Night Live cast & writers had two major obstacles to overcome. First, there was the remaining stink from last week's Woody Harrelson-hosted debacle to was off. And then there was Chris Rock. Yes, the actor, comedian & SNL alum, who was the focus of Netflix's first-ever livestream event – and who brought a year's worth of Will Smith/Jada Pinkett Smith venom with him to the stage. When you combine those two, what you have are some seriously high comedic expectations. And by the time Kelce, Ballerini & the SNL team took their final bow, not only had they blown past those expectations, but they did it was a twistedly funny "f**k you" in the process. It's a show that worked so well that they even made an "Abraham Lincoln" joke work. It was an effort so shockingly 180-degree different from last week that it almost screams to have a conspiracy theory tagged to it.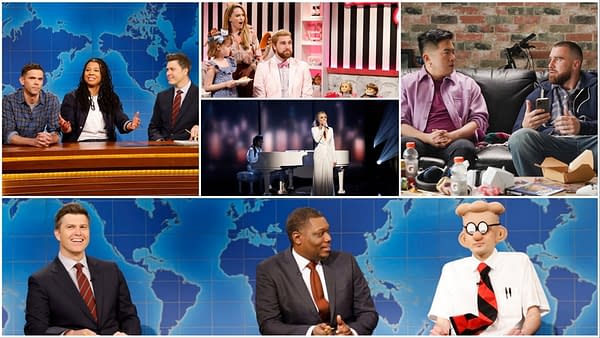 Saturday Night Live: Travis Kelce & Kelsea Ballerini Highlights
Before we look at specific sketches, I want to make it clear that everything worked this week. Kelce has a future in front of the camera, and that was never more evident than during his opening monologue. With "Weekend Update," we had Colin Jost & Michael Che running with the kind of relaxed vibe that comes from having about 40 minutes of great lead-in. And if you weren't tearing up by the time Ballerini wrapped "Penthouse," then there's a very good chance that you're missing a heart (so you might want to get that looked at). As for the sketches? Each of them is deserving of attention, but I'm not sure you want this to be a 2000-word review that constantly tells you how this show might just dethrone the Pedro Pascal-hosted effort as the best of the season so far (though Wednesday star Jenna Ortega & The 1975 are set for next weekend). Instead, here's a rundown of sketches that had our brains lighting up the most:
"American Girl Café": The best sketch to start with following his monologue because it showed the audience that Kelce was a first-timer who was outside of film & television and willing to give himself over to "The SNL Process."
"Please Don't Destroy – Self-Defense": Once again, Kelce puts himself into the hands of skilled writers like Martin Herlihy, John Higgins & Ben Marshall, and what we end up with is a wonderfully absurd take on self-confidence, interns, motivational speakers, and the sweet, sweet satisfaction of checking an old woman against the wall hard when she tries to kill your friend.
"Weekend Update: Punkie Johnson and Mikey Day on Their 2023 Oscars Predictions": What's supposed to be a fun take on the upcoming Oscars turned into a stroke of brilliance on both Mikey Day's & Punkie Johnson's parts. In what would turn out to be one of the best spotlights for both SNL stars, the segment turns into a game based on Johnson's painful inability to connect famous people with their proper names. Day's backstory build-up was spot-on, but it was Johnson's reactions & defenses that won the day.
"Weekend Update: Dilbert on Scott Adams' Racist Rant": Yup, another "Weekend Update" segment, with serious props going to Michael Longfellow (who we haven't always been kind to) for making this sketch work with an approach that was a disturbingly funny mix of real-world and comic strip universes. And bonus points to whoever designed the Dilbert outfit because I couldn't keep my eyes off of it.
"Weekend Update: Sarah's News (Birthday Edition)": Yup, "Weekend Update" went three-for-three when it came to segments that slayed. And when your last segment is Sarah Sherman returning to roast Jost for a birthday edition of "Sarah's News." Now, we pretty much wear our love for Sherman on our sleeves… but her ode to Peter Falk's Columbo? Yeah, there's a very good chance that for a hot second… we swooned.
"Straight Male Friend": A filmed fake ad that rises and falls on how well we buy into Bowen Yang and Kelce having a gay man/straight man friendship. Based on the social media reactions last night, as well as those from friends of mine online, the duo definitely hit some strong points. And as I'm writing this, I'm pretty sure that at least two female friends of mine are offering apologies for not realizing what a "burden" they are to their gay male friends (and possibly taking them out to brunch).
"Family Meeting": A great spotlight for Ego Nwodim & James Austin Johnson (with Kelce on-point supporting) about kids dealing with learning about their parents' evolving sexuality… through song. Between this and "Mama's Funeral," Nwodim continues to be one of the comedic forces who keep us tuning in. But bonus points need to go to Johnson for an amazing Michael MacDonald impersonation.
"Garrett from Hinge": Just in case the revelation is still lost on anyone out there, this was the sketch that hit the pause button to offer a reminder that Bowen Yang should teach a class in sketch-saving because his superpowers were on fine display once again. I know I had no right laughing about Garrett (Yang) needing to convince himself in the bathroom mirror not to kill the couple in the room on the other side of the door (Kelce & Heidi Gardner) – and yet? Yup… laughed my ass off. And more bonus points to Yang for imitating the pose that the Family Guy character Stewie had on Garrett's t-shirt.