Agents of SHIELD Season 5: Ruby Wants to Know if Her Mother is a Good Guy
In a sneak peek at the upcoming Marvel's Agents of SHIELD episode, 'All the Comforts of Home', we are introduced to Ruby (Dove Cameron), the daughter of General Hale (Catherine Dent). We met Hale a few episodes back as the woman who was interrogating Fitz (Iain De Caestecker) before he went into cryo-sleep. Ruby appears to be a typical teenage girl who loves music and is a big fan of Quake (Chloe Bennet). She likes to test her mom with pointed comments and disobedience, but she really seems to get under her skin when she asks if the General is a good guy. Since, according to Ruby, up until recently everyone was rooting for SHIELD and now her mom is out to stop them, she want to know if her mom is really on the right side. Then again, Hale has already shot two of her subordinates in the head… so, I'm guessing no.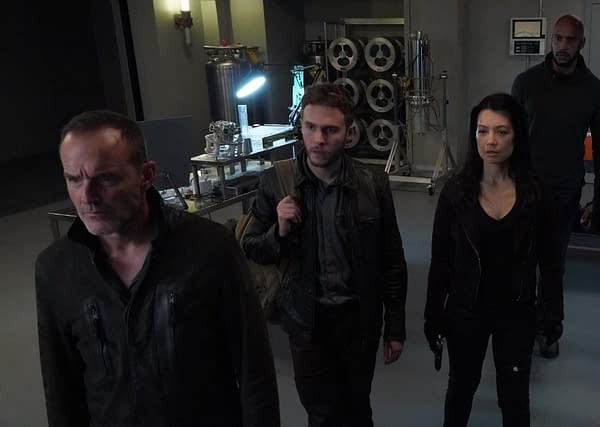 Agents of SHIELD returns this week after almost a month-long hiatus. The last time we saw the team they were preparing to jump back in time to where they came from. The episode is described as Agent Coulson (Clark Gregg) and whoever else makes it back through the Kree portal, trying to rewrite humanity's fate, not knowing that their actions will drastically change the life of on SHIELD agent.
Marvel's Agents of SHIELD returns Friday, May 2nd at 9 p.m. ET on ABC.