Solar Opposites Proudly Embraces Hulu, Its Streaming Service Overlord
Justin Roiland and Mike McMahan's (Rick and Morty) animated sci-fi/comedy series Solar Opposites has officially crash-landed onto Hulu, with Korvo (Roiland), Terry (Thomas Middleditch), Yumyulack (Sean Giambrone), and Jesse (Mary Mack) doing their very best (whether they realize it or not) to spread their "sci-fi s**t" as far as the eye can see. There's no reason for them not to when you consider they're just biding their time until their mission's complete, our planet's been terra-formed, and we'll all be dead. See? Not much… wait, what?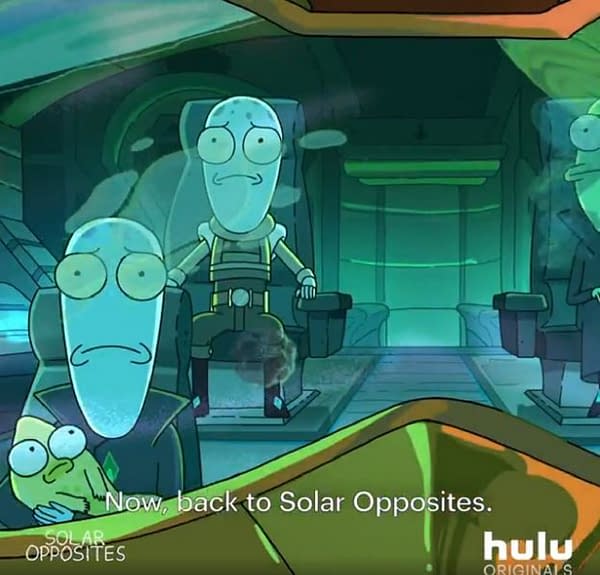 Our review goes live on Sunday, so until then the fine folks at the streaming serve are engaging in a very interesting marketing approach in the video below. What follows is a compilation clip of all the Hulu references made during the season, and I think it's brilliant. If you're "Capt. Positive" then you appreciate their willingness to call themselves out over blatant corporate plugging. But if you're riding a cynical wave, you could look at the effort as a sort of "reverse psychology" in that it's essentially Hulu getting people to talk about it as they're talking about Hulu talking about it. Yeah, let that one sink in as you watch the video here (Korvo's PSA to Hulu subscribers was our favorite):
In Roiland and McMahn's adult animated series, a team of four aliens who escape their exploding homeworld only to crash land into a move-in ready home in suburban America. They are evenly split on whether Earth is awful or awesome. Korvo and Yumyulack only see the pollution, crass consumerism, and human frailty while Terry and Jesse love humans and all their TV, junk food, and fun stuff. Their mission: protect the Pupa, a living supercomputer that will one day evolve into its true form, consume them, and terraform the Earth. Here's a look at the official trailer for Solar Opposites, featuring an all-star line-up of voice actors, including Roiland, Giambrone, Middleditch, Mack, Alan Tudyk, Alfred Molina, Christina Hendricks, Jason Mantzoukas, Liam Cunningham, Rainn Wilson, Tiffany Haddish, and more.