Just when it seemed like All Elite Wrestling's rally in Jacksonville Florida was coming to a close, the fledgeling promotion pulled out one last surprise. Closing out the show, founders Cody Rhodes and the Young Bucks took the stage again, agreeing to make one last announcement.
"The announcement is, our second show is going to be right here in Jacksonville, Florida," Rhodes said. "Not only is it gonna be here in Jacksonville Florida, but a large portion of the gate is gonna go to benefit victims of gun violence."
Rhodes and the Bucks then said that would be the last announcement "for now" and left the stage. Host Conrad Thompson then announced a group photo and meet-and-greets to close out the rally.
Everyone left the stage. And then Chris Jericho appeared.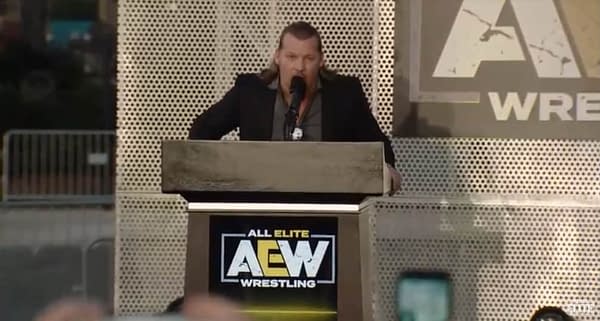 "I'm Chris Jericho, and I am All In with All Elite Wrestling," Jericho crooned to the chanting crowd. "Surprise!"
"I think we just took things to a different level, didn't we?" Jericho said before screeching like a rock god. "I'm not here for the money. I already got the money. I'm here because I believe in doing something different. I believe in doing something new. It's what I've always done my entire career."
"It all starts today," Jericho said. "This is the day that AEW starts. Right here, right now, in Jacksonville. And MAy 25th in LAs Vegas at the MGM Grand, Double or Nothing, I'm gonna be there. Are you gonna be there?"
"It starts now, and it starts forever," Jericho concluded. "I'm not here to just change the world. AEW is not here to change the world. We are gonna change the whole universe!"
Jericho then posed for the crowd as pyro went off above the rally and on the stage.
---
If you haven't been paying attention, All Elite Wrestling is a brand new promotion started by Cody Rhodes, the Young Bucks, and billionaire money mark Tony Khan. You can watch the whole thing below. And check out the other big stories of the night:
Billy Gunn and SoCal Uncensored join AEW
Britt Baker joins AEW's new Women's Division
AEW to Hold All In Sequel Double or Nothing in Las Vegas in May
PAC, Hangman Page, MJF, Joey Janella, and Penelope Ford join AEW
Enjoyed this article? Share it!