Oakland Raiders Offering Jon Gruden a 10-Year Coaching Contract
The Oakland Raiders really want Jon Gruden to come home. According to ESPN's Adam Schefter, the team is offering him one of the longest coaching deals in NFL History. The deal is said to be for 10 years and worth close to $100 million when it's made official on Tuesday. This has only happened twice before, in 1964 the Dallas Cowboys gave Tom Landry a 10-year deal and they did the same with Jimmy Johnson in 1989. The Raiders have called for a 'significant' news conference on Tuesday.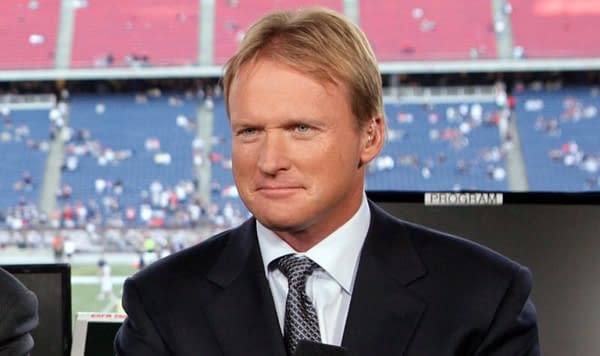 Gruden, who is said to have never wanted to leave the Raiders in the first place, will be announced as the new coach almost 20 years to the day from when Al Davis made him coach the first time in 1998. He stayed with the team until 2001 when he was traded to the Tampa Bay Buccaneers, then went on to win the Super Bowl the next year against the Raiders. He was the Bucs coach from 2002 to 2008 and has been in the broadcast booth for the last 10 years.
Mark Davis, the Raiders' owner, was said to be aggressively after Gruden and willing to include ownership share if necessary, which would need approval by NFL Owners. Gruden will replace Jack Del Rio, who was fired after the season finale on Sunday.
The value of the contract puts Gruden fourth on the team salary-wise after quarterback Derek Carr ($24.96 million), Kelechi Osemele ($11.7 million) and Gabe Jackson ($11 million).
It was announced on Friday by the NFL that the Raiders had complied with the Rooney Rule of interviewing at least one minority candidate, though what other candidates they interviewed has not been made public.
The Raiders trade Gruden away to the Bucs in 2002 in exchange for two first round picks, two second round picks, and $8 million. His record with the Raiders was 38-26 and 2-2 in the playoffs. With Tampa Bay, he went 95-81 while going 5-4 in the post season.