'Star Trek: Discovery' Season 2, Episode 6 "The Sound Of Thunder" Asks: Can Saru Go Home Again? [PREVIEW]
On CBS All Access's Star Trek: Discovery, Saru (Doug Jones) has always been in an impossible position. A technological genius, Saru is a refugee from a pre-warp planet – meaning that even one trip home to visit his family would mean that Saru was in violation of the Prime Directive. Now after losing his threat ganglia in "An Obol for Charon," Saru has learned that the very basis for the Kelpiens' beliefs, the dichotomy of predator and prey, may be a lie. This week's episode of Star Trek: Discovery "The Sound Of Thunder" explores the age-old question: "Can you ever really go home again?" with a twist you can only see on Star Trek.
Beware Kelpiens, spoilers and potential spoilers harvested below…
In the Star Trek: Short Treks episode "The Brightest Star," we learn that Saru is from the world Kaminar. His race, the Kelpiens, are largely aquatic farmers that see themselves as prey. In fact, the Kelpiens regularly sacrifice themselves to the Ba'ul, who they believe to be their natural predators. In the preview for this week's episode, it appears that one of the oft-discussed red signals appears at the Kelpien homeworld of Kaminar. Saru must go home for the first time since escaping his planet, leaving his family behind, and joining Starfleet. The plot line and images provided by CBS All Access indicate that this episode leans heavily on the events of "The Brightest Star" – so if you have not seen it yet, you might want to do it now.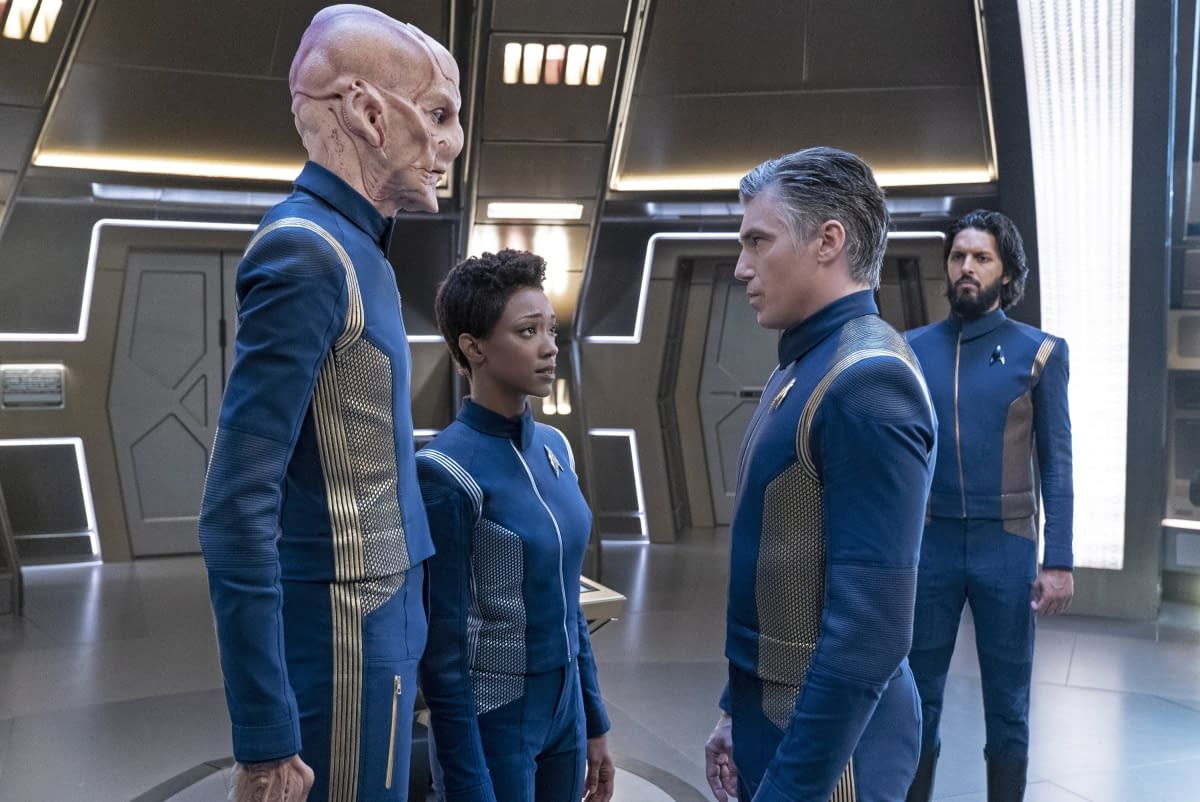 Saru has had a rough time of it lately. First, he almost died. Then, he finds out that his whole belief structure might be based on a lie. According to the preview, it appears that his entire home planet is under threat from some sort of oily monster. Images released by the studio show that Saru does travel back to the surface of Kaminar and reunites with his sister Siranna (Hannah Spear). From what I can see, she appears to be healthy and doing well for herself in her brother's absence. Some of the images look to be a bit awkward, which is to be expected since Saru appears to her in his Starfleet uniform after leaving with no word more than a decade ago. It would be rather unusual if the reunion were not a bit awkward. However, the threat of the Ba'ul (or whoever is attacking the planet) will likely have a uniting influence on the siblings.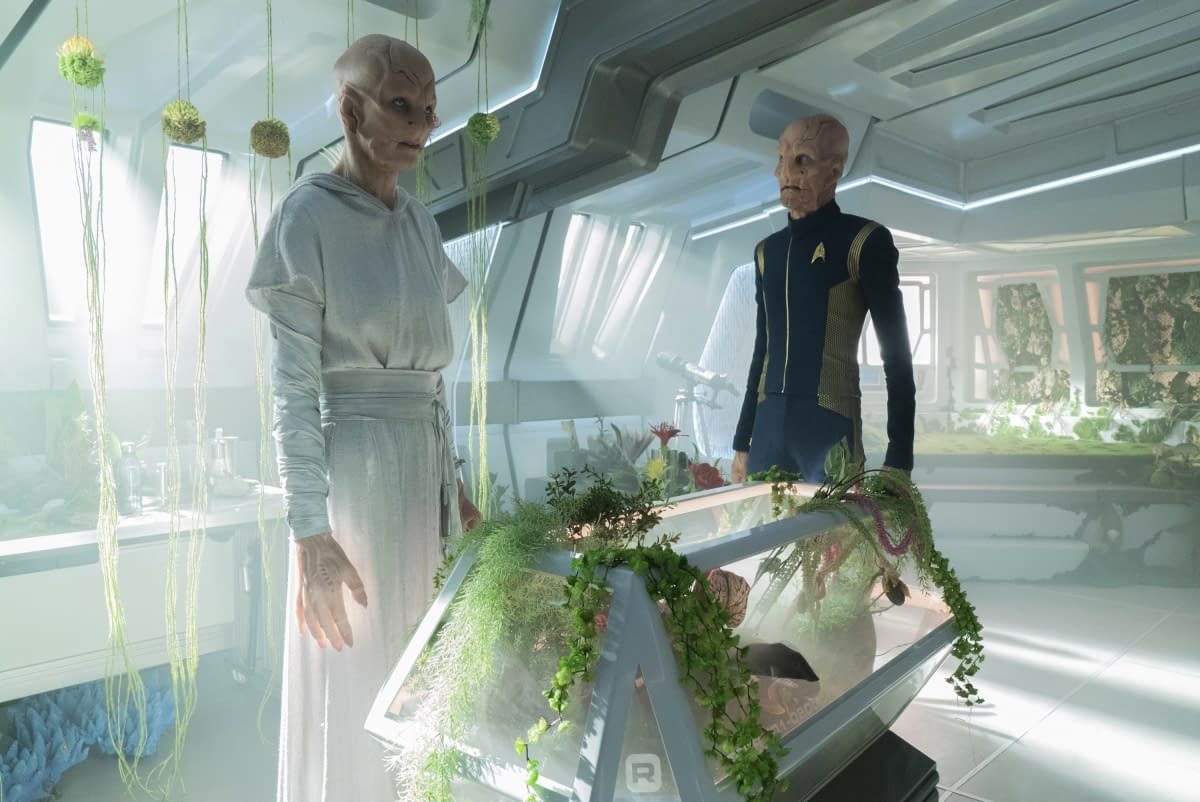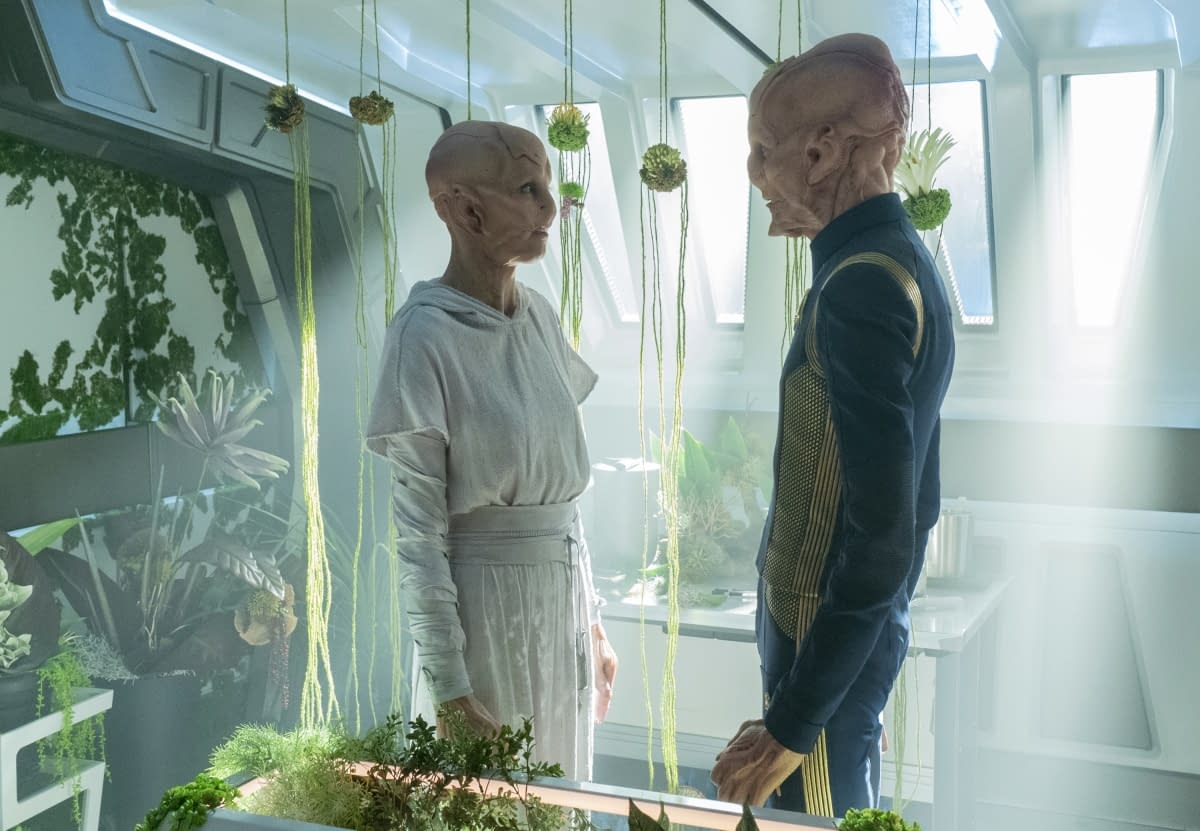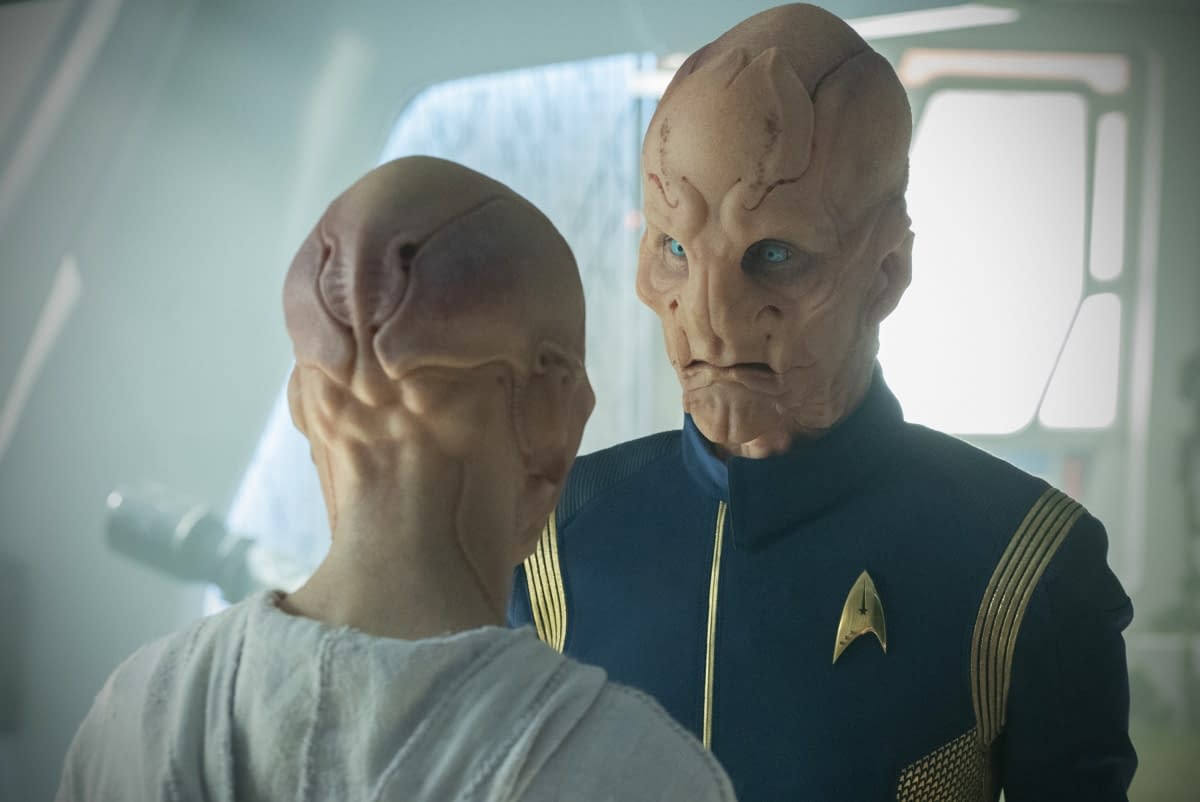 In "An Obol For Charon" when Saru is talking to Michael Burnham (Sonequa Martin-Green) about his sister and his home world, he discussed how never going home again was a condition of Saru joining Starfleet. Saru won his way offworld by adapting Ba'ul technology to communicate with Starfleet, but no one else on his world has that capability. Given these limitations, it is curious that in the images released by CBS All Access, it appears that Burnham is interacting on Kaminar with Saru and his sister Siranna. Is it possible that the crew of the Discovery have decided that the threat the the Kelpiens outweighs the concerns of General Order One?
Does Starfleet ever actually follow the Prime Directive?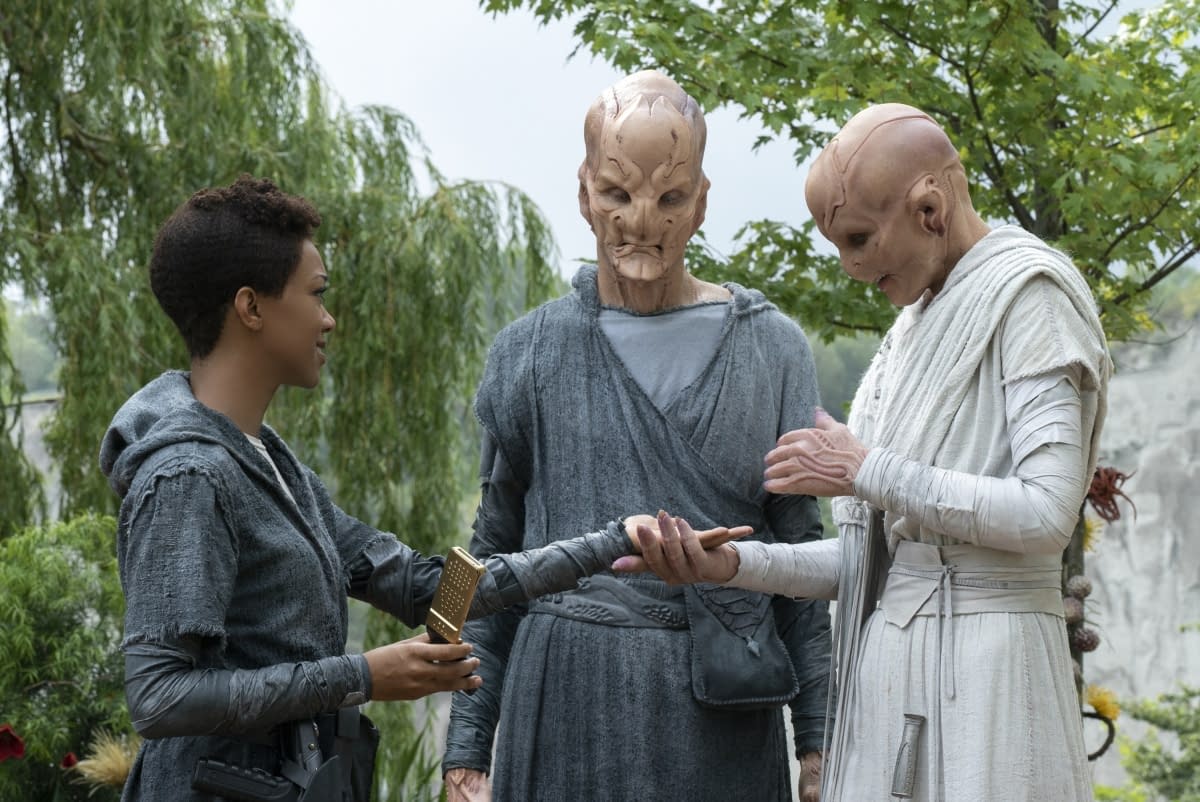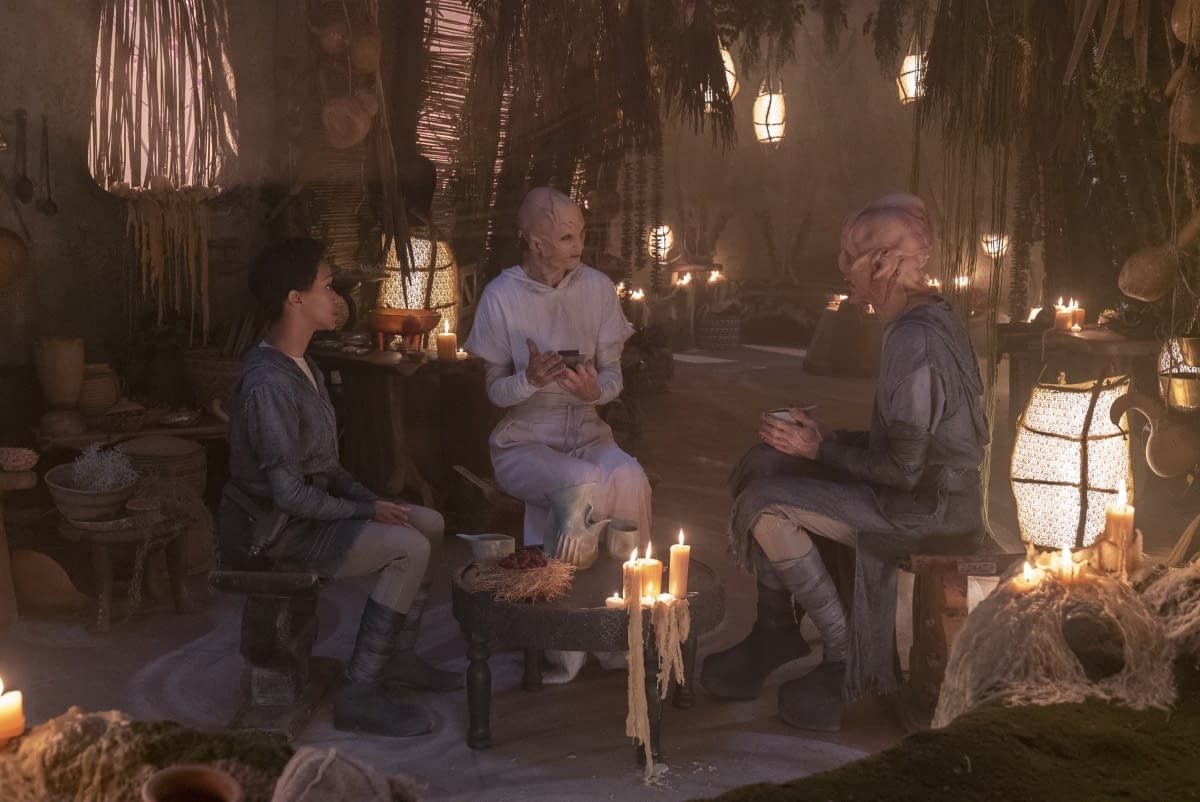 The timing of this episode seems more than coincidental. The Discovery crew is following the red signals and end up trapped by a semi-sentient sphere that makes Saru's body go haywire, resulting in the loss of his threat ganglia and causing him to question everything he knows about his very existence.
Suddenly, a red signal appears at Saru's home world and he must travel there and face a reckoning with the truth… ???
This sequence of events seems anything but random, making me question where exactly these red signals are leading. As the season progresses, it seems increasingly likely that whoever is sending these signals has an endgame in mind.
The question is, what is that endgame… and how does the Discovery fit in?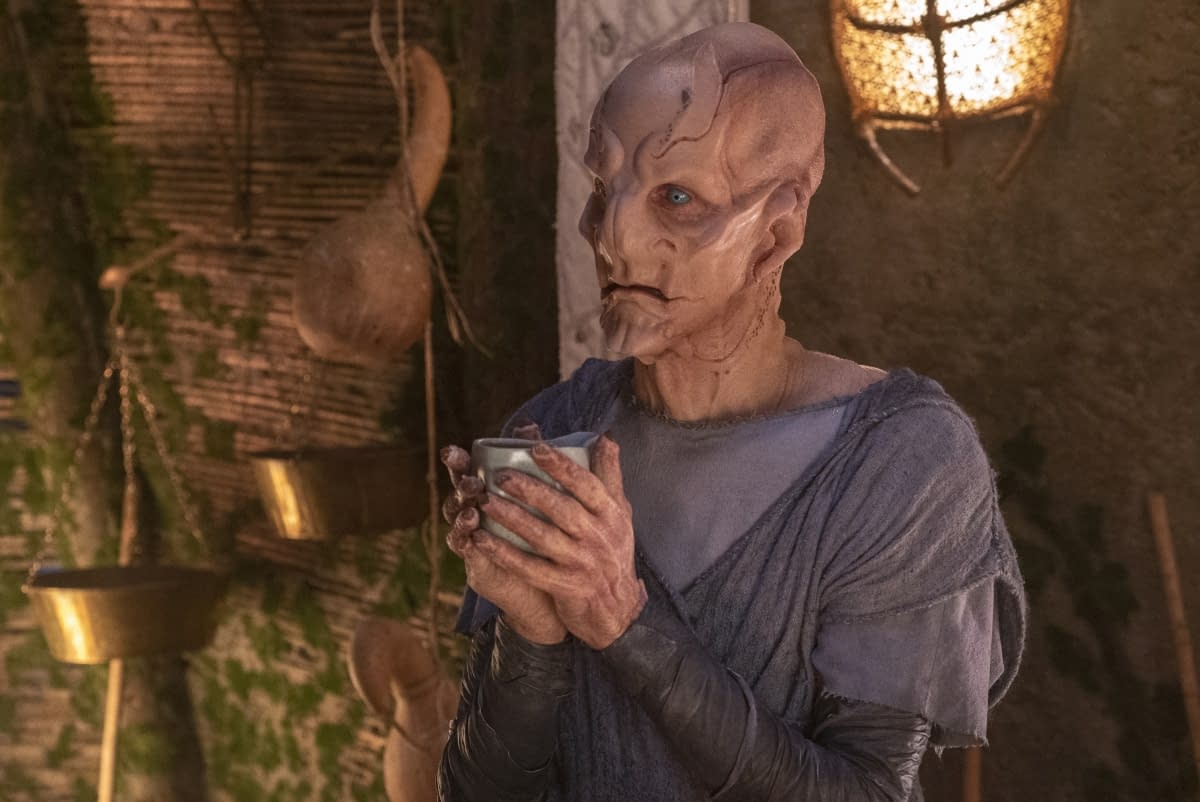 I noticed something else in the images released. It appears that Ash Tyler (Shazad Latif) has settled in to his role as the Section 31 liaison aboard the Discovery. He appears in multiple photos with a Discovery uniform on, but wearing his Section 31 black badge. After the shaky truce struck between Captain Pike (Anson Mount) and Leland (Alan Van Sprang) in last week's episode, I will be interested to see whether or not the cooperation between Section 31 and the Discovery works out. It will also be interesting to see how Tyler deals with his loyalties being divided between his old and new crews. I have always felt that Tyler's true loyalties were always to Burnham first and Starfleet second… but a lot has changed recently.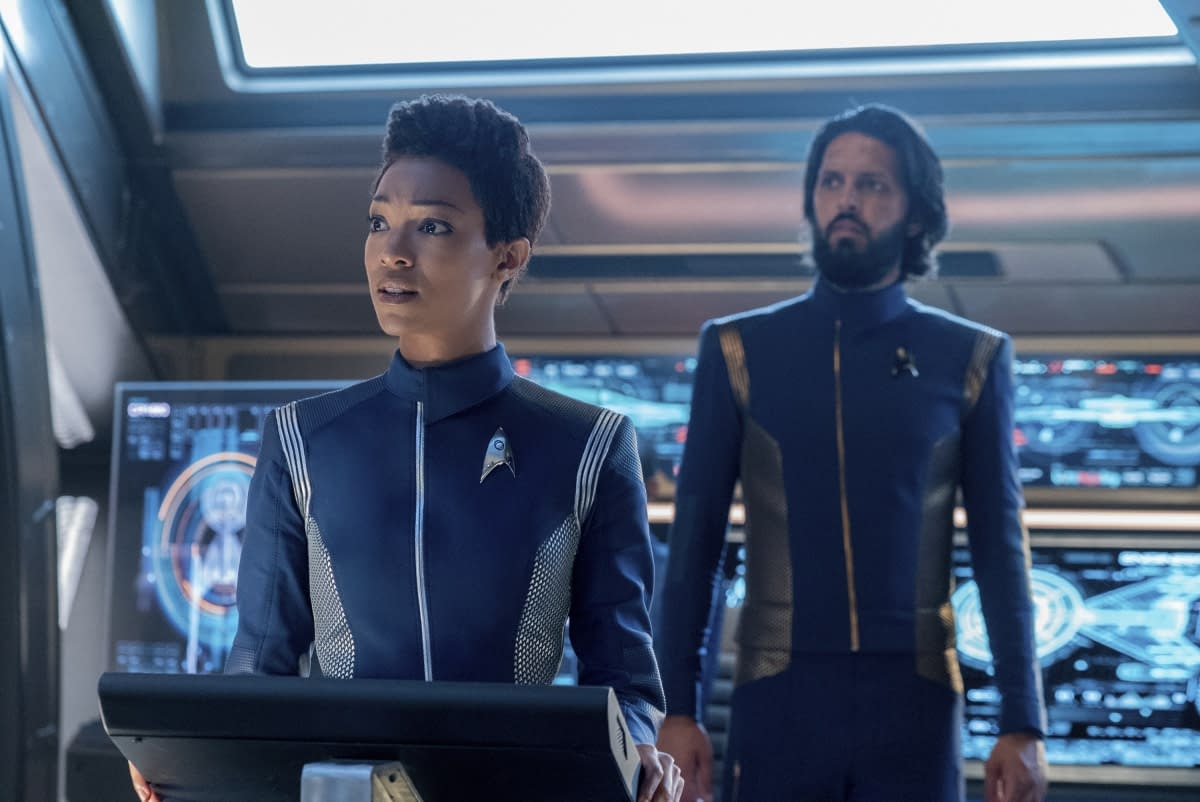 Interestingly enough, the recently-reborn Hugh Culber (Wilson Cruz) does not appear anywhere in the images or preview released by the studio. The events of last week's episode were monumental, and re-entry for someone so recently dead and tortured cannot be easy. I hope the show depicts the struggle that you would expect Culber to be going through and the adjustments that he and Stamets (Anthony Rapp) must make to get to know each other again. Considering the emotional toll of this season so far, I have faith that the Discovery showrunners will not let Culber and Stamets off easy.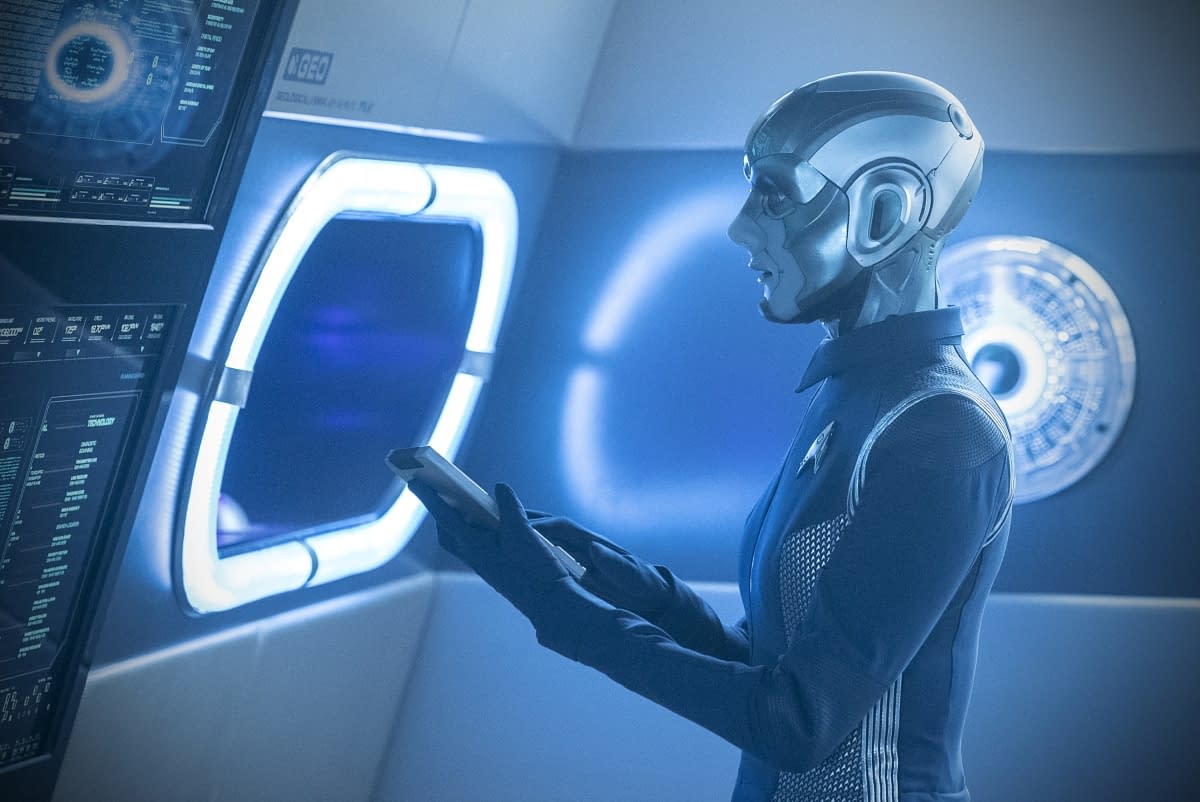 By all appearances, viewers of this week's episode of Star Trek: Discovery "The Sound Of Thunder" are once again in for a wild, action-packed, emotional ride. I, for one, am ready to see where the show takes us from here and how they further the season-long arc of the red signals.
One thing I have learned from this season is that things are almost never what I expect them to be.

Star Trek: Discovery "The Sound Of Thunder" premiers on CBS All Access on Thursday February 21, at 8:30 p.m. ET.
"When a new signal appears over Saru's home planet, Burnham, Saru and the crew embark on a perilous mission that puts Saru in danger and raises questions about the Red Angel's intentions. Hugh struggles to come to terms with his new reality."