"Star Trek": Jeri Ryan's Seven Reasons to Blame "Picard" [VIDEO]
Most fans are excited to see a new Star Trek series that continues where Prime universe left off in Picard. To the dismay of some, most of the focus came to the cast of The Next Generation. One of the biggest surprise reveals was the addition of Star Trek: Voyager's Seven of Nine, last played by Jeri Ryan in 2001. The addition of Seven to Picard is refreshing given the lack of updates from other Trek characters after TNG outside of Kate Mulgrew's Kathryn Janeway. Janeway, former captain of the U.S.S. Voyager, saw her promoted to admiral at the time of Star Trek: Nemesis (2002). Ryan spoke with IGN about her involvement in Picard 19 years after Voyager.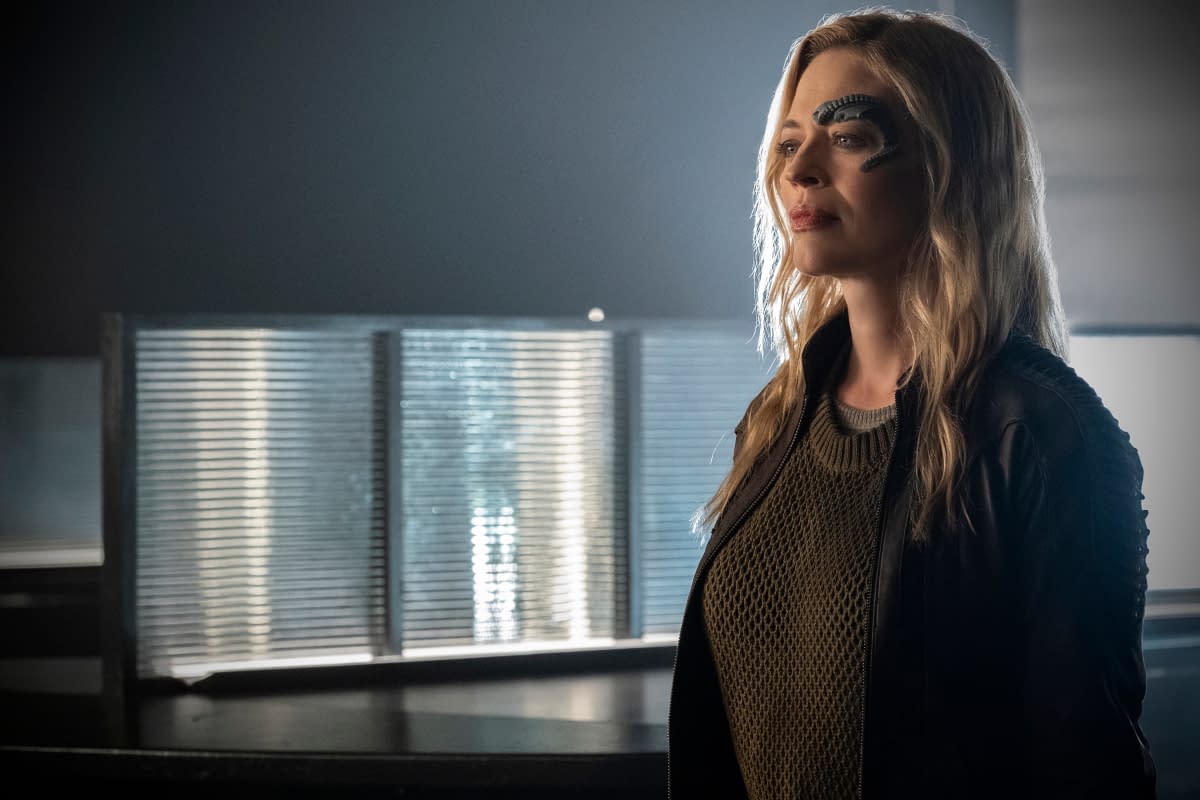 Seven's Story Since "Star Trek: Voyager"
Ryan said the galaxy goes through dark times and she saw "a lot of crap" in the last 20 years.
"Seven I think holds Starfleet and the Federation in large part responsible for much of it. The universe is a mess and I think she initially sees Picard as a representation of that. She's been working … with sort of a group of freedom fighters called the Fenris Rangers who are trying to keep some semblance of order in the mess that is the galaxy."
"Fenris" is a wolf in Norse mythology – and it was a wolf that raised founders Romulus and Remus in Roman mythology. While it's speculation, the Fenris Rangers could have ties to the displaced Romulans following their planet's doom during the events of 2009's Star Trek. Admiral Picard led a rescue operation for survivors. Following the tragic events, Picard left Starfleet at some point to tend to his vineyard in retirement.
From what CBS All Access revealed of Picard, the Borg play a significant role in the story. Seven, Jean-Luc Picard (Patrick Stewart), and Hugh (Jonathan Del Arco) – all once assimilated by the Collective. Borg Ties
Voyager freed Seven in the episode "Scorpion Part II." The Borg assimilated Picard in the TNG two-parter "The Best of Both Worlds", becoming Locutus and later freed. The crew encountered a drone from a crash site in "I Borg" freeing him and renaming him from his designation "Third of Five" to "Hugh". Despite perceived familiarity in the trailers, Ryan says Seven and Picard never crossed paths:
"This is the first time that Seven and Picard actually meet. They know each other by reputation. And as I've said before, Seven's not on the 'Oh, he's a god' bandwagon I think initially when she meets him because she holds him partially responsible for what Starfleet has done in her view."
Integrating Legacy "Star Trek" Characters
Executive producer and creative head of the Star Trek franchise Alex Kurtzman delved deeper into Seven's purpose in the series.
"We had a rule on the show which was that we did not want to just bring back legacy characters to bring them back. They had to come back because the story could not tell itself without those characters. There were two things that came to mind immediately with Picard. When you think of Picard you think of his relationship with Data and you think of the Borg.

…Seven and Picard have never been onscreen together before. So that was a really interesting opportunity, and what they share, even though they've never spoken, is they were both assimilated by the Borg. So they would obviously both be haunted by that element of their lives. We certainly know that both of them have been individually, and now what does it mean for them to see that in each other. Is it too painful? Is it a little like staring into the sun? Is it comforting? Those are really interesting questions to ask."
Star Trek: Picard premieres on CBS All Access January 23rd.