Star Trek: Picard Season 3 Ep. 5 Review: Hello Darkness, My Old Friend
Star Trek: Picard Season 3 tension grows as the TNG crew attempts to discover how deep the conspiracy goes & an old friend appears.
---
Just when Jean-Luc Picard (Patrick Stewart) and company think they've escaped one major crisis, they discover they barely scratched the surface of the greater one at hand. The Star Trek: Picard episode "Imposters" proves there's no resting on any laurels following the events of "No Win Scenario." When we last left our heroes, Dr. Beverly Crusher (Gates McFadden) used her medical expertise and genius-level of intuition for the U.S.S. Titan to use the presiding nebula they're trapped to their advantage while Capt. Riker (Jonathan Frakes) was able to throw an asteroid in the process to shake their tail with the Shrike in hot pursuit. The following contains minor spoilers.
Star Trek: Picard – Deeper into the Conspiracy Rabbit Hole
With ever the smug look on his face, the Titan's original captain Liam Shaw (Todd Stashwick), never misses the opportunity to say "I told you so" to anyone who challenges his authority. While Will and Jean-Luc are ready to face Starfleet's judgment, everything is reset with command reverting to Shaw and the "good captain" restoring Cmdr. Seven's (Jeri Ryan) status to active duty after being relieved for insubordination. Upon waiting to receive a further command from the U.S.S. Intrepid, a shuttle makes its way to the Titan rather than the standard transport, and a familiar face from The Next Generation's past emerges… much to Jean-Luc's chagrin.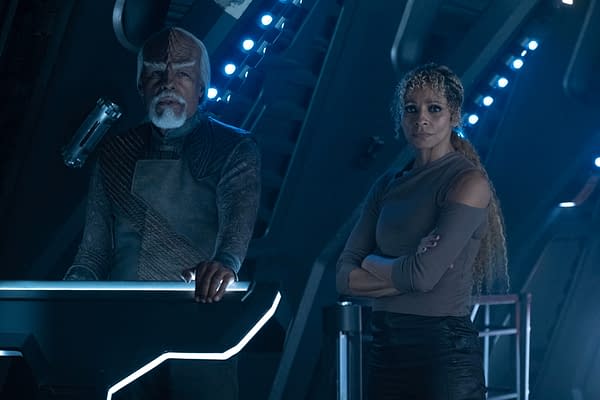 Anyone who's followed Star Trek from the beginning of The Original Series knows how much Starfleet ISN'T a utopia, given how much corruption seems to always seep into the ranks. It's a familiar formula at this point where if you thought we would see standard conventional warfare up to this point 11 shows in, then you haven't been paying attention. As the title implies, once they reveal who the villains are, then you can probably deduce the paranoia. Speaking of which, we see Raffi (Michelle Hurd) and Worf (Michael Dorn) back on the trail of the conspiracy to uncover who's behind the superweapon and the regular roadblocks they run into in their investigation. Executive producer and showrunner Terry Matalas brought over another 12 Monkeys favorite in Kirk Acevedo as Krinn, a Vulcan crime lord.
Directed by Dan Liu, who's also worked on its upcoming follow-up episode along with Strange New Worlds, and written by Cindy Appel and Chris Derrick, giant pieces do start to fall into place as consisting of the season, and no time is wasted. It's great seeing a dangling TNG narrative finally resolved, and both Stewart and the mystery guest certainly upped their performance beyond the original syndicated series, no doubt benefitting from the writing. The developing arc with Ed Speleers certainly lends to some compelling driving narrative in the next few episodes. It can easily fall within lazy cliches, but I trust the series will tread carefully. People expecting another main cast member this week will be disappointed, but the alternative certainly didn't disappoint. Star Trek: Picard streams Thursdays on Paramount+.
Star Trek: Picard Season 3 Episode 5 "Imposters"
---
---
Paramount+'s Star Trek: Picard episode "Imposters" does a great job following up the previous episode, "No Win Scenario," laying the seeds of how deep the rabbit hole potentially goes as far as the third season's main arc. Powerful performances all around, especially from Sir Patrick Stewart, the TNG mystery guest, Michael Dorn, and Michelle Hurd.
Credits
---