Star Wars Day Brings "Visions" Volume 2: Studios & Shorts Details
Star Wars: Visions Volume 2 is set to arrive on May 4, 2023. Here's a look at the studios, titles & creative teams behind the shorts.
---
As if "Star Wars" fans needed a reason to celebrate May 4, 2023, but Disney+ & Lucasfilm want to make sure that their love and dedication to the franchise aren't being forgotten. So on "Star Wars Day," the streamer & studio will be releasing the second volume of the animated anthology series Star Wars: Visions. For the second round, viewers can expect nine new shorts from nine studios from around the world, each bringing its own unique storytelling style to the franchise's universe. The studios in play for Volume 2 include El Guiri (Spain), Cartoon Saloon (Ireland), Punkrobot (Chile), Aardman (United Kingdom), Studio Mir (South Korea), Studio La Cachette (France), 88 Pictures (India), D'art Shtajio (Japan), and Triggerfish (South Africa). D'Art Shtajio's short was created in collaboration with Lucasfilm Ltd. (United States). Now, here's a look at the titles of the nine shorts, as well as as the creative teams behind them: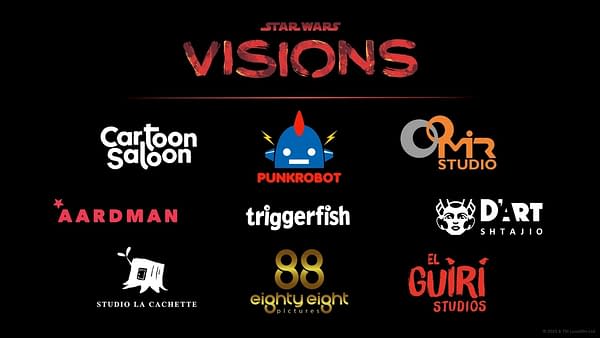 "Sith": El Guiri/Writer-director: Rodrigo Blaas (Trollhunters, Alma); "Screecher's Reach": Cartoon Saloon/Director: Paul Young (Puffin Rock, Dorg Van Dango); "In the Stars": Punkrobot/Writer-director: Gabriel Osorio (Flipos, Muelin y Perlita); "I Am Your Mother": Aardman/Director: Magdalena Osinska (Wallace & Gromit's "The Great Sofa Caper" & "Share the Orange"); "Journey to the Dark Head": Studio Mir/Director: Hyeong Geun Park (Dota: Dragon's Blood: Book 3, Lookism); "The Spy Dancer": Studio La Cachette/Writer-director: Julien Chheng (Genndy Tartakovsky's Primal, Ernest and Celestine: A Trip to Gibberitia); "The Bandits of Golak": 88 Pictures/Director: Ishan Shukla (Schirkoa, Schirkoa); "The Pit": D'art Shtajio and Lucasfilm Ltd./Writer-director-executive producer: LeAndre Thomas (The Mandalorian, Obi-Wan Kenobi) & Co-director: Justin Ridge (Star Wars Resistance, Avatar: The Last Airbender); "Aau's Song": Triggerfish/Writer-directors: Nadia Darries (Stick Man, Revolting Rhymes) and Daniel Clarke (Stick Man, and The Snail and the Whale).
"The reaction to the first volume of 'Star Wars: Visions' blew us away. We were delighted that this project inspired and resonated with so many people," says James Waugh, Star Wars: Visions executive producer and senior vice president, Franchise Content & Strategy at Lucasfilm. "We always saw 'Star Wars: Visions' as a framework for celebratory expressions of the franchise from some of the best creators working today. Animation is in a global renaissance, and we're constantly staggered by the amount of creativity pushing the medium forward. With Volume 1, the imaginative minds of Japan's anime industry were on full display. With Volume 2, we expanded our canvas to take audiences on a global tour of some of the most talented creators from around the world. We're so proud to be able to reveal the line-up of studios we've assembled. Every short is incredible, full of heart, scope, imagination, and the values that make stories distinctly Star Wars — all while opening up bold new ways of seeing what a Star Wars story can be." Waugh serves as executive producer alongside Jacqui Lopez and Josh Rimes.