Supergirl Season 3: 16 New Images from 'The Fanatical'
The CW has released 16 new images for the upcoming 19th episode of Supergirl called 'The Fanatical'. There are quite a bit of story spoilers in the images, so don't go any further if you don't want to know.
.
.
.
Here is the synopsis for 'The Fanatical':
JAMES CONSIDERS UNMASKING AS GUARDIAN — When Tanya (guest star Nesta Cooper), a disciple of Coville's, escapes from what's left of his cult, she gives Kara (Melissa Benoist) and James (Mehcad Brooks) a journal that could hold the key to saving Sam (Odette Annable). Someone learns Guardian's identity and threatens to expose James if he doesn't do what they ask. James contemplates what it means to be a black vigilante without a mask in America. Mairzee Almas directed the episode written by Paula Yoo & Eric Carrasco (#319). Original airdate 5/21/2018.
The first image tells us that the team subdues Reign in the next episode and not only has her back at L Corp, but it looks like they're using kryptonite to secure her. Also, Mon-El is still around, meaning he didn't leave with the Legion. Most of these images take place in the lab or a few with James (Mehcad Brooks), but none seem to touch on what appears to be the main story, one of Coville's disciples running off with the journal that might help Supergirl (Melissa Benoist).
I wonder if James might end up changing his armor to be more like the one of the comics that shows his lower face, revealing that he is black without giving away his identity.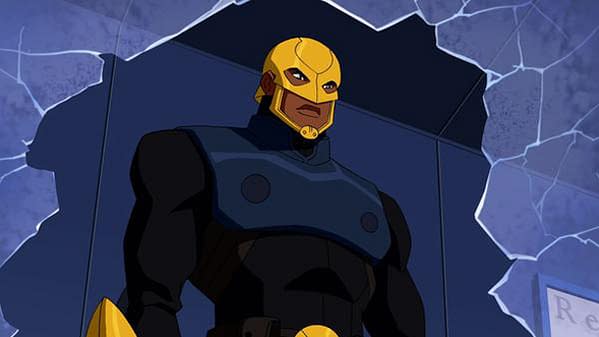 Supergirl airs Mondays at 8 p.m. ET on the CW. 'The Fanatical' will air on May 21st.