Supergirl Season 3: Kara and Mon-El Speed Off to Meet [Spoiler]
I put "Spoiler" in the title in hoping that would be enough of a spoiler warning, but if you haven't seen the most recent episode of Supergirl season 3 nor the trailer for the upcoming episode, then read no further — there are absolutely huge spoilers ahead for some.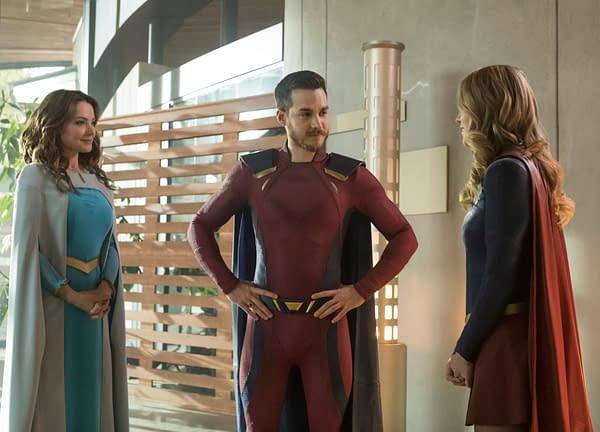 At the beginning of this season we learned that Laura Benanti was no longer going to be playing Alura Zor-El on Supergirl. The character had only made a handful of appearances in the second season after doubling as Astra and Alura in season 1. It seemed like she was going to end up being a forgotten character like Maxwell Lord or Cat Grant who would just fade away by the third season. But that wasn't the case here, as they decided to recast with Smallville alum Erica Durance taking over the role. But still we only saw her as a hologram, in flashbacks, and in dreams. But next week we discover what the writers had planned for her for a while. Alura is alive and living in Argo City on an asteroid floating in space… and Kara (Melissa Benoist) and Mon-El (Chris Wood) are headed there.
Durance chatted with EW.com about the upcoming twist that was given away in both photos and a trailer released by The CW this week. Here are some of the highlights of the conversation.
The actress was asked if she knew what the writers had in store for her:
They were telling me there would be this massive, huge surprise for Supergirl's character, that her mother will be coming back. They didn't say in what capacity, they just knew it was going to be this big surprise for everybody, and specifically for her, and then her dealing with what that means to have this mother of her birth alive and come back to her, and in what way. Now it's unfolding for me, the capacity with which I help, and it's pretty exciting.
On what's life has been like for Alura and Argo City since Krypton was destroyed:
From their point of view, they've been struggling for survival. They've been on the edge of destruction countless times and sacrificed again and again for it. And Supergirl's family did, specifically — Alura had to send her only daughter away, then she loses her husband to saving the world, basically their world, Argo. So it's been a war-torn time. All of a sudden, she's here and she's on this planet, she's trying to make a life for herself, and she comes around the corner, and it's her long-lost daughter that is there. She's trying to put the pieces together and find out what she can do to help her. And of course, it comes down to the big black rock.
How Alura feels about her daughter being with a Daxamite:
I think she has her reservations, for sure, but also recognizes that this is a daughter that is very strong on her own, and has become this very independent woman. I think that the things that Alura has gone through, the losses that she's had with her people and with her life, I think has made her less judgmental about those things.
And if Alura will be back for next season:
I think there's so much that they could do with her if they needed to. She's an important character, just to reflect off of Supergirl and her mother and all of those things. Whether they can fit her into the mix, we'll see. But I know that for this year, so far, it's been a really fun experience, and I know I'm going to get to do some pretty cool things in the next couple weeks that I'm excited about.
Supergirl airs Mondays at 8 p.m. ET on the CW.