Posted in: CW, Review, Trailer, TV | Tagged: Batman, bleeding cool, cable, comic books, Comics, crisis, crisis on infinite earths, cw, CW DCTV, dc, dc comics, episode 22, jon cryer, Kara, lex luthor, melissa benoist, monitor, season 4, streaming, supergirl, superman, television, the quest for peace, tv, wonder woman
---
'Supergirl' Season 4, Episode 22 "The Quest for Peace": Rousing, Resounding Season-Ender [SPOILER REVIEW]
The CW's season 4 finale of Supergirl "The Quest for Peace" did not disappoint, bringing tons of storylines and character arcs to a satisfying conclusion. Not only that, its last few minutes tease multiple characters and potential stories for the fifth season… and the looming "Crisis."
Lex Luthor looms large this episode, as does Lena. In many ways, this episode becomes their story. We rewind a few hours from the news stories we saw the end of last episode and see Lex moving his final chess pieces around – coordinating with Kasnian military and the president, sending Red Daughter on a final mission to kill Supergirl – and then blasting off in his Lex-suit to take down said Kasnian forces and Red Daughter – all set to the tune of Frank Sinatra's "My Way" (the anthem of a-holes everywhere) as he gleefully sings along and sends missiles flying.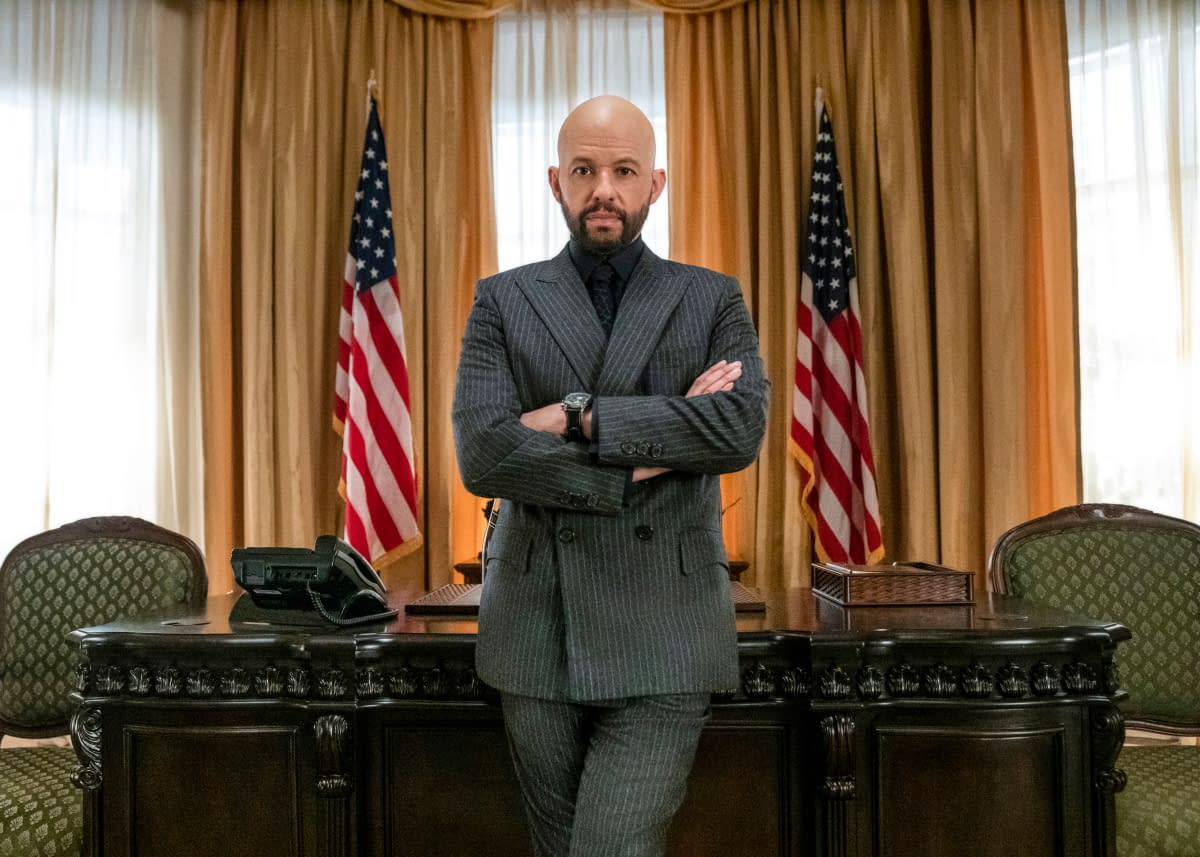 It's great to see Cryer as Luthor. He is just absolutely astounding.
The episode's second act slows down a little bit to move everything and everyone around for our final confrontations. On Shelley Island, Supergirl, Alex, James, and Brainiac attempt to rescue J'onn, Dreamer, and the other captive aliens – but are interrupted by Ben Lockwood and his Sons of Liberty.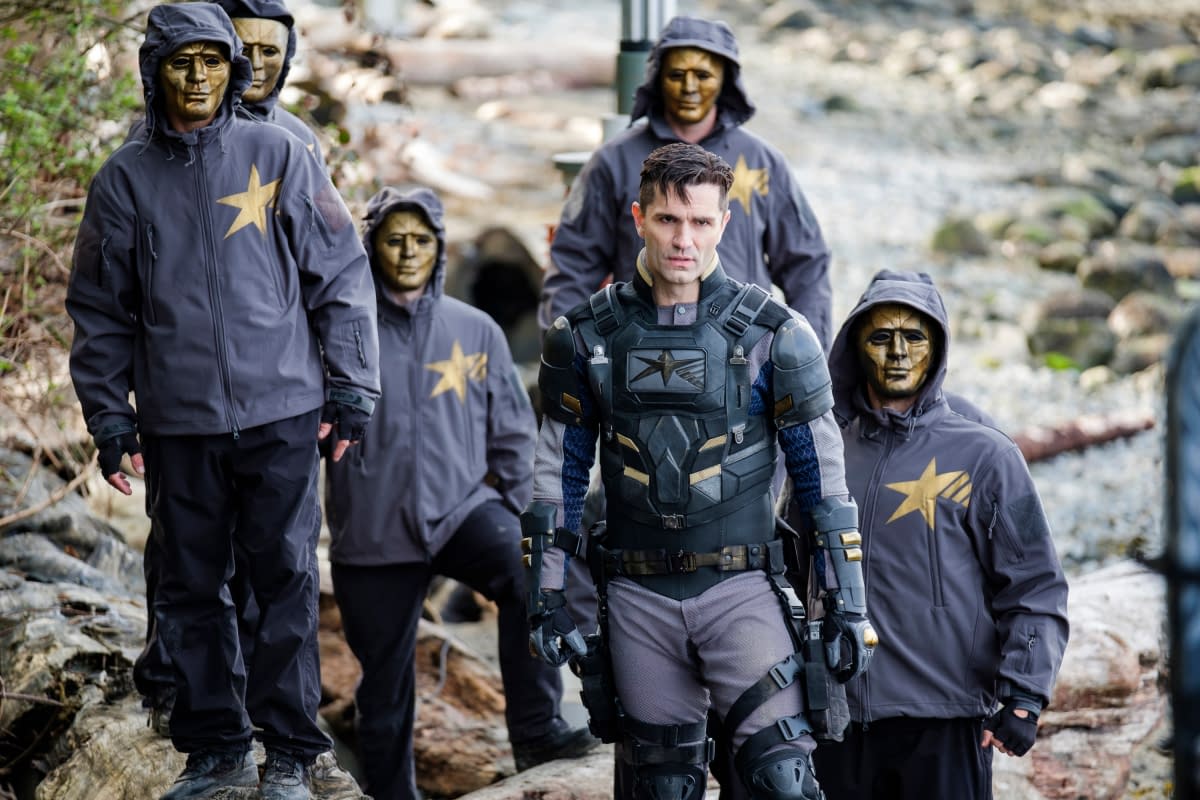 There's a really great battle, especially as we see Alex and James take on these goons. Even with superpowers, it takes teamwork to take them down. It was also great to see the acting chops of Witwer given the spurs one final time. He is like a caged animal with his ferocity, and it's an act of beauty to see him let loose.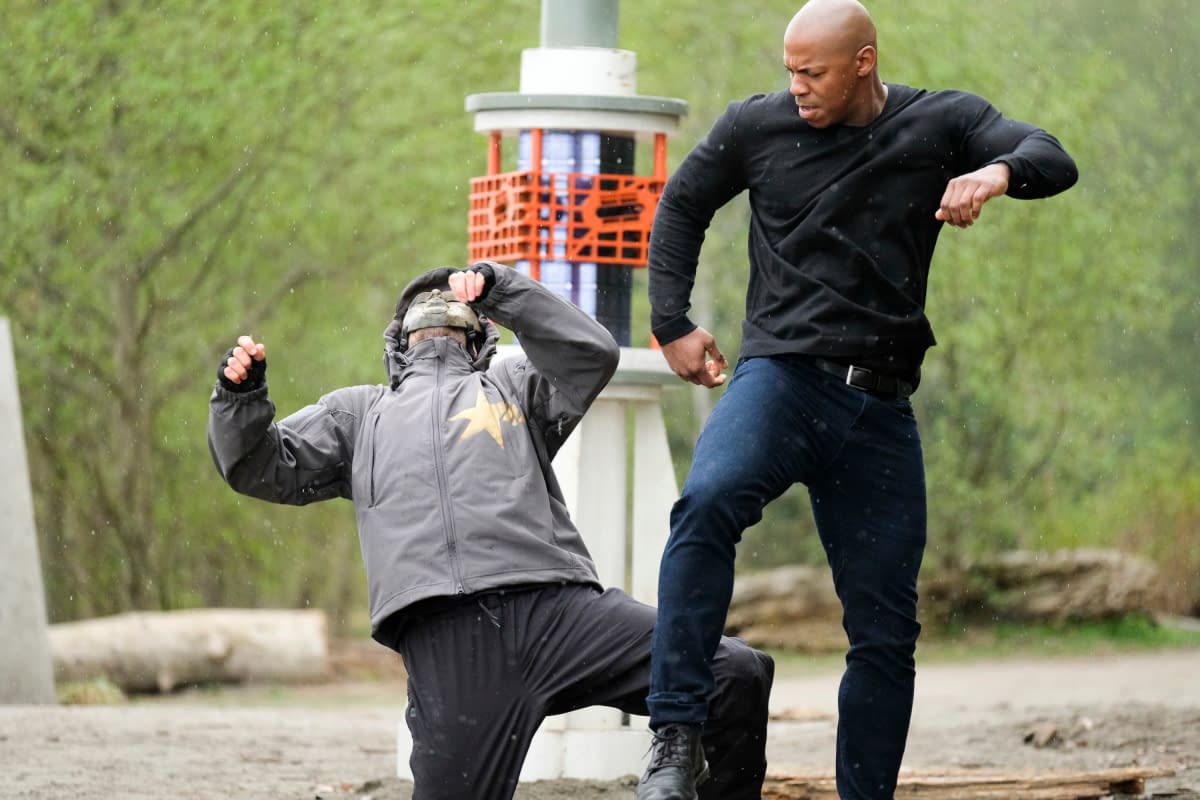 While this is in some ways a "quieter" moment (although it takes place in the power plant's center, among all sorts of noise and explosions), J'onn and Dreamer attempt to overload the power cores with their psychic energy – which Brainiac gives a very low probability of working. Somehow during this scene (I read it as being emotionally moved by Dreamer being willing to sacrifice herself triggering an emotional response, although that wasn't entirely clear) Brainiac resets himself and we get our old Brainy Querl Dox back. His verbal patter he went through as he was rebooting was so wonderful. I've never been so amped to hear someone yell "Monty Python!" so triumphantly as he regains control of his own mind.
Unfortunately, Lex Luthor has to interrupt and ruin everything. His final battle with Supergirl is a lot of fun, and they're definitely letting their stunt team do a lot and take advantage of the fact that Kara is in the Destroyer suit.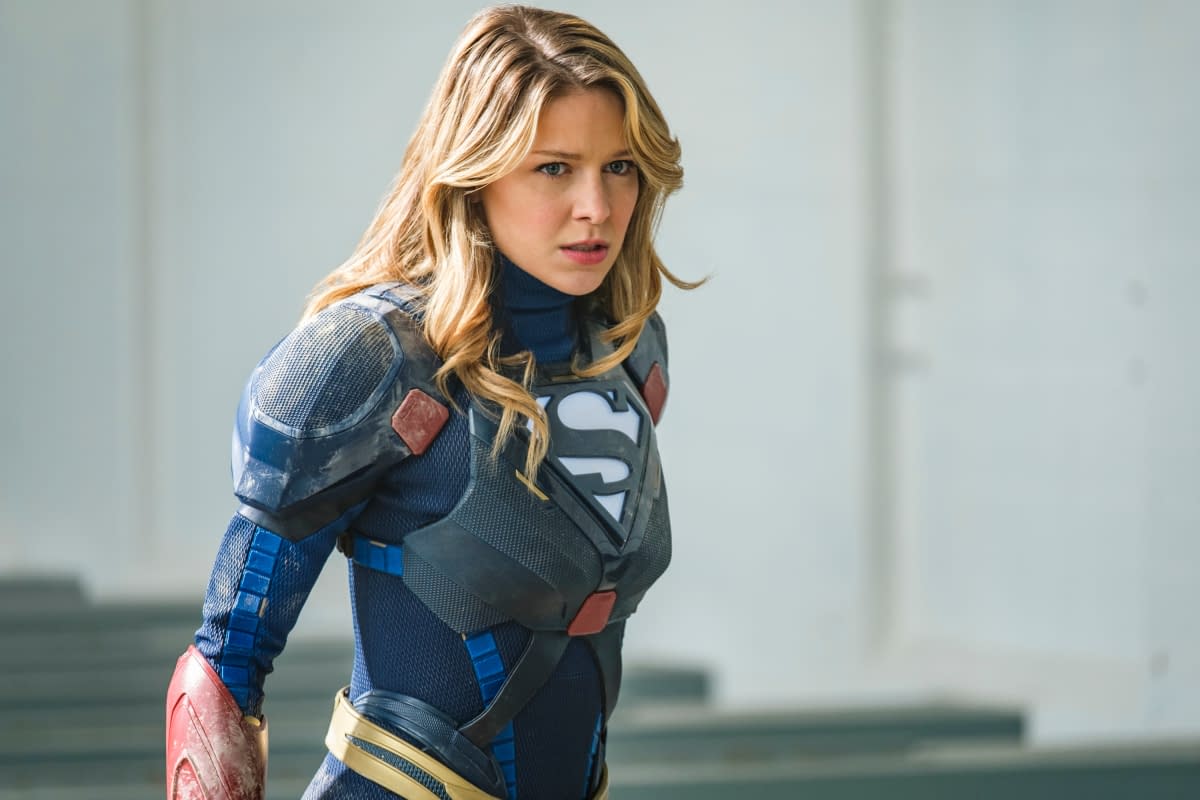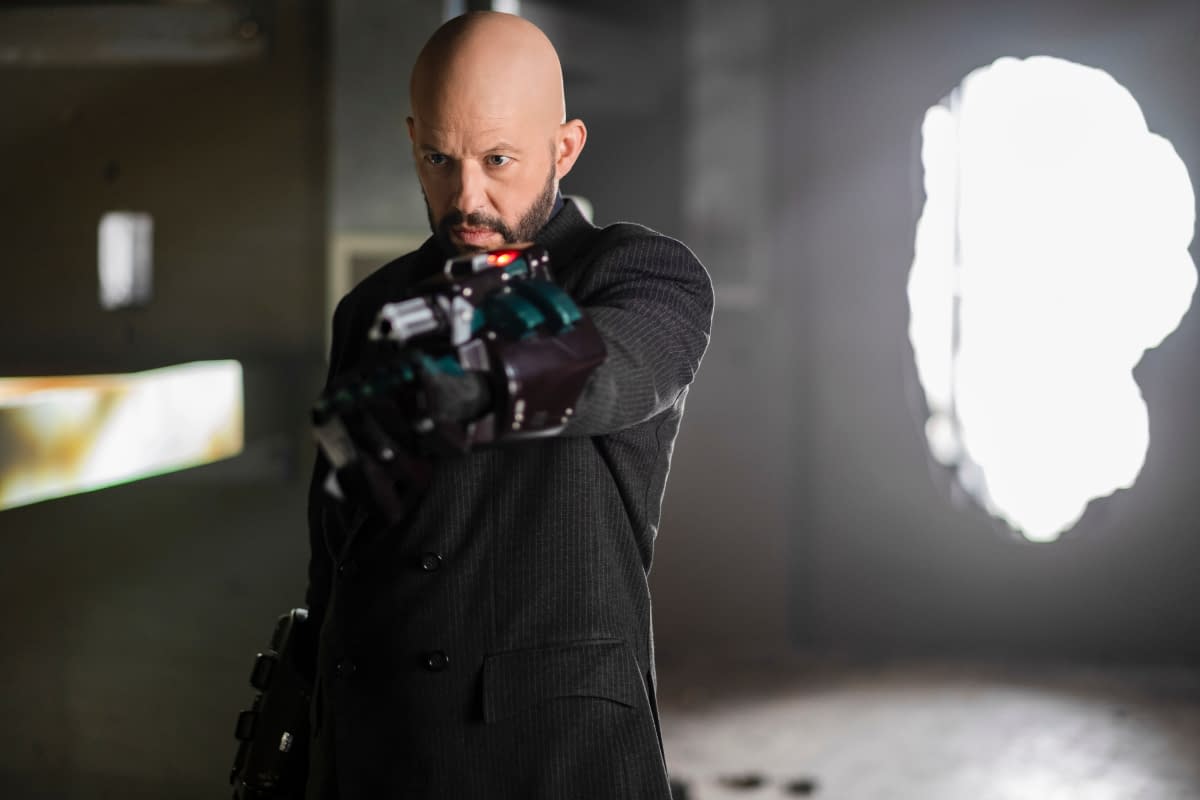 I cheered when Red Daughter came in and saved the day, taking another one of those kryptonite blasts. There was that beautiful ending when she told Kara that her Alex obviously wasn't as good as hers. But again – pressing the limits of the Supergirl powerset – as she dies, her energy is reabsorbed into Kara's body (makes sense since she was a clone created by Harun-El, after all), but it was super cool to see Supergirl go toe-to-toe with Luthor now with purple-infused heat vision.
Of course, he flies away like a coward with his robot suit malfunctioning – given the prospect of Supergirl saving him, Lex says he'd rather die than be saved by a Kryptonian. Lex falls (apparently) to his death… but oh no! We know him so much better than that and he escapes to his secret lair – where Lena is waiting for him.
Then some really crazy stuff goes down…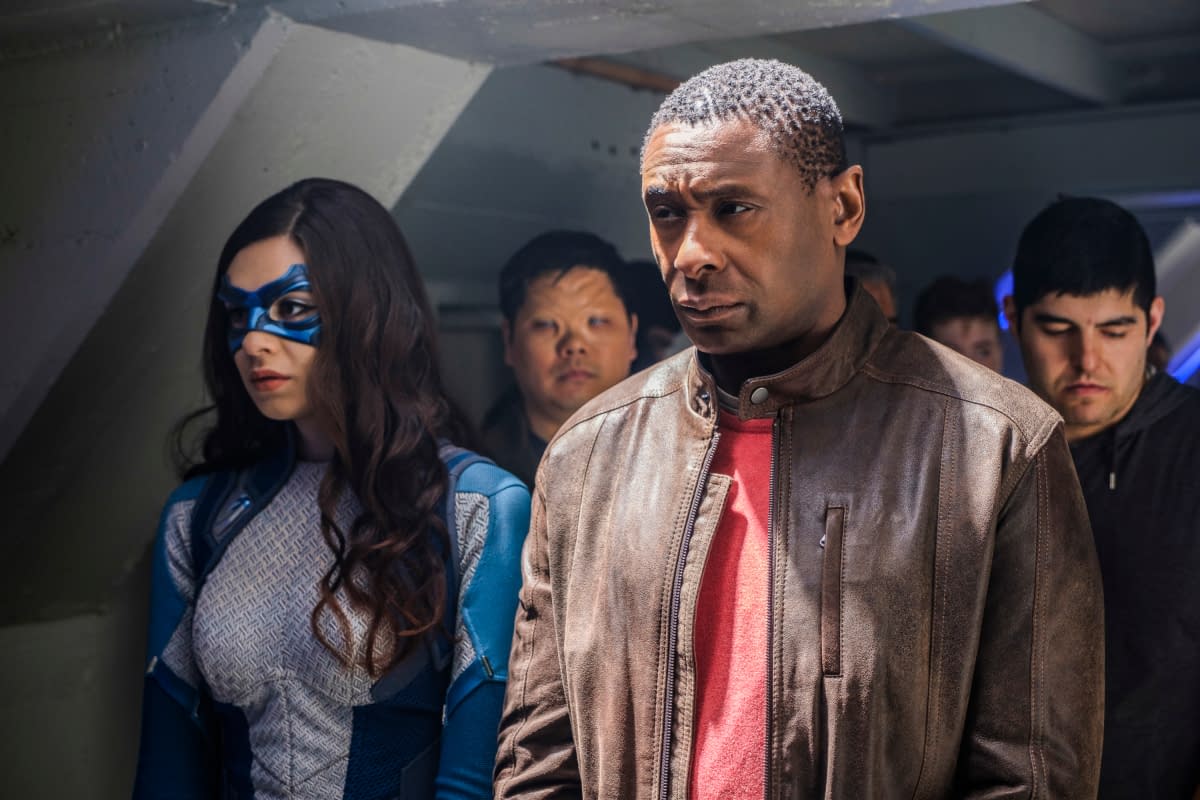 Lena shoots Lex, saying the world will never be safe as long as he's in it. She's not wrong. Then Lex plays her a sizzle reel of "The Best of Kara Danvers Being Supergirl" and poisons Lena's relationships with all of her best friends forever. We later see Lena join a game night with the assembled crew and everything appears fine – but later we see her drinking along and crushing a framed picture. There will be a reckoning for this betrayal, and who knows how she is going to react. With Brainy's turn last episode, it seemed a tease he could be the big bad for Season 5… but maybe it will be Lena?
Not to be outdone, we get some more teases! Trying to escape out of town, Eve Tessmacher is confronted by someone who tells her "Leviathan is everywhere" and that they sent her and Lex to "move the needle" and that they failed.
Oooooh, Leviathan. That's going to be fun.
Of course, the Monitor shows up and does a whole bunch of meddling in preparation for "Crisis." First, he unleashes a Martian and tells him to take revenge on his brother. All signs point to this being Ma'alefa'ak / Malefic …which does not bode well for J'onn Jonzz.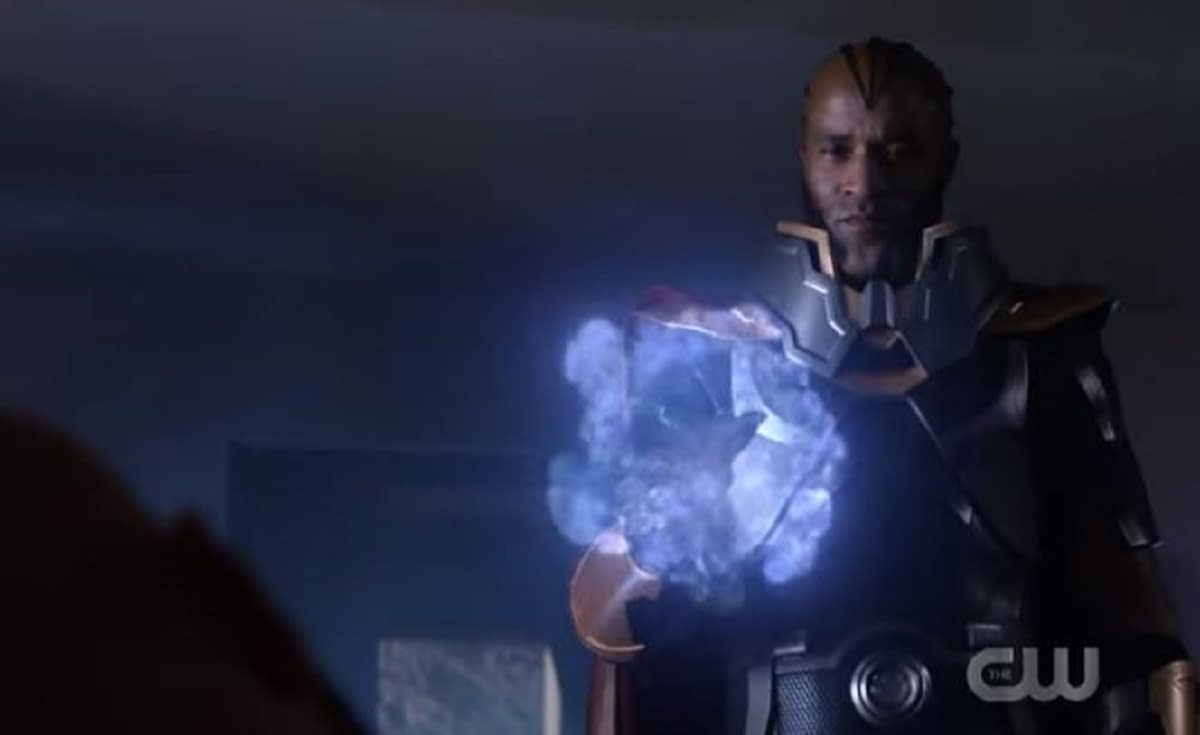 Then he teleports over to where Lex Luthor's dead body slumps over in his chair and starts beaming him into some sort of device. Methinks Lex will be back for "Crisis." Bring it on!
Ok, that is all going to be insane. Oh, and Alex and Kelly Olson appear to be dating after their odyssey almost adopting a baby. That's a nice happy touch. Kara's article cleared her name, set the record straight about Lex, and people are comparing her to Woodward and Bernstein. In a really nice moment, she asks "Can you believe The Fourth Estate saved the day?" It's that sort of sunny optimism and pluck that make me love Supergirl, and make me both sad and hopeful that our real world journalists couldn't do the same. Oh, and Jimmy Olsen has an eyepatch now? So it's not enough that Lex Luthor is trying to be Tony Stark, the show's going for Nick Fury now?
I kid! I kid!
This season didn't disappoint and delivered some of the best, most cogent, timely social/political commentary of any show this season (eat yer heart out, Game of Thrones!) This finale caps off one of the finest seasons of any show currently, and offers those who haven't been watching the perfect time to play catch-up – and for the rest of us, it's an off-season to start speculating about what all of this means. "Crisis"… Leviathan… Malefic…
The CW's Supergirl season 5 is gonna be something amazing!
---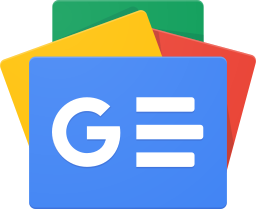 Stay up-to-date and support the site by following Bleeding Cool on Google News today!