'Superstore' Renewed For Season 5 by NBC, Hurray!
Superstore has been renewed by NBC for a fifth season. While not a ratings juggernaut, the show has a very dedicated audience and critics love the show, heaping praise on the excellent cast and writing. The show stars America Ferrera, Ben Feldman, Colton Dunn, Nico Santos, Nicole Bloom, Lauren Ash, and Mark McKinney as employees at a Walmart-like big box retail store.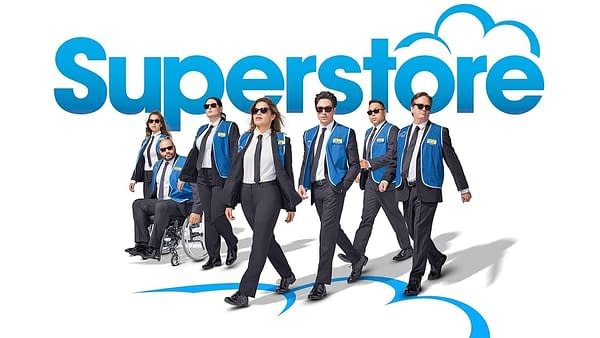 "Week after week Justin Spitzer, our amazing writers, and cast and crew masterfully deliver a comedy that not only makes us laugh but speaks to the larger issues of the day," said Lisa Katz and Tracey Pakosta, Co-Presidents of Scripted Programming, NBC Entertainment.
Superstore is quite a funny show, and has only gotten better as each season passes. It very much has taken the mantle formerly held by The Office as the premier ensemble comedy on network TV, and that makes sense since series creator Justin Spitzer wrote classic episodes of that show like 'Shareholder Meeting' and 'Back From Vacation', two of my favorites. Hopefully this announcement means even more people will discover this gem and it can find the huge audience it deserves.
Superstore returns to air the rest of its 4th season on NBC this Thursday, March 7th at 8 PM.