SyFy Rebrands (Again) And Officially Greenlights Superman Prequel Series Krypton
Do you remember back when the science fiction-bent NBC owned cable channel was called SciFi? I know, seems like forever ago that they changed their acronym to SyFy (which, of course, a lot of us call see-fee), in an attempt to "rebrand" and make the network "more likeable." Because changing your name TOTALLY did that, guys.
President of the Entertainment Networks for NBC Universal Cable Entertainment Chris McCumber says:
"I can think of no better occasion than Syfy's 25th anniversary to get back to our roots, double down on premium original programming, and put fans at the center of everything we do."
Starting on June 19th, the network will debut their new logo (wow, so fancy!).
We also got confirmation of three new projects on SyFy, such as the much talked about Krypton, the House of El prequel series from David S. Goyer. There was a big stink back in April when the trailer "mysteriously appeared" online, with the network and all related parties claiming no knowledge of it existing let alone it being released. McCumber said-without-saying we would more than likely see "some" DCU characters running around on the badly terraformed planet:
"What I can tell you is that there'll certainly be other DC Comics characters in the Krypton world. That's something I know that we've been talking to Warner Bros. about. I don't want to give anything away about where things are headed, but I can tell you there will be other characters for sure."
Krypton: Set two generations before the destruction of the legendary Man of Steel's home planet, Krypton follows Superman's grandfather (Cameron Cuffe) — whose House of El was ostracized and shamed — as he fights to redeem his family's honor and save his beloved world from chaos.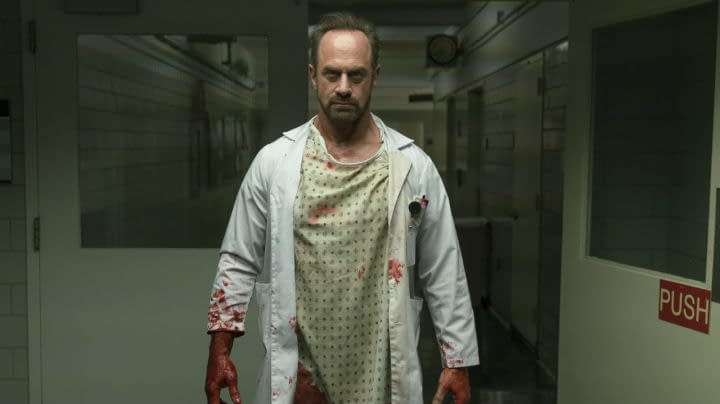 Graphic novel Happy! also got the order:
Happy: Universal Cable Productions' Happy! is based on New York Times best-selling author Grant Morrison and Darick Robertson's graphic novel of the same name. The series follows Nick Sax (Christopher Meloni) – an intoxicated, corrupt ex-cop turned hit man – who is adrift in a world of casual murder, soulless sex and betrayal. After a hit gone wrong, his inebriated life is forever changed by a tiny, relentlessly positive, imaginary blue winged horse named Happy (Bobby Moynihan).
We're also getting a series based on George R. R. Martin work Nightflyers:
Nightflyers: Set in the future on the eve of Earth's destruction, a crew of explorers journey on the most advanced ship in the galaxy, The Nightflyer, to intercept a mysterious alien spacecraft that might hold the key to their survival. As the crew nears their destination, they discover that the ship's artificial intelligence and never-seen captain may be steering them into deadly and unspeakable horrors deep in the dark reaches of space.
Other series we're waiting on official orders on are Brave New World based on Aldous Huxley's 1932 dystopian novella developed by Spielberg's Amblin Television, a show based on The Purge film series, and Ghost Wars with Meatloaf and Vincent D'Onofrio.
Related Posts