Television: Still Whiter Than a Polar Bear in a Snowstorm [BC TV MELTDOWN-OPINION]
The number one problem with television today is a lack of diversity. What?!?! But what about hit shows like Black-ish, Atlanta, Fresh Off the Boat, Scandal, Empire, Superstore, The Good Place? First, most of those are critical successes, but not necessarily ratings successes. Indeed, the top rated scripted and reality shows are still over-whelmingly white, from HBO's Game of Thrones to CBS' The Big Bang Theory/Young Sheldon.
Even so, the truth is that while cable and streaming platforms have provided huge opportunities and that by some measures the diversity of actors and characters has increased, television – especially network television – remains overwhelmingly in the hands of white men.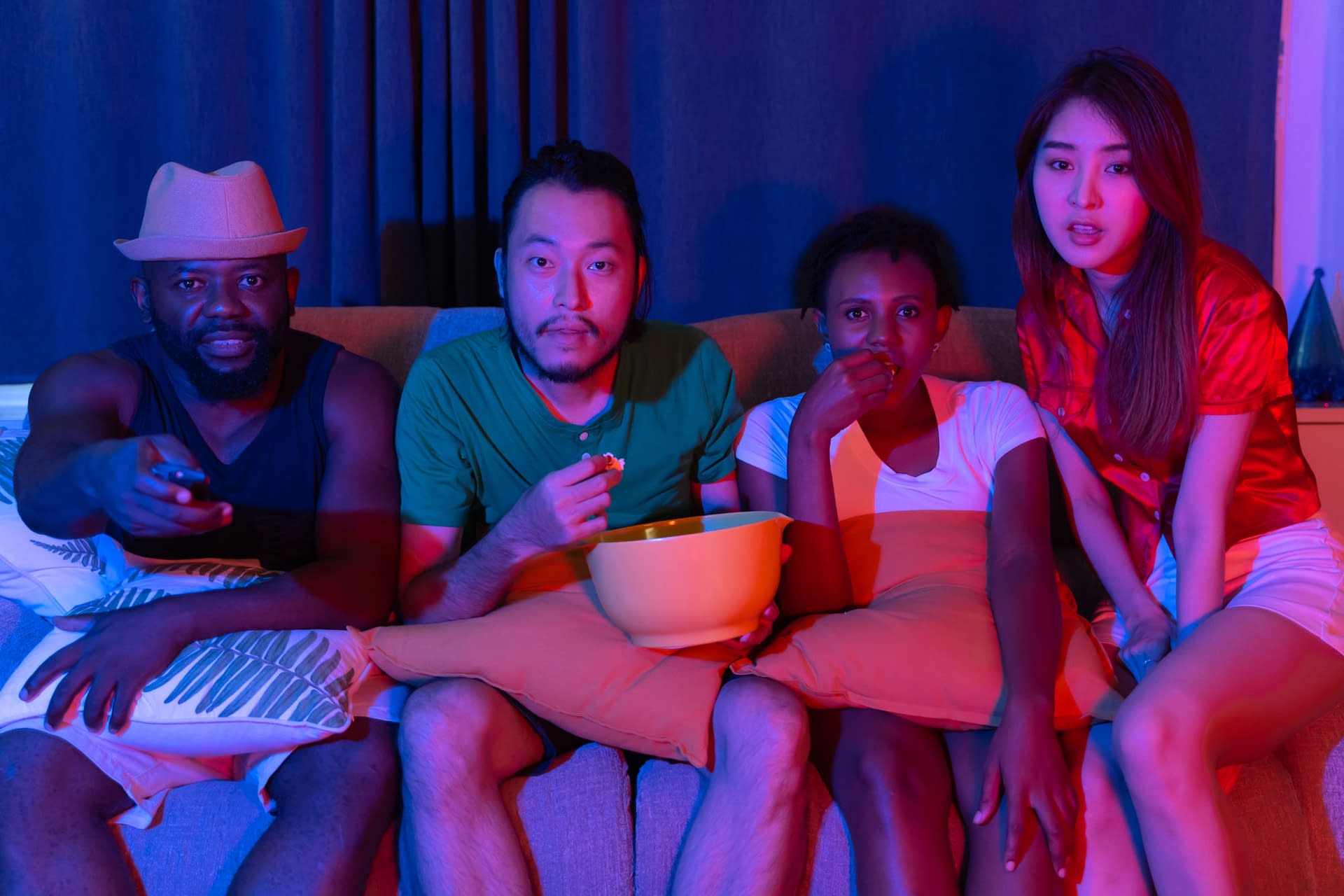 Numbers don't like. According to the most recent "Hollywood Diversity Report" from UCLA:
Despite representing nearly 40% of the U.S. population, people of color made up just 19.8% of film leads, 21.5% of broadcast scripted leads, 21.3% of cable scripted leads and 21.3% of digital scripted leads.

Women, who constitute slightly more than half the U.S. population, made up 32.9% of film leads, 39.7% of broadcast scripted leads, 43.1% of cable scripted leads and 42.8% of digital scripted leads.
I can't help but feel we've actually gone backwards from the diversity of the television of my childhood. Not only was The Cosby Show the biggest show on television (before we found on the truth), but we also had shows like reruns of Sanford and Son and Good Times. We had The Jeffersons, 227, Amen, Dif'rent Strokes, Family Matters, and The Fresh Prince of Bel-Air. And then came Fox, which brought us Martin and In Living Color, and we had Arsenio Hall on late night in syndication.
When you only have a few channels, it was impossible to ignore that there were a lot of non-white faces on tv telling stories in non-white settings that spoke to a non-white experience. (It's worth noting that even here, there's still not a lot of representation for Latinx and Asian voices, but this is to say we did have a decent amount of diversity in the 70's, 80's, and 90's on network television.)
It seems as though as cable made it more possible for more diverse voices to find their place, but at the same time the networks seemed to retreat. Now with cable able to "narrow-cast" to a niche audience, networks seemed to take their responsibility to "broadcast" to mean to more and more only serve the largest demographic – white people – even in a landscape where the American media market was becoming more and more diverse.
But it's not just who was on these shows, but also what types of shows these were and what values they spoke to. I mentioned above several sitcoms that highlighted strong black families, but it seems we've gotten away from that and replaced them largely with police procedurals. Now there's nothing wrong with a good cop show per se, but let's think for a moment what it does to the psyche of a nation to see over and over on broadcast television stories that deify police as they take down bad guys – many of whom are people of color. It's not hard to draw a direct line from this trend to the tolerance of police brutality and the need for a movement like Black Lives Matter.
This isn't to say we haven't made recent progress. Showrunners like Shonda Rhimes are a breath of fresh air and somehow never feel like "diversity" is forced. When Ava DuVernay does a tour de force like When They See Us on Netflix, it feels like we're not just watching television anymore, but a gut punch made for the small screen that rivals anything we have in theaters.
Then we have The CW, and especially its superhero shows. The Arrowverse has had a sort of next-level diversity baked in from Day 1, where John Diggle was going to be just as much a part of Arrow as Oliver Queen. Expansion to The Flash and Supergirl brought even more, and then we finally got Black Lightning. Not only were the shows providing lead work for diverse actors, they were also telling diverse stories that dealt with race, gender, sexuality through both overt and subtle plots.
Ultimately, what matters as much as who the actors are is who the creatives are behind the show. Getting to relative parity in the writers' rooms and who sits in the showrunner and directors' chairs will determine the trajectory of a show.
That isn't to say white showrunners or writers can't do amazing work that highlights diverse casts and perspectives. Mike Schur both on Brooklyn Nine-Nine and The Good Place has done something truly amazing. He's made shows which are incredibly diverse and where in many ways racial and gender difference don't matter. But rather than being "colorblind" and pretending like characters aren't black or Puerto Rican or from Jacksonville, they lean in to these differences and allow them to color the characters and their stories. The episode "Moo Moo" where Terry Crews's character is harassed in his middle class neighborhood by another cop tackles police racism in a way few other shows – much less police shows – have ever been able to.
But most shows aren't Brooklyn Nine Nine or The Good Place. Indeed, racial microagressions can forment behind the scenes, such as the scandals that recently led to Afton Williamson leaving The Rookie. Many of her complaints of harassment went back to on-set hairdressers and their racist comments and bullying. This likely isn't something white showrunners would ever think of– that you want hair and makeup people who can make people of all skin tones and hair types look great on camera. But what it is brought up, complaints are made, and a showrunner does nothing about it? This is the problem with white men running television.
But ultimately, the fault is not just in Hollywood but in us and what we choose to watch. We all bemoan shows that were cancelled before their time because they didn't get enough eyeballs on them. One of my personal most beloved shows cancelled too early was Selfie. A female showrunner and diverse writing/directing staff, Karen Gillan as a self-absorbed lead, John Cho as her boss who would try to Pygmalion this diamond-in-the-rough, and a diverse supporting cast all worked so well. Cancelled so early, I couldn't shake the feeling that it was because America wasn't ready to believe an Asian-American man as a romantic lead.
But white-dominated television is not only terrible, it's (mostly) just banal and awful. Want to disagree? I'm here all day for stans who want to tell me Last Man Standing and Young Sheldon are actually great television. I'll await your thoughtful responses on why Manifest and Bull are more of what we need.
Ahhh, and I'm sure some Game of Thrones fans will pipe up here, as both the most popular show in the last year and the show with a stunning lack of diversity on top of killing off its only people of color in its cast.(Truth, it killed off lots of people in its cast.) But I can, to a small extent, understand the challenges in adapting an existing property. What I can't understand is why showrunners Bennioff and Weiss, after hearing this legitimate criticism, would then decide for their next project to make Confederate, a show based on the idea that the South had won the US Civil War. Pretty tone-deaf, dudes.
While it sounds like Confederate may not ever move forward (praise the old gods and the new!), it's instructive just how this project moved forward. We need fewer new shows like this, and more Mr. Robot and The Walking Dead.
Because this is what it's really all about – everyone getting together and watching entertaining shows. The more these focus on exclusively white casts, creatives, and ideas and values, then the less universal and interesting it's likely to be.
But find something everyone can enjoy? Something universal where people of all races and genders and sexualities and backgrounds can find something or someone to relate to? That's good television. And that's what we need more of.