In the UK we have just finished watching the Doctor Who Series Eleven Finale, The Battle Of Ranskoor Av Kolos. And watched the trailer for the New Year's Day Finale. And got the confirmation that aside from that, there will be no more Doctor Who in 2020. Sorry, Starburst.
But what about the episode we watched? And what it means for what is to come? Spoilers of course. Americans, come back after BBC America have aired the episode
1. The Minecraft Episode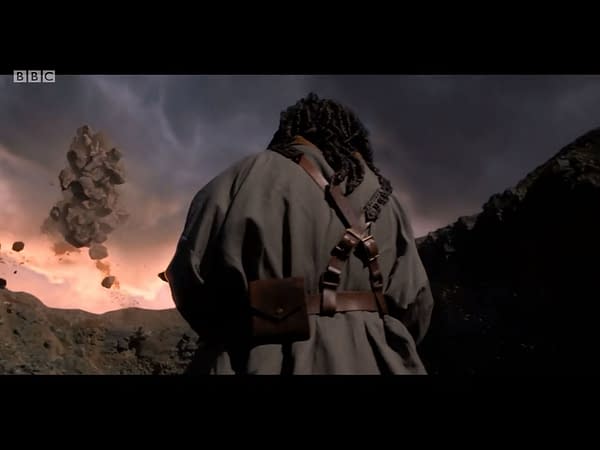 Trust Doctor Who to recreate the fad of five years ago. Watch out for Creepers…
2. The Quarry Woman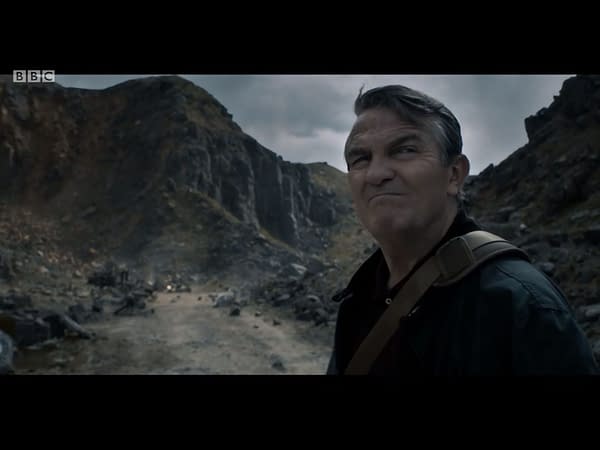 At last, an episode set in a quarry. The staple of Doctor Who for decades, the quarries of Great Britain doubling as alien planet territories. Beats the inside of a space station or spaceship as usual. Although, hold on, you do get that as well fairly sharpish.
3. The Memory Man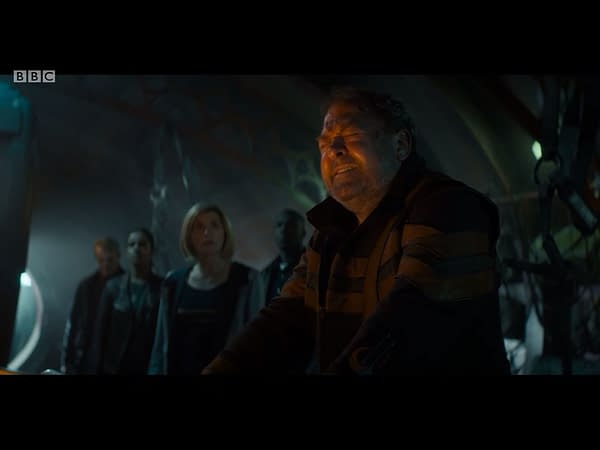 Spaceship crew members who have lost their memory is another one of those Douglas Adamsisms the show likes to dig out – they did similar with Girl in The Fireplace. Mark Addy's usual role as a man lost has never been so appropriate as he struggles to recapture what he once was. Which is basically what he did in The Full Monty but with more clingfilm.
4. Don't Forget Your Plug-Ins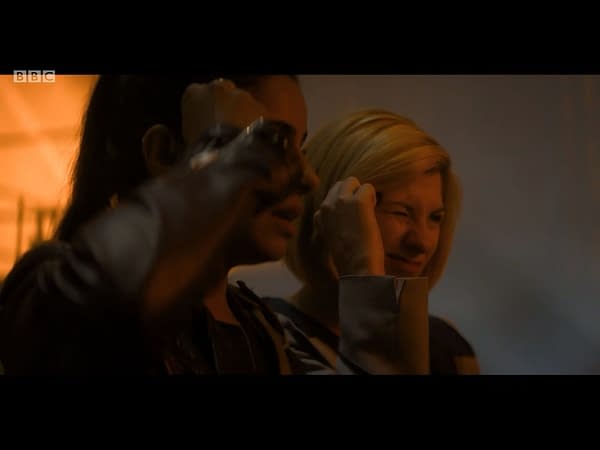 There have been a lot of implants, digital tech interacting with humans this series, and so it is here. Shame the Doctor losing hers didn't make it past a headache. These things – or their absence – should have consequences. Doctor Who does certainly be aiming for a little more body modification, looking at current tech trends and doing their best to stay ahead, but only slightly so we have a chance of catching up.
5. The Stenza Who Fell To Ranskoor Av Kolos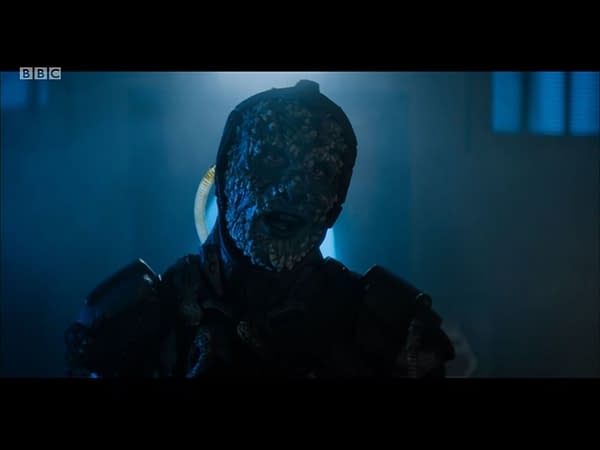 Missing from the advertised cast and crew was one Sam Oatley. Because, yes, Timmja… or Tim Shaw.. is back. The Stenza assassin who was banished in the first episode of this series – well we find out where – and when – he was banished. Who he met when he was banished. And what he did next. They said everything would be standalone stories, but there has been reference leakage from episode to episode. And with the finale, we get to find out. And to realise that Graham has just been biding his time…
6. The Kill Of The Chase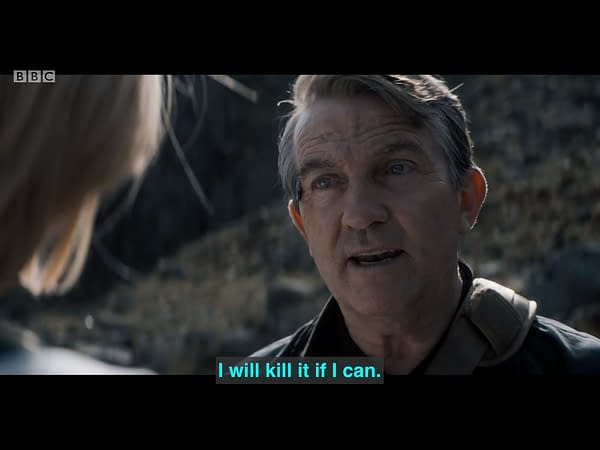 Who thought that Bradley Walsh could pull off the demeanour of a mundane, down to earth stone cold killer? The breakout talent of this series, so late in his career, is it something to suggest that Series 12 of Doctor Who is being delayed because of all of Bradley's ITV game show host commitments? And "Yippee-ki-yay robots!" adds to his canon of film references for the series. We'll get the references even if no one else around him will…
7. A Doctorate In Hypocrisy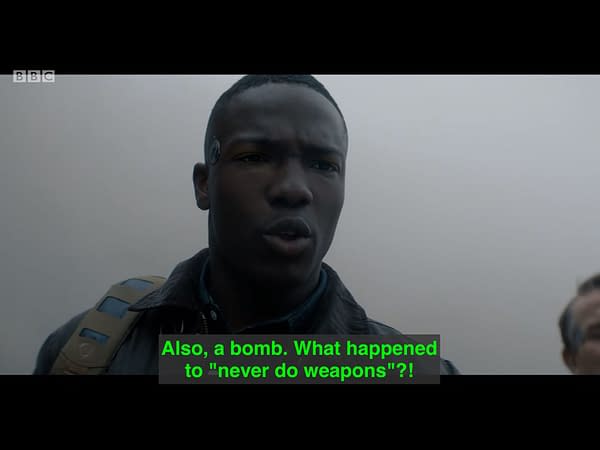 The Doctor has always carried weapons. The sonic screwdriver is a weapon. But here she's being a bit more inventive and Ryan gets to call her out, admitting to her own hypocrisy. That's new for her, she is legion, she contains multitudes, all thirteen of her. But it seems to work out… even as she begins to weaponise all the cast again. Even Graham can't be benched, she sends out a man knowing what he intends to do. She did warn them all…
8. Opium Of The Miniscule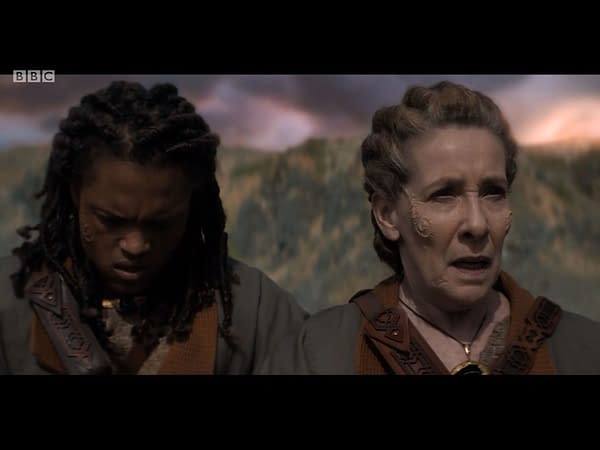 The Ux are like gods but they are the ones in search of a faith and a god to follow, for thousands of years without stepping out of line, and even divided on whether they should question it or not. Praise the Creator's will… I hope they're not talking about Chris Chibnall. Faith-driven dimensional engineers, sound like Doctor Who writers though. The other question, with Andinio played by Phyllis Logan and Delph by Percelle Ascott, with only two Ux alive at any point and living for millennia – just how do they reproduce? Do they do that stone trick with cells?
9. Reference Points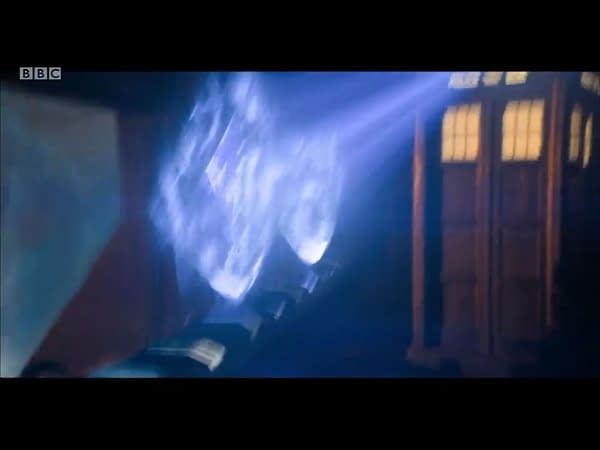 Oh, they came thick and fast this week. Not just to The Woman Who Fell To Earth, the Sniperbots from The Ghost Monument – and a title shout for that episode too, and a Ryan/Graham fist-bump, but also The Stolen Earth/Journey's End and Boom Town. Stolen Earth may have been a bit on the nose considering that this episode has captured planets used to power a major weapon – but it was closer to The Pirate Planet way of doing things. And even for a rather annoyed Tim Shaw it does seem a little like overkill.
10. Most Dangerous DNA in the Universe?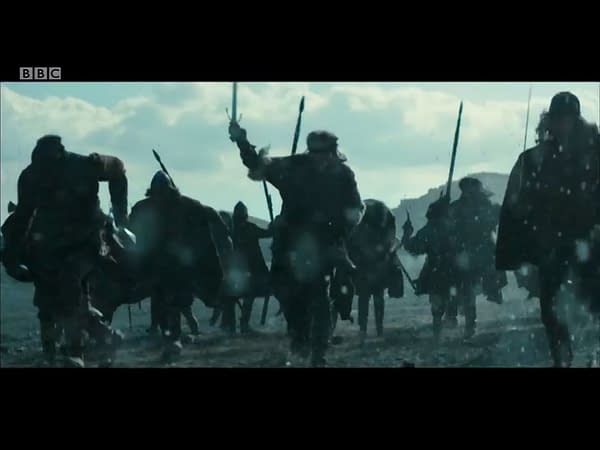 Oh come on now. That's the Daleks, right?
As for the series as a whole – it has been patchy. There have been highlights with The Woman Who Fell To Earth, The Ghost Monument, Rosa Parks, Witchfinders and It Takes You Away. Kerblam and the one with the Pting failed but were at least memorable. I don't think the Battle  Of..  what was it again? will be one that will be remembered. Maybe spend less time on making a show that is HD ready and more of a Doctor/Donna vibe?
But for all that, it's still Doctor Who and this has been a… middling series. Still very enjoyable. It's no Series 4. But then nothing else was. So what did you think?
You have been watching:
Doctor Who: Ranskoor Av Kolos, Series 11 Episode 10
Sun 9 Dec 6:25pm – 7:15pm BBC One
The Doctor and her companions receive nine separate distress calls, all originating from the mysterious planet of Ranskoor Av Kolos, which turns out to have been the site of a terrible battle. As further secrets are uncovered and strange forces gather in the mists, the only clue to what has happened on this world is a commander who has no memory. Mark Addy guest stars alongside Jodie Whittaker in the final episode of her debut series. The Doctor will return for a special episode on New Year's Day. Last in the series.
CAST & CREW
The Doctor Jodie Whittaker
Graham O'Brien Bradley Walsh
Ryan Sinclair Tosin Cole
Yasmin Khan Mandip Gill
Paltraki Mark Addy
Andinio Phyllis Logan
Delph Percelle Ascott
Umsang Jan Le
Director Jamie Childs
Executive Producer Chris Chibnall
Producer Alex Mercer
Writer Chris Chibnall
Enjoyed this article? Share it!