Fox just announced 7 different television series box sets are coming next month (February 2019), and we are super excited about them.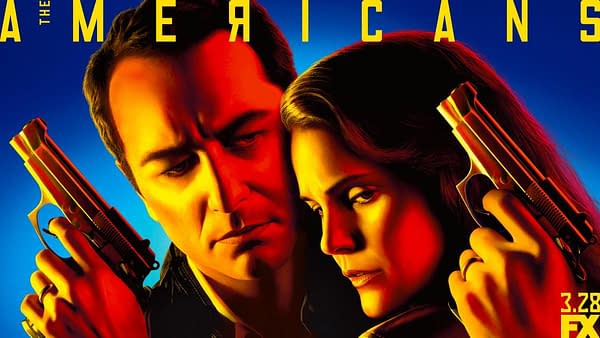 The top on the list (for >this< reporter anyway) is FX's incredible drama series, The Americans. It'll be the complete series, all six seasons of Cold War spy intrigue and some of the best music integration in a period show this side of Deadly Class. Hopefully this announcement means a possible series blu-ray release may happen?
The Americans: The Complete Series
The Americans is a period drama revolving around the marriage of two KGB spies, Philip and Elizabeth Jennings (Emmy Award® winner Matthew Rhys and nominee Keri Russell), who pose as Americans in Washington, D.C. They undertake risky covert assignments all while raising two children (Holly Taylor and Keidrich Sellati), running a travel agency, and befriending their FBI agent neighbor (Noah Emmerich). The complete series box set features all six enthralling seasons.
Special Features: Deleted Scenes, Commentary on "The Colonel" by Joseph Weisberg, Joel Fields and Noah Emmerich, Gag Reel, First Look, Inside Looks, Extended Scenes
Featurettes:

Executive Order 2579: Exposing The Americans
Perfecting the Art of Espionage
Ingenuity Over Technology
Operation Ghost Stories: The Real Directorate 'S'
Shades of Red: The Morality of The Americans
The Cold War for Paige
Also announced for release:
Arrested Development: Seasons 1-4
Watch Season One, where George Bluth, Sr. sits in jail for his shifty accounting practices. With all their assets frozen, the Bluths, who are not qualified to do much, might have to get jobs! In Season Two, Michael hears that his father has escaped from prison and that now he could face time in prison because of the family's shady business dealings with Iraq. George Sr. sets off to Mexico while Michael tries to clear his name. In Season Three, Uncle Oscar serves in prison and Michael puts George Sr. under house arrest. Buster and Michael journey to Iraq, learning which family member is the real brains behind the business. In Season Four, the Bluths have gone their separate ways, but continue to be as wildly dysfunctional as ever.
Special Features: Original Songs By David Schwartz, Deleted/Extended Scenes, Blooper Reel, Audio Commentary, The Museum Of Television & Radio Cast Panel Discussion, Ron Howard's Inside Look At 'Arrested Development', Promo Spots, Season One In 3 Minutes Overview, "The Immaculate Election" Campaign Videos, The History Of Arrested Development, Being Back On Arrested, Working With Two Directors, The Writing And The Scripts, Working With Mitch, Production Design, Script Department, Buster Smoking, Fantastic 4
Featurettes:

Breaking Ground: Behind The Scenes Of Arrested Development Featurette
'Arrested Development' The Making of a Future Classic TV Land Featurette
TV Land Awards: The Future Classic Award Featurette
Last Day on Location Featurette (Season 3)

In Character Featurettes:

Tobias Funke
Barry Zuckerkorn
Herbert Love
Rebel Alley
Buster Bluth
George Sr. / Oscar
Michael Bluth
Lost in Space: The Complete Classics Series
Enjoy the timeless journey of Irwin Allen's LOST IN SPACE® in this massive 17-disc set which contains all 83 episodes fully remastered. Follow the heart-racing, cliff-hanging adventures of Prof. John Robinson™ and his family aboard the Jupiter 2™, along with Robot B9™ and Dr. Zachary Smith™.
Special Features: "No Place To Hide" – Original Unaired Pilot Network Television Spots, Original Network Preemption Bumpers With Jonathan Harris And The Robot, Syndication TV Spots Network Presentation (1965), "Lost In Space Forever" 1998 Television Special
The League: The Complete Series
Get ready for full-contact laughs with Ruxin, Kevin, Andre, Pete, Jenny and Taco, a tight crew who always commit to an all-out blitz of ruthless fantasy football competition. All seven seasons of TV's most outrageously funny comedy make one impressive package filled with collusions, cons and lineup fiascos.
Special Features: Bloopers, Deleted Scenes, Alt Nation, Gag Reel, Extended Episodes
Featurettes:

Mr. McGibblets Fun House and Dojo
Birthday Song
Three Penis Wine
Vaginal Hubris Extended
Kluneberg Paint by Numbers
El Notario
Taco Tones Productions Presents: I'm Inside Me, Naginta!, Ruxin's Wedding Video, Vinegar Strokes
Rafi's Helpful Holiday Hints
Witchy Woman Podcast
The Von Nowzick Wedding Invite
Family Guy: Part 1
Start from the beginning of TV's most outrageously irreverent animated comedy with the first five hilarious volumes. Get reintroduced to manchild Peter Griffin, his doting wife Lois, their first-born Meg, sweethearted Chris, pretentious canine Brian, and Stewie the diabolical baby genius.
Special Features: Bonus Episodes, Deleted Scenes, Original Series Pitches, Internet Promo Spots, Multi-angle Table Reads, Storyboard/Animatic Comparisons Commentaries on Selected Episodes with Series Creator Seth McFarlane, Executive Producer David Zuckerman, Writers and Cast Members
Featurettes:

Behind-The-Scenes
World Domination: The Family Guy Phenomenon
Score! – Music of Family Guy
Family Guy: Part 2
Enjoy the continued adventures of the Griffins with volumes six through ten. Watch Peter, his family, and his loyal friends find their way in and out of trouble while dealing with Giant Chickens, Evil Monkeys, and everything in between.
Special Features: Deleted Scenes, Favorite Scenes, Commentary, Family Guy 100th Episode Special, Family Guy Karaoke, Side-By-Side Animatics
Featurettes:

Family Guy Live! – "Just For Laughs"
Peter Shin Draws Lois
The Making of the 100th Episode
Take Me Out To Place Tonight
Family Guy Cribz
Comic-Con 2008
Family Guy Art Show
The Road To "Road to The Multiverse"
Brian and Stewie: The Lost Phone Call
Who Done It? The Making of "And Then There Were Fewer"
The History Of The World – According to Family Guy
Family Guy at Comic-Con 2010
All I Really Want For Christmas: The Music Of "Road To The North Pole"
Herbert & Franz: The Making Of An Epic Fight Sequence
Adam West Star Ceremony
Family Guy: Part 3
Catch up with the Griffins and their off-the-wall antics when you watch Seasons 10 through 14. In this hilarious collection, you'll get a behind-the-scenes look at the making of the show, travel to Springfield as the Griffins meet another dysfunctional TV family, and much more.
Special Features: Deleted Scenes, Scene and Episode Animatics, Audio Commentary, Audio Outtakes with Ricky Gervais
Featurettes:

Looking Back To The Pilot
Fishin' Around With Ricky Gervais
Ron MacFarlane Reads Viewer Mail
200 Episodes Later
200th Episode Table Read
2012 Comic-Con Panel
Brian Griffin: In Memoriam…Sort Of
Consuela Mash-Up
On The Road to Springfield: The Making Of "The Simpsons Guy"
The Art of Family Guy
Talking Animals Mash-Up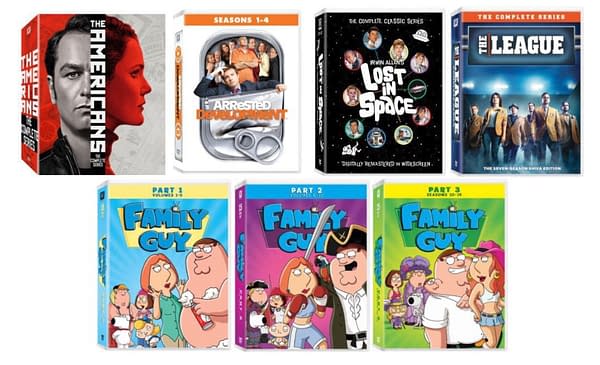 You can look for these box sets starting February 5th 2019 for home release.
Enjoyed this article? Share it!