"The Boys": Queen Maeve Isn't Buying What Starlight's Selling, Sets The Homelander Straight [PREVIEW]
As the clock continues ticking down (slowly) to the premiere of Amazon Prime Video's adaptation of Garth Ennis and Darick Robertson's comic book series The Boys on July 26th, one silver lining we're pulling out of the long wait with both hands? It's giving us time to do some "homework" to get caught up on who the major players are and their respective "dramas" in executive producer-showrunner Eric Kripke's upcoming series.
So far, we've gotten a glimpse at the marketing machine that is The Seven…wow! We've also gotten a look at The Homelander (Antony Starr), Annie aka Starlight (Erin Moriarty), aquatic hero The Deep (Chace Crawford), Amazonian-warrior Queen Maeve (Dominique McElligott), speedster A-Train (Jesse T. Usher), see-through hero Translucent (Alex Hassell) and brooding "dark knight" Black Noir (Nathan Mitchell). In a sense, for the first time we get to know them as individuals… as people.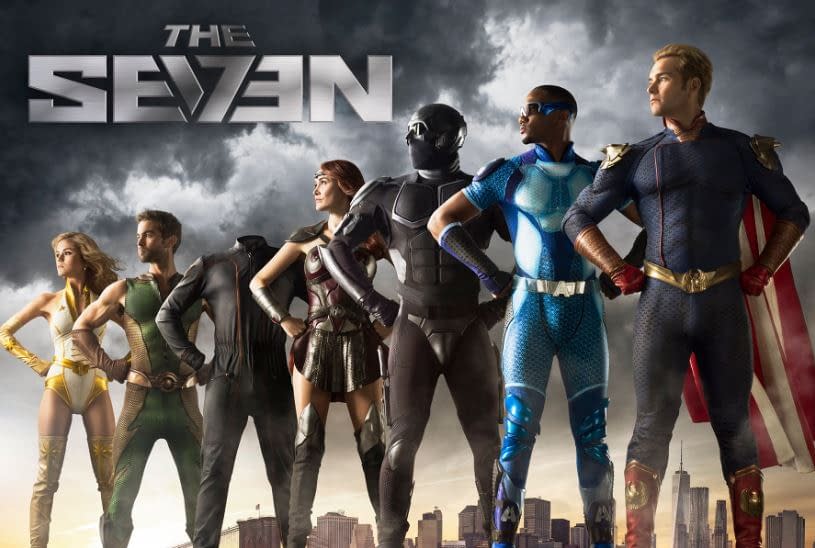 Spoiler? There's a perfectly good reason why Vought's been avoiding any real press for "America's Favorite Super Hero Team": turns out they're righteous a-holes.
We also had the opportunity to formally meet Karl Urban's Billy Butcher and the rest of The Boys, as well as witness the first, fateful encounter with Hughie (Jack Quaid). This time? We turn our attention back to The Seven, and specifically to Queen Maeve. Clearly the more "cynically practical" one of the group, Maeve isn't buying into what Annie's selling and – as your about to see in the following preview – has a brutally honest (and obvious) answer for The Homelander:
(Check out Bleeding Cool's two-scoops-of-spoilers-filled review of the series premiere here.)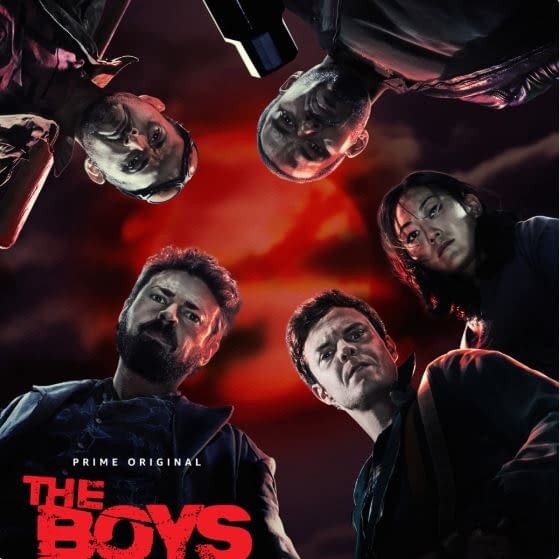 On the side of The Boys, Urban's Billy Butcher is mysterious and brutal, hiding a personal agenda as he approaches potential new recruit Hughie (Quaid), claiming to be a shadowy government operative. Butcher capitalizes on Hughie's rage over his girlfriend Robin's accidental death at the hands of Superhero A-Train and enlists Hughie as part of his plan to bring down the super-hero franchise.
Rounding out Butcher's team are Laz Alonso (The Mysteries of Laura) as second-in-command Mother's Milk; Karen Fukuhara (Suicide Squad) as The Female, a young Asian assassin with blistering fighting skills who happens to have superpowers; and Tomer Capon as unpredictable wild card Frenchie, a brutal warrior when who lives a life of no attachments or responsibilities.

Now Here's a Look at Amazon Prime's 'The Boys'…
Here's a look at two recent teasers for The Boys, with the second being a particularly eye-opening, NSFW one:
In a world where superheroes embrace the darker side of their massive celebrity and fame, THE BOYS centers on a group of vigilantes known informally as "The Boys," who set out to take down corrupt superheroes with no more than their blue-collar grit and a willingness to fight dirty.

THE BOYS is a fun and irreverent take on what happens when superheroes – who are as popular as celebrities, as influential as politicians and as revered as Gods – abuse their superpowers rather than use them for good. It's the powerless against the super powerful as The Boys embark on a heroic quest to expose the truth about "The Seven," and Vought – the multi-billion dollar conglomerate that manages these superheroes.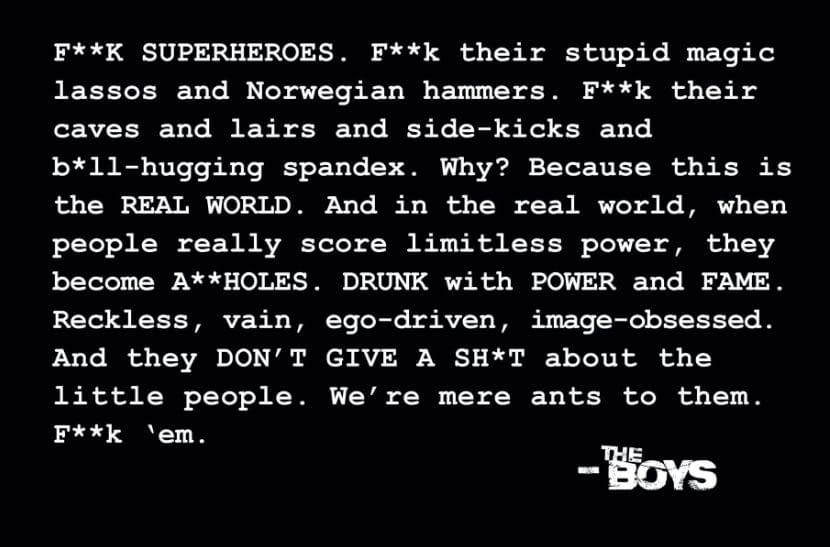 Amazon Prime Video's The Boys also stars Elisabeth Shue (CSI: Crime Scene Investigation, Karate Kid) as super-hero handler Madelyn Stillwell, Vice President of Hero Management for Vought and the person responsible for cleaning up after the "heroes." Jennifer Esposito (NCIS, Blindspot) has also been cast in the recurring role of CIA Agent Susan Raynor, with Simon Pegg (Shaun of the Dead) set as Hughie's father and Billy Zane (Titanic) also set to make a guest appearance this season.