"The Circle" Episodes 3 & 4: So Much Catfishing, I'm Not Sure Who I Even Am Anymore [SPOILER REVIEW]
Episodes three and four of Netflix's The Circle brought a serious dip in appearance and morale with some of the members – clearly cabin fever is real. The show continues to track eight members who live in the same complex in solitude with the circle, a social media icon as the sole means of communication with each other.
At the beginning of the season each member got to create a profile and post one photo allowing the other members to vote based on appearances only, and 'don't judge a book by its cover' really rings true here with popularity spiking for the hotter members. With various alerts, and Q&A pop ups such as "Is it ok to pee in the shower" members get a little insight in to one another.
All conversations are audio dictated, and members can talk in private or group chats. They even threw in a "Nailed It/Failed It" challenge based on Netflix's Nailed It series where 3 horrible bakers compete to recreate a masterpiece and flop miserably. Joey a narcissistic gym obsessed, face mask enthusiast creates something a dinosaur possibly shit out and destroys his kitchen.
As the series progresses some contestants start to really take on their Catfish personas a little too much even during off The Circle time, psychologically, hilarious to watch as one male contestant lives in a pink room pretending to be a female and you can visible see even his mannerism transform to a more feminine vibe.
While other members a sweet transparent Shubham friendly to all, and desperately trying to prove that social media is the devil, and there is no need to mask who one is to get attention, and someone to genuinely like them. He develops relationships with all members and is not only saved from elimination once because of comradery, but actually makes it in to be an Influencer holding the #1 spot.
While a true friendship begins to form between Joey and Shubham, most of the contestants are confused and constantly paranoid about what's real or isn't real, most assumptions being incorrect. Folks accused of being catfish are actually themselves, while catfish successfully manipulate those around them in to believing their fantasy world. Eventually however, our true nature has a tendency to manifest itself, or, maybe if housed in isolation you might actually start to think you're a blow fish.
Here are some highlights from episodes three and four:
Episode 3
Miranda gets close to Mercedeze, booze, lust, and most likely a masturbation session (just an assumption)
Miranda continues her rounds but chatting up the remaining members, all the while we observe her – great body and tattoos exercising, doing yoga, etc… quite the eye candy.
Joey soaks in the roof top Jacuzzi – is there like a schedule for this thing so the contestants don't bump in to each other?
ALERT – another elimination round where Shooby and Chris make the top #1 and must choose who eliminate – Antonio who holds the 7th spot is sent home.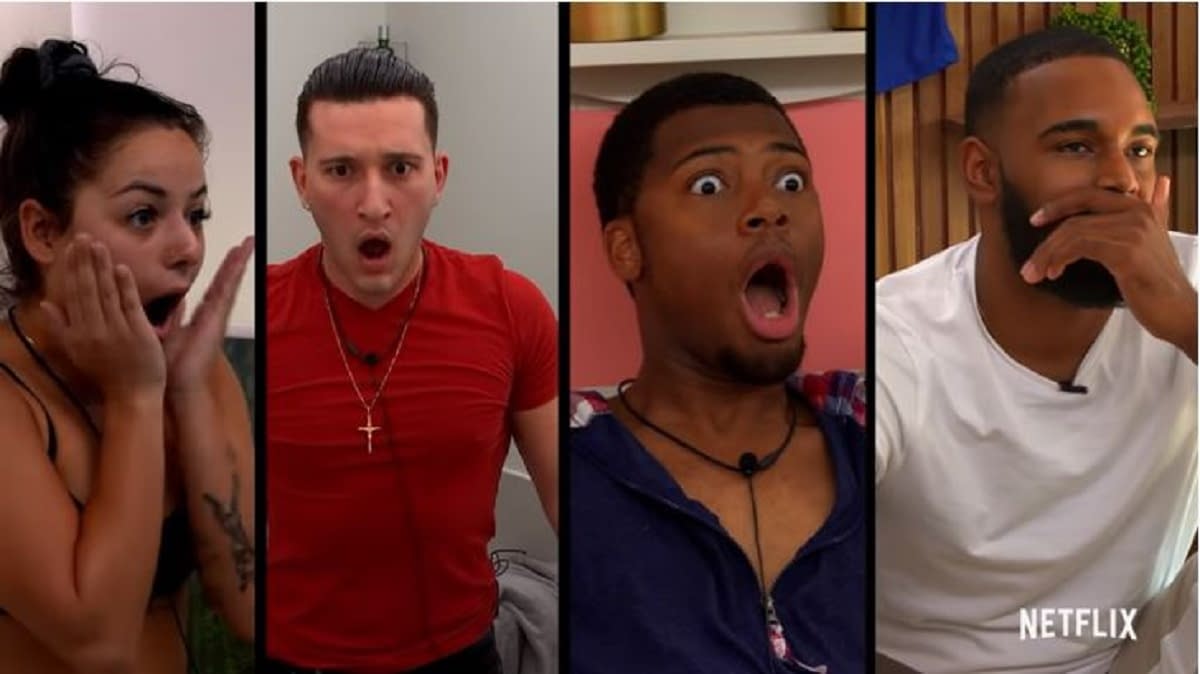 Episode 4
Antonio was very cocky about his place in The Circle – clearly he never actually made any true connections
He goes to see Mercedeze who is actually Karyn and is in for a surprise, no supermodel here. They do end up having a nice heart to heart
"Nailed It" moment is granted to the contestants as they must complete to recreate a three tier cake with animals on top.
Miranda takes the win and is granted a video upload in to her profile – she chooses a three second clip of her dancing in a bikini, not sure this was a wise decision
The other member immediately start comparing her tattoos as if tattoos can't be added or replaced and most lead to the conclusion that she is a Catfish
Lastly we are introduced to a new member Alex, a 32 year old unemployed artist, he will be Catfishing as Adam a gorgeous athlete.

A very easily watchable first four episodes. Took a while to get used to members constantly talking to themselves, or voice activating and dictating to The Circle – I don't really talk to my Alexa that much and in such detail. At this point hard to tell who will take home the $100,000, seems like the more genuine the member is, the more liked they are and less likely to be blocked. Catfishers develop a lot of paranoia and try to overcompensate which in the long run will eliminate them all.