I sit typing away while a number of the cast and crew of The End Of The F***ing World throw shapes across the floor in the Genesis Cinema in London's East End. We've just had the premiere of the first two episodes here on the big screen, they have aired in the UK on Channel 4 by now and the full second series can be streamed in the UK of the All4 app right now. So apparently I can talk about it. No big spoilers though, it only drops on Netflix for the rest of the world tomorrow. But for now, it's just for us Brits.
So I am going to tread gingerly here. First, the show is set two years after the end of the first series, which aired on Channel 4 two years ago, to much acclaim. But a lot of it is shown in flashback, not only what happened between then and now, but also a new story that was happening at the same time.
"Hookers don't pass exams"
Because the first episode isn't there to tell you what happened with James or what happened with Alyssa afterwards. It's to tell you about Bonnie. Who is she is, why she is, what's she's doing and who she's killed. And who she is going to kill and why. Originally her episode was intended to appear later in the series, and even as the TV show goes into territory that the original comic book never did, her character is drawn from one of the comic book characters who didn't make it into the series.
"Be the protagonist in your own story"
She is remarkable, fearsome, with clear complications and simplicities on display, as well as her own parental issues, and her involvement in the lives of James and Alyssa is going to be… well, rather significant. But by starting off with her story, it wrongfoots expectations, hypes up what happened with James to a near unbearable tension and, as a certain dead author from the first series appears in flashback, plays with the audience's knowledge, knowing more about each character than anyone else they meet. And suspicions are wiped away as you see how Bonnie's world fits in with that of James and Alyssa. She is told to be the protagonist in her own story, and she will be damned if she is anything but.
"It's good not feeling… it's a bit like a super power"
The show continues its replication of Americana with selected shots of British elements, framed in a certain way to make them feel on a foreign soil, hyped with the sound track. While the first series, was able to replicate the feel of an American road movie, this series looks more to the likes of Twin Peaks, Fargo, even certain Tarantino movies, which are so much more about place and location that you marinate in, rather then being on the move. But with Bonnie's story, the ambiguity of when things are set gets ramped up. Her story is set in the past, but the decor, the cars, the music, the clothing choice emphasises this, pushing it back to the seventies and eighties, emphasising the difference between then and now, though only a few years in reality.
The show retains its killer moments, visuals and lines of utter cruelty disguised as love, and vice versa. It is funny, and heartbreaking. And with the first two episodes, giving you every justification you could wish for, for giving a second series to something that felt perfect and complete in and of itself.
Oh and yes, we find Alyssa finding her own version of psychopathy. Whatever James left her with… it seems to be catching.
Because this show does the remarkable trick of giving the audience the same thing. Or tricking them into thinking that's what they are getting. And then delivering something very different that justifies its existence, with just enough elements of the original
No third series though. That's what the show's remarkable writer Charlie Covell (below) tells me. This is what you get. We're in Young Ones/Fawlty Towers/The Office/Fleabag territory here. Get in, get out, leave a good looking corpse. Or do you? No, I am not saying what happened to James…. but that visual that went the rounds was apparently flipped. Which is why we see the wrong hand looking fine…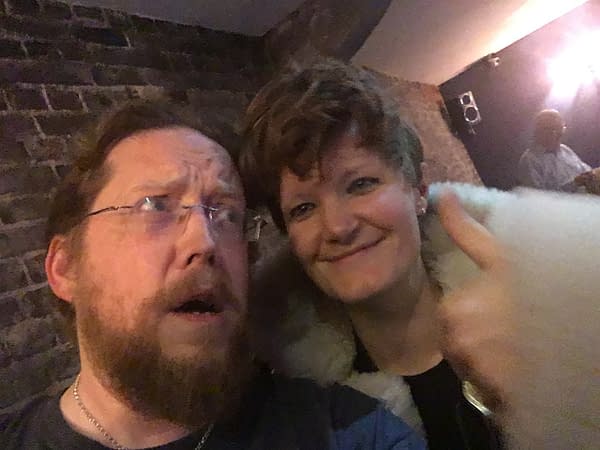 The End Of The F***ing World airs at 10pm with double episodes each evening on Channel 4 this week, is available in its entirety in All4 now and will drop on Netflix tomorrow. You are not worthy. I know I'm not…
Enjoyed this article? Share it!