Welcome to Bleeding Cool's review and recap of ABC's The Goldbergs. After taking a break last week for the two hour premiere of American Idol, The Goldbergs picks up where it left off in the previous episode, with Bev trying to achieve her dream of having a cookbook published in "The Beverly Goldberg Cookbook."
The setup for this week's main story is that Bev's cookbook has been rejected by every editor she's sent it to. The rejection letters she's gotten back are harsh, but at least they're specific and not generic form letters. That's a good thing, right?
Bev decides that what she needs her own cooking show to help get her noticed. So, she asks Adam to be her director and co-host in the kitchen for a Bev Goldberg cookng show that really shows off her skill with the assorted parms. The problem is that Bev can't be authentic. She's busy trying to be Julia Child which embarrasses Adam. That gives us our main story conflict for the week. Bev admits that while she might be embarrassing to Adam, mama's little schmoopie is way more embarrassing to her than she could ever be to him.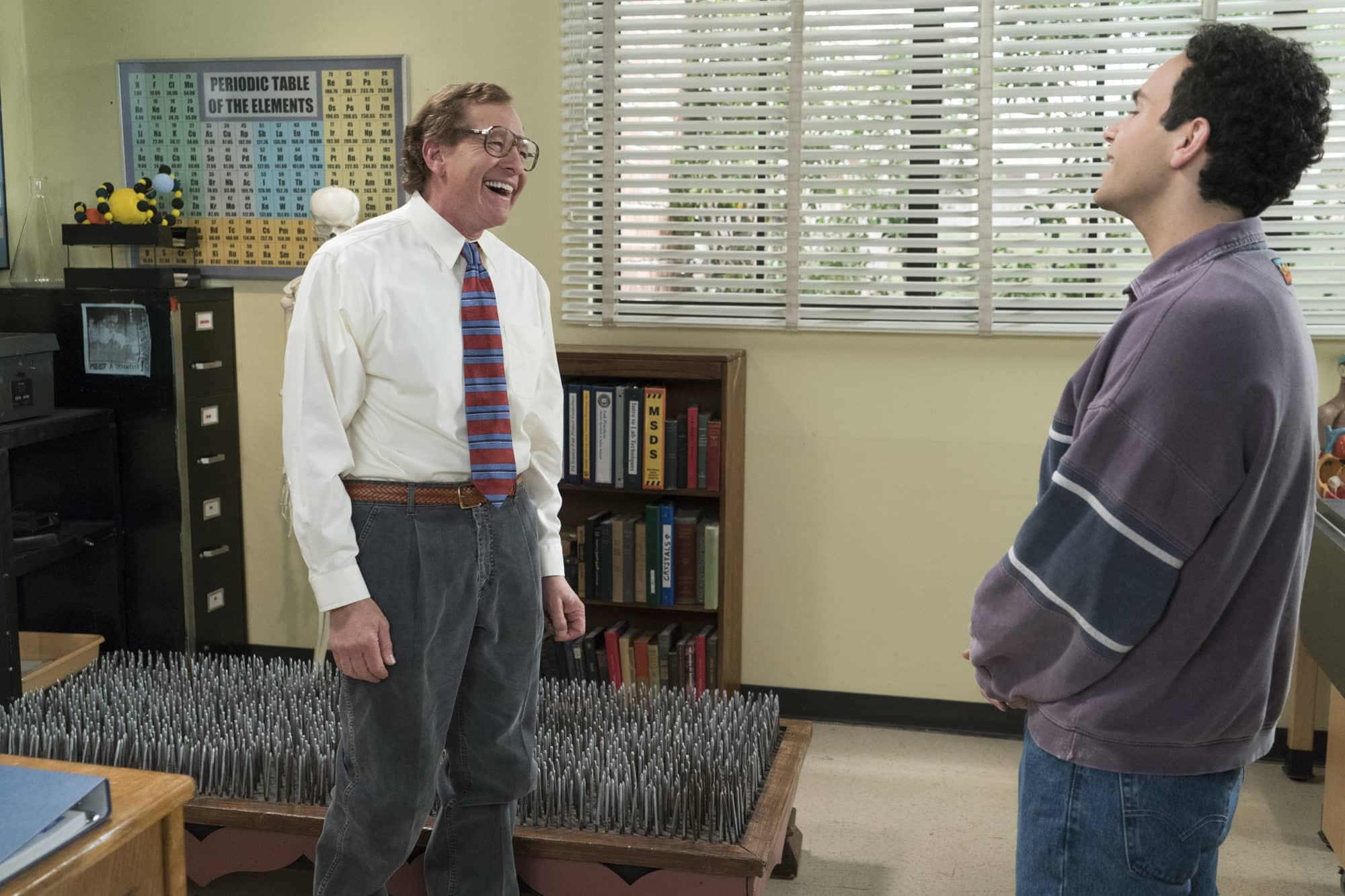 The secondary story concerns Barry's attempt to get into college. Somehow, Barry only realized in this episode that he needs a letter of recommendation from a teacher in order to be accepted into college. Unfortunately for Barry, he's not the star student in any of his classes, but he doesn't need to be. He can get his letter from the overly enthusiastic science teacher, Dr. Katman. Problem solved.
Let's talk a minute about the setups for this week. The main story setup is classic The Goldbergs. In her smothering parenting style, Bev has instilled a belief in Adam that he can do no wrong and he's her precious angel. The minute he's not, she lets slip what most–if not all–parents have thought at one time or another: "You think I'm embarrassing you? Please, kid." A solid premise for this week's episode.
The secondary story, however, airs on the same week that a number of wealthy individuals, including some of ABC's former television stars, are in the news for illegally paying to cheat their kids into college. That's a rough coincidence. Real-world headlines aside, I had a hard time buying the secondary story's premise, which is too bad because it feels as though the B-story becomes the focus for much of the rest of the episode.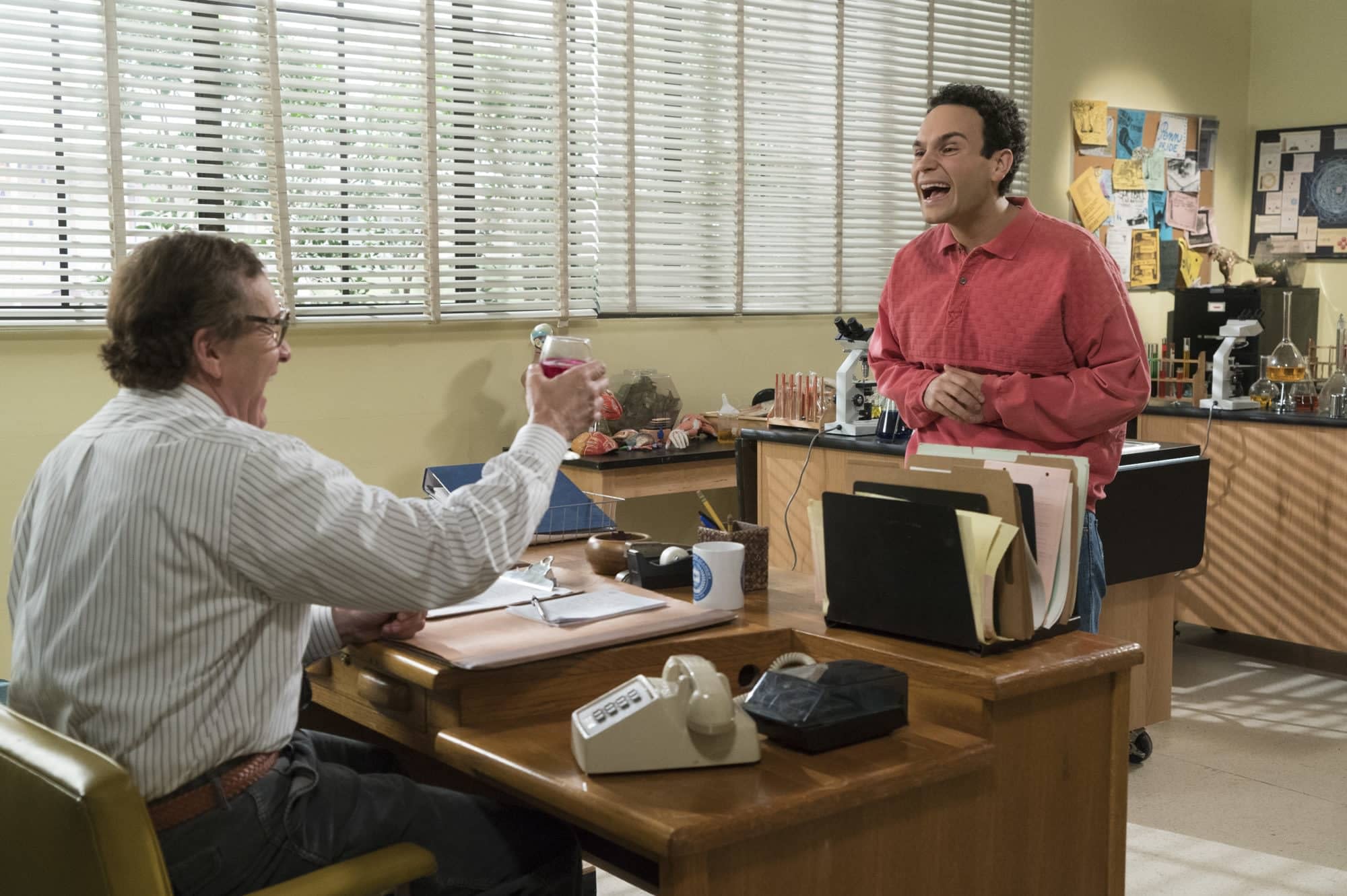 At school, Adam asks his friends if he's really embarrassing. Yeah, he is. Adam realizes that even though he's a bit of a geek, his mother has always been there for him in spite of his embarrassing moments (the pants issue that they never speak of…?). It's time for him to do the same for her and be on her debut local access cooking show.
Wait. Full stop.
I know we have to wrap this episode up by the bottom of the hour, but Adam's change of heart felt too quick. Too convenient. He didn't suffer and agonize over it enough to be convincing.
Erica, because she's in a dark place and unsure about her own future, pokes at Barry. The letter from Katman has to remain sealed for the college to accept it as authentic. So, Barry's only applying to one college? He doesn't need multiple copies of the letter to send to every college he applies to? This storyline still feels awkward. Anyhow, Barry can't let it go without knowing what Katman wrote, so Barry tries to open and read the letter, resulting in him destroying the letter. Again, the one and only copy of the letter.
As unbelievable as the secondary story is, at least it's following the correct structure for a sitcom.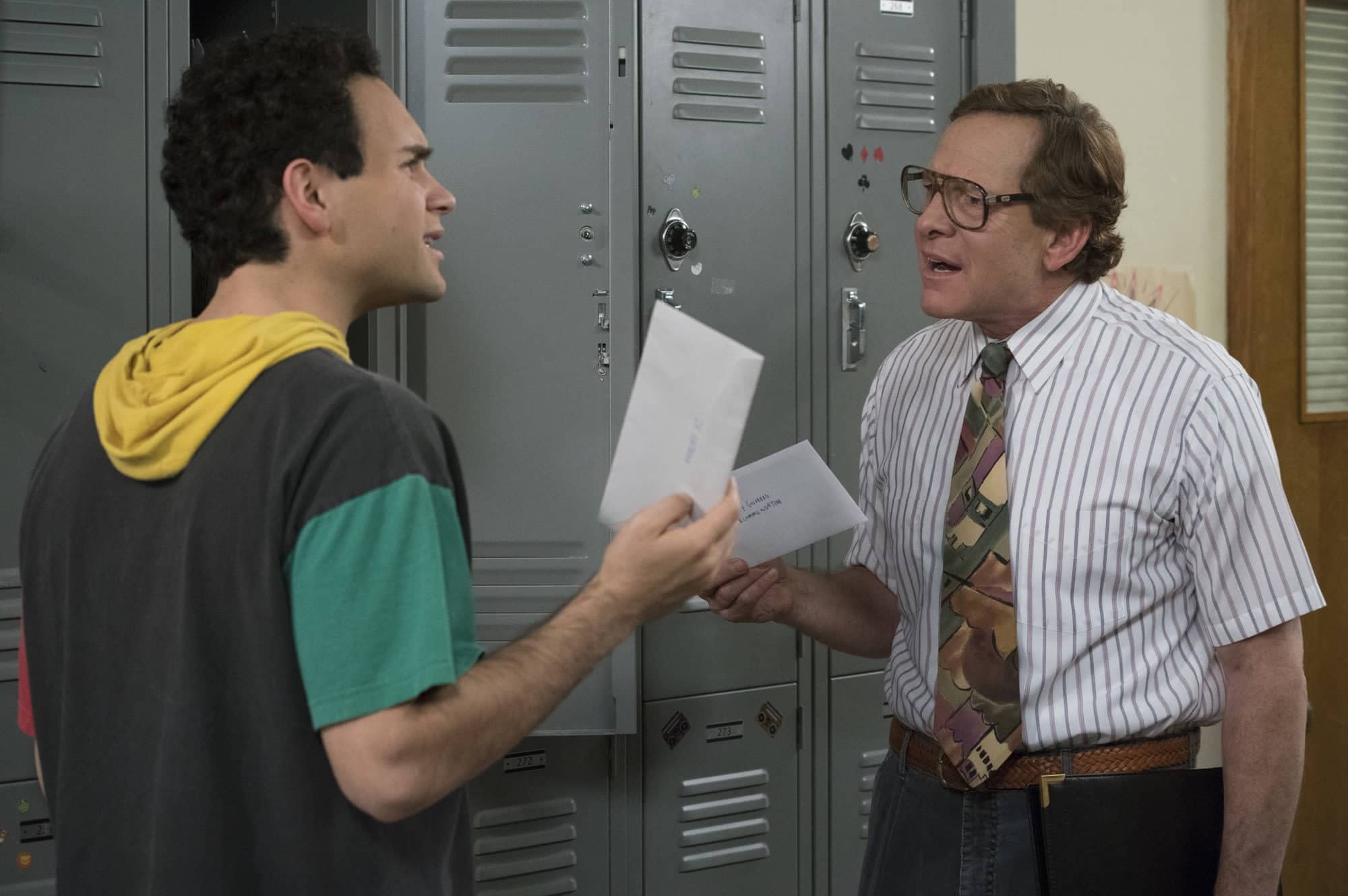 Adam and Bev go to the local access TV studio, which looks way nicer than a public access studio should look, and Adam freezes up in front of the camera. The guy who has been shooting home movies from the pilot episode and appears in countless videos–shown at the end of every episode–is camera shy. As funny as this sequence was, it was perhaps the most improbable point of the episode. But, it did serve to drive home the fact that Adam is more embarrassing than Bev, who pulled herself together and made a delightful pilot episode of her cooking show.
Barry asks Katman for a second letter, but Katman politely/profanely refuses to write another after Barry broke the trust and opened the first (and only) letter. Murray comes through with a letter for Barry, which he says he got from Katman. The next day, Katman apologizes and hands Barry the second letter, which is odd since Murray gave Barry the second letter from Katman. Now both Barry and Katman are curious about the letter that Katman didn't write and use real science, not Murder, She Wrote "science" to open the letter. In it, Murray declares to whomever is reading the letter that Barry has potential to be great and that Murray believes in him.
In the end, family love wins out. Bev says she doesn't need a TV show, because her dream is to sell the cookbook, not be a TV star. She's already a success because she has a family–including one particularly embarrassing son–who supports her. Barry knows what Murray thinks of the moron and plans on keeping Murray's letter forever.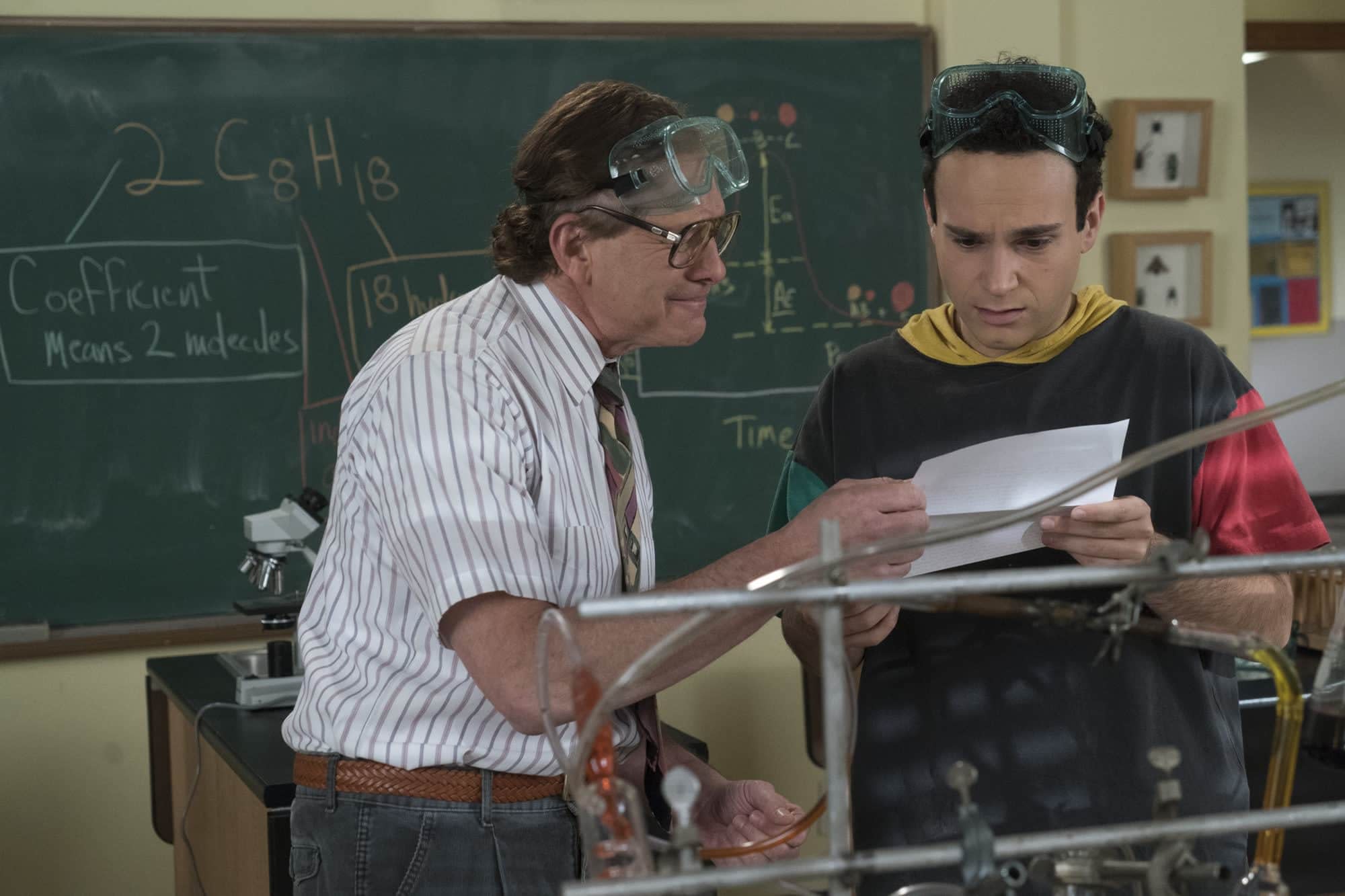 The resolution to both storylines tied in nicely together. In the end, this series is all about the love of the family, even if… ok, when they embarrass you. In spite of some of the issues along the way, one thing that The Goldbergs does well is give viewers that warm and fuzzy ending to help ease some of the issues in the journey to get there.
The Goldbergs airs Wednesday nights at 8 p.m. ET/7 p.m. CT on ABC.
The long-running sitcom centers on a family living in Jenkintown, Pennsylvania in the 1980s: Beverly Goldberg (Wendi McLendon-Covey), the over-protective head of the family; Murray Goldberg (Jeff Garlin), who believes he has more power than he has; and their three children: Erica (Hayley Orrantia), Barry (Troy Gentile), and Adam (Sean Giambrone).
Enjoyed this article? Share it!