'Arrow' Season 7, Episode 22 "You Have Saved This City" But Failed This Season [SPOILER REVIEW]
Welcome back to Bleeding Cool's continuing look at the seventh season of the CW's Arrow. as we look at season finale "You Have Saved This City" – ending a season that can best be described as a bit schizophrenic.
When the season began, Oliver was in jail for being a vigilante, Diaz was on the loose, and Team Arrow was officially disbanded. Longbow Hunters, a prison riot, and a new Green Arrow have all come and gone. Diaz was jailed, then a member of the "we can't call it Suicide Squad", and finally burned alive in prison. Emiko was revealed as Oliver's half-sister, and the Green Arrow, and the leader of this season's big bad, the 9th Circle. Team members have come together as officially sanctioned consultants for the SCPD, have gone their own ways (goodbye Curtis and Laurel), and come back to the team again (hello Roy… and Curtis and Laurel). William has gone to boarding school, been kicked out of boarding school, been targeted by a serial killer, and gone to live with his maternal grandparents. Felicity has gone from the hunted to a near-murderer to expectant mother.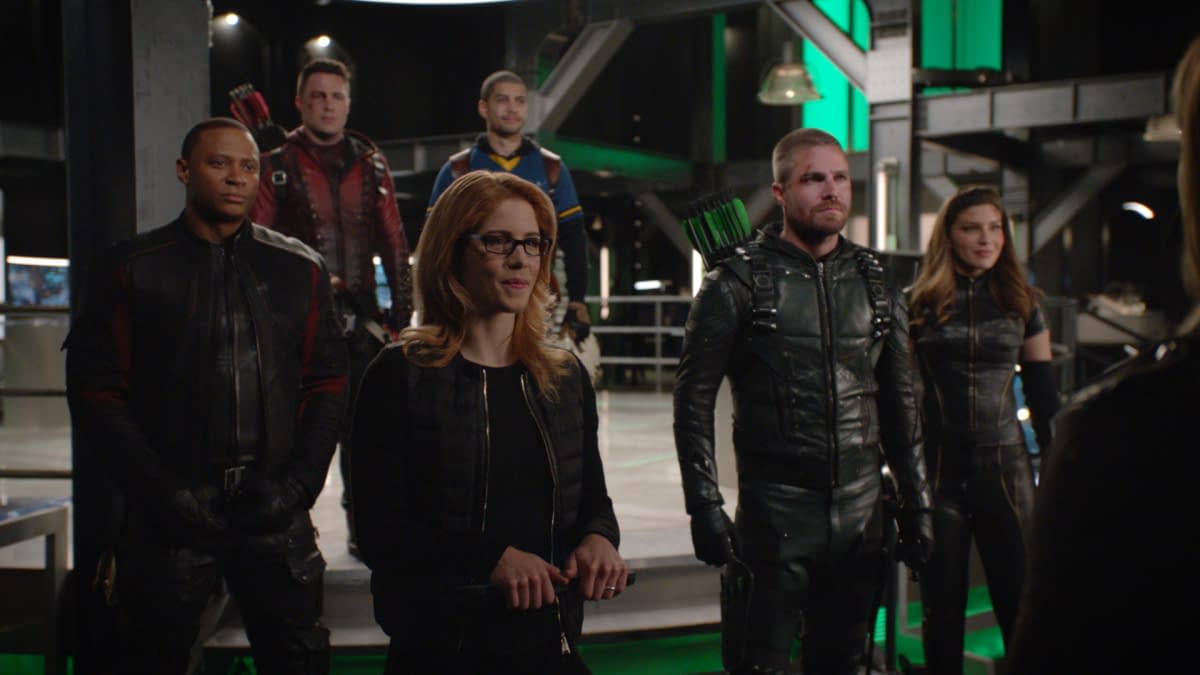 All of that doesn't even touch on the future timeline, which is chock full of twists, turns, returns, and a Star City that is unrecognizable from the present day storyline.
It's been a long, strange trip, but at least we can rest assured that there's no way the season could get any weirder in the season finale, right?
…Right?
Arrow season 7, episode 22 "You Have Saved This City": FAMILY TIES — The battle between Oliver (Stephen Amell) and Emiko (Sea Shimooka) comes to a boiling point which brings back some familiar faces and leaves others in dire jeopardy. James Bamford directed the episode written by Beth Schwartz & Rebecca Bellotto.
In the present day storyline, everything felt rushed to try and reach a conclusion. The team is on the roof of SCPD and the police are after them. Now they're at an evacuated building and people are dying because Emiko has drones that act like the lady at the perfume counter at the mall and blast people in the face. The police and the people of Star City hate them… but Bronze Tiger is there and drones are going pfft in people's faces, so the people in leather are okay even though the news says they're the bad guys behind the drones. Now we're at Palmer Tech and the SCPD are on the vigilantes side again. Here's Emiko trying to kill Oliver, but Emiko gets stabbed and beaten up so now she and Oliver are on the same side and the building blows up and Oliver swings away and… and… and…
*Whew!* Take a breath… count to ten…
https://youtu.be/RNJwEjd7p3c
The problem with trying to fit all of that into one episode – into the first 2/3 of the episode actually, with the future storyline eating up a chunk of that time – is that there is no time for any of the action to mean something. There's no real weight to the deaths by drone pfft. There's no time for the cost of failure to hit the team. It's literally "Go! Go! Go!" and it feels like if the writers had taken the past couple of do-nothing episodes and used that time to spread some of this out, then it might have space to breathe and mean something in the grand scheme of things. Instead, we got the SCPD learning that the team lied to cover for Roy murdering 2 security guards… which had zero ramifications on anything that came after, and we got Oliver hallucinating in the season's penultimate episode… which again, had no bearing whatsoever on anything that came after.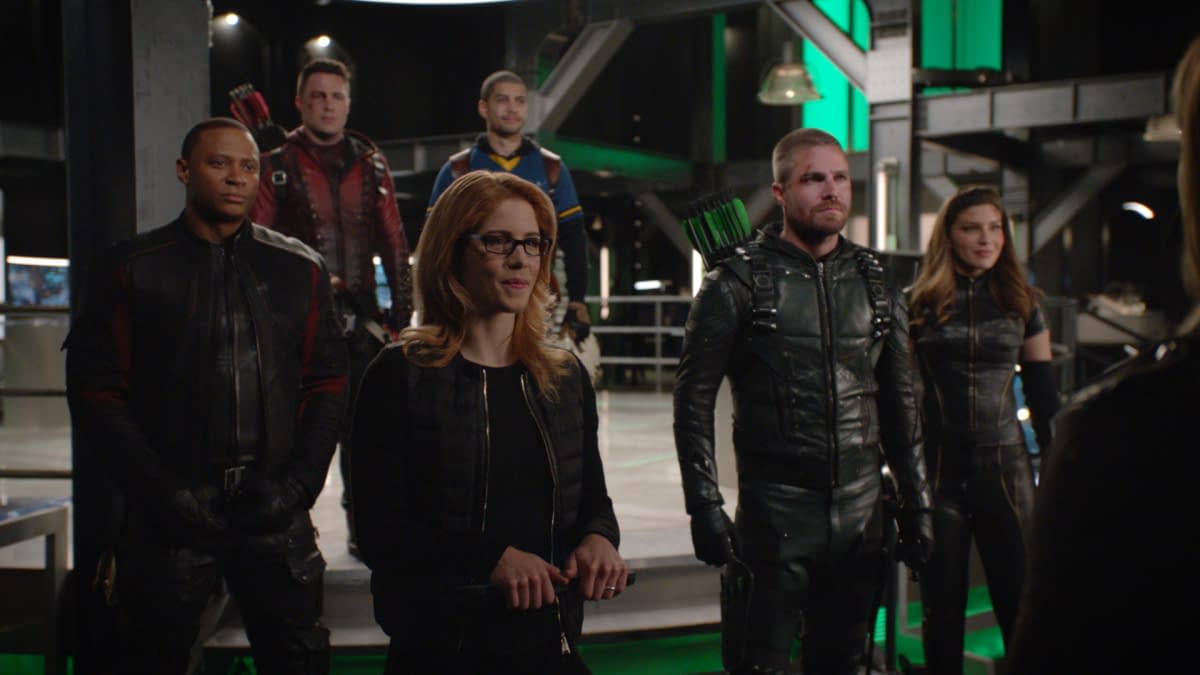 The future storyline has been a mess all season, with it's value based solely on surprise twists. Roy is on Lian Yu! Mia is Felicity and Oliver's daughter! Conner Hawk isn't John Diggle, Jr. but is actually Conner Hawk. Thematically, I think it was meant to be a funhouse mirror version of the present day story in that while Oliver was learning he has a half-sibling, so were Mia and Will. But the bridge between the two crumbles when you look at it head on. Oliver's journey has nothing to do with Will's nor Mia's. The dynamics between the half-siblings fighting one another in the present in no way informs the dynamics between the half-siblings in the future. The flash-forward scenes never seemed to add anything of substance to overarching narrative. If anything, they robbed time from the meandering present day storyline and the characters we were invested in.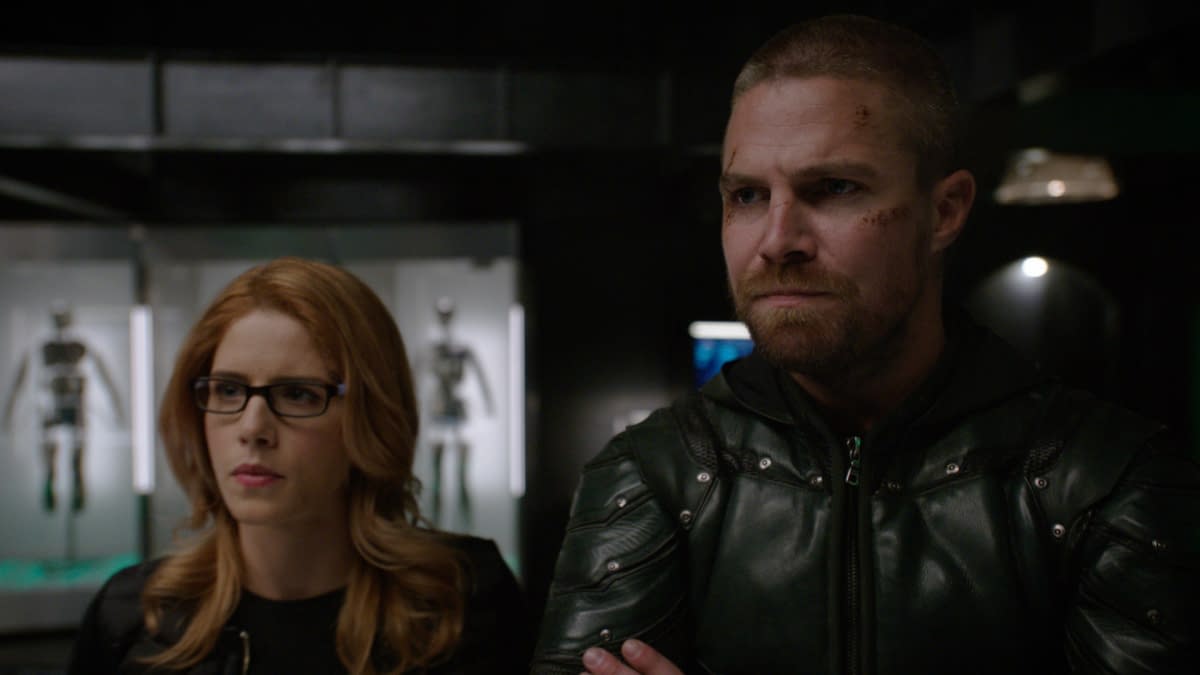 Then there's the final act of the episode.
Whoo, boy!
I'm all for setting up plot points and introducing characters for next season during the current season, but this was a little much. Yes, we've known since last fall's "Elseworlds" crossover that Oliver made some deal with the Monitor in order to save Barry and Kara. Yes, we know that this is – for all intents and purposes – the real end of Arrow as we know it. But to rush through everything else already in this episode so the "deus ex Monitor-china" can pop in and tell us all that next season's 10-episode season is going to be "Ollie & the Monitor's Wild Adventures Through the Multiverse" was the cherry on top of a vanilla, sardine, and horseradish sundae of a season.
Arrow, you have failed this season.
That's the way I see it. How about you? What did you think of this season of Arrow in general and the season 7 finale in particular? Let's carry over this discussion to the comments below. Tell me what you thought and I'll be sure to pop in and respond.
https://www.youtube.com/watch?v=NqShW5xDaxw&t=54s
CW's Arrow stars Stephen Amell as Oliver Queen/Green Arrow, David Ramsey as John Diggle/Spartan, Emily Bett Rickards as Felicity Smoak, Echo Kellum as Curtis Holt/Mr. Terrific, Katie Cassidy as Laurel/Black Siren, Rick Gonzalez as Rene Ramirez/Wild Dog, Juliana Harkavy as Dinah Drake/Black Canary, Colton Haynes as Roy Harper, and Kirk Acevedo as Ricardo Diaz. Greg Berlanti, Marc Guggenheim, Beth Schwartz, and Sarah Schechter serve as executive producers.
---
---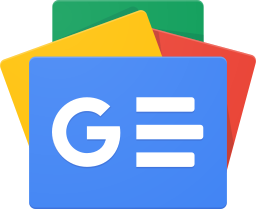 Stay up-to-date and support the site by following Bleeding Cool on Google News today!