'The Flash' Season 5, Episode 21 "The Girl With The Red Lightning": A Tale of Two Shows [SPOILER REVIEW]
Welcome back to Bleeding Cool's continuing look at The CW's The Flash season 5 with this week's episode "The Girl With The Red Lightning". If you came looking for our thoughts on whether the episode was generally "good" or not, I apologize in advance. we're going to do something a little different today. We're going to use this week's The Flash as a lens for focusing on what this season of the series has gotten right that the past few episodes of Arrow has gotten all wrong.
https://youtu.be/QXHmFWmhlvk
The Flash season 5, episode 21 "The Girl With The Red Lightning": CICADA II MAKES HER MOVE — Team Flash is on high alert after Cicada II (guest star Sarah Carter) threatens to unleash a dangerous virus that would put all meta-humans at risk. Stefan Pleszczynski directed the episode written by Judalina Neira & Thomas Pound.
You might be wondering why we'd be comparing these two shows against one another. I mean, outside of being in the shared Arrow-verse, they don't really crossover that much. Tonally, they're very different. In fact, they really don't have anything in common at all. Especially if you throw out the fact that:
● Both feature teams of vigilantes currently trying to work with their cities's police departments.
● Both currently deal with a previously unknown family member complicating their lives.
● Both currently deal with a villain who is trying to disperse a bio-weapon in order to kill some people and terrorize the survivors.
● Both currently feature storylines set in the future.
So, really nothing alike at all. You know, besides all that.
(Side note: while probably too late in the season to do so, I'd be lying if I said I'd be shocked to see Ben Lockwood attempt to obtain a device to disperse vaporized Harun-El in National City in order to give super powers to humans over on Supergirl. Why not? Everybody else in the Arrow-verse seems to be employing that plot point this season?)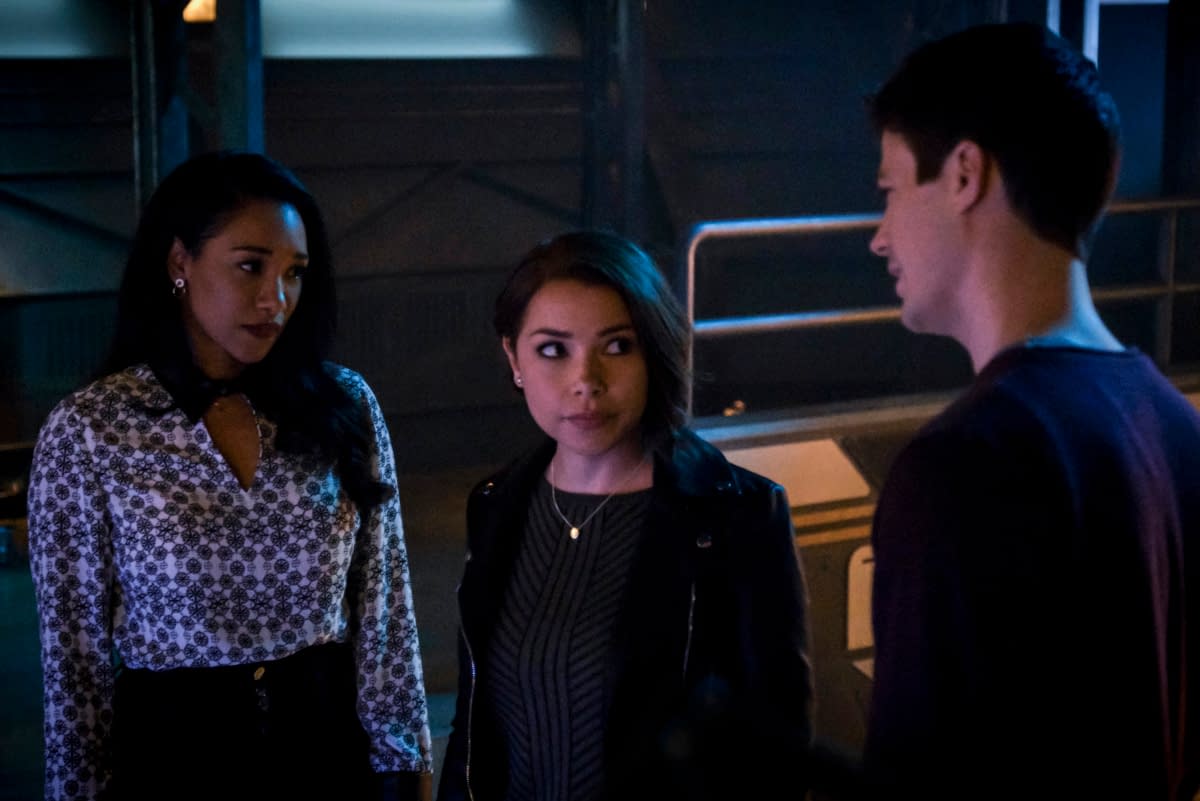 What is it that The Flash is doing successfully this season in general and in this most recent episode in particular that Arrow is struggling with right now?
First, The Flash's writers are just telling the story. No dodgy narrative techniques like an unreliable narrator of hallucinations that take up a third of the screen time. The Flash is telling the story as straightforward and as earnestly as possible.
Second, the characters are growing and moving forward. Nora asserts that she is a grown ass woman and will do what she can to help. Barry and Iris grow to trust Nora. Joe grows as a leader, professionally, in a time of crisis at the CCPD – hopefully setting up his character to take over the captain's office soon. Most importantly, Ralph grows from bumbling and lovable (and sometimes annoying) Ralph into the one guy who figured out what Thawne is up to.
By comparison, the characters in Arrow are either stagnant or are written so that when they backslide in one scene and return to the status quo in the next: it gives the illusion of growth to the audience when nothing is actually changing.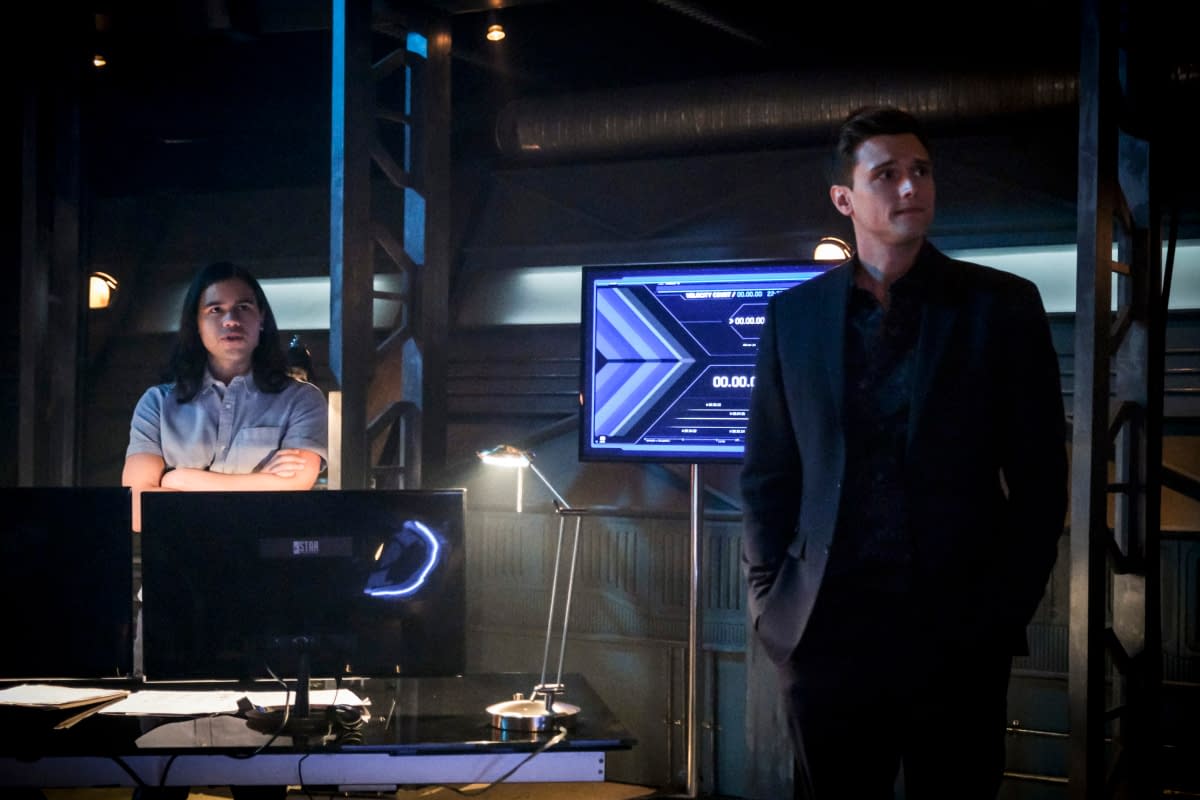 Third, The Flash is giving us something we've not seen before in the villain, both visually and dynamically. For a time, The Flash was stuck in a "what speedster can we use as the season's big-bad?" rut. The past two seasons have moved away from that, with varying degrees of success. Last season's DeVoe stuff was hard to watch – but his season's Cicada feels entertaining again, with a unique power set. That's not to say it all makes sense… if Grace is a metahuman and Cicada releases an airborne chemical that kills all metahumans, wouldn't she kill herself?
Meanwhile over on Arrow, we have another evil archer leading another clan of face-covered terrorist assassins with the city at stake. As Quentin Lance said in season 3, "The city's under attack? Must be May."
Finally, the scenes involving Thawne in the future feel deeply connected to the characters and plot-driven drama in the present on The Flash. If you're going to do scenes set in two different times, having that direct connection through Nora is a fantastic bridge that shows why what's happening in one is immediately relevant to and related to the other.
On Arrow, the present and the future stories feel completely disconnected from one another. With only the season finale left to air next week, there's no way that Arrow can fill in all the gaps to make the future stories make sense in relation to the present day stories. Arrow's flashbacks mostly worked because the flashbacks were thematically tied to the what was taking place in the present. The flashes forward are only connected loosely to the present by plot points. "Oliver and Felicity have a daughter in the future, so here… Felicity is now pregnant in the present."
That doesn't cut it.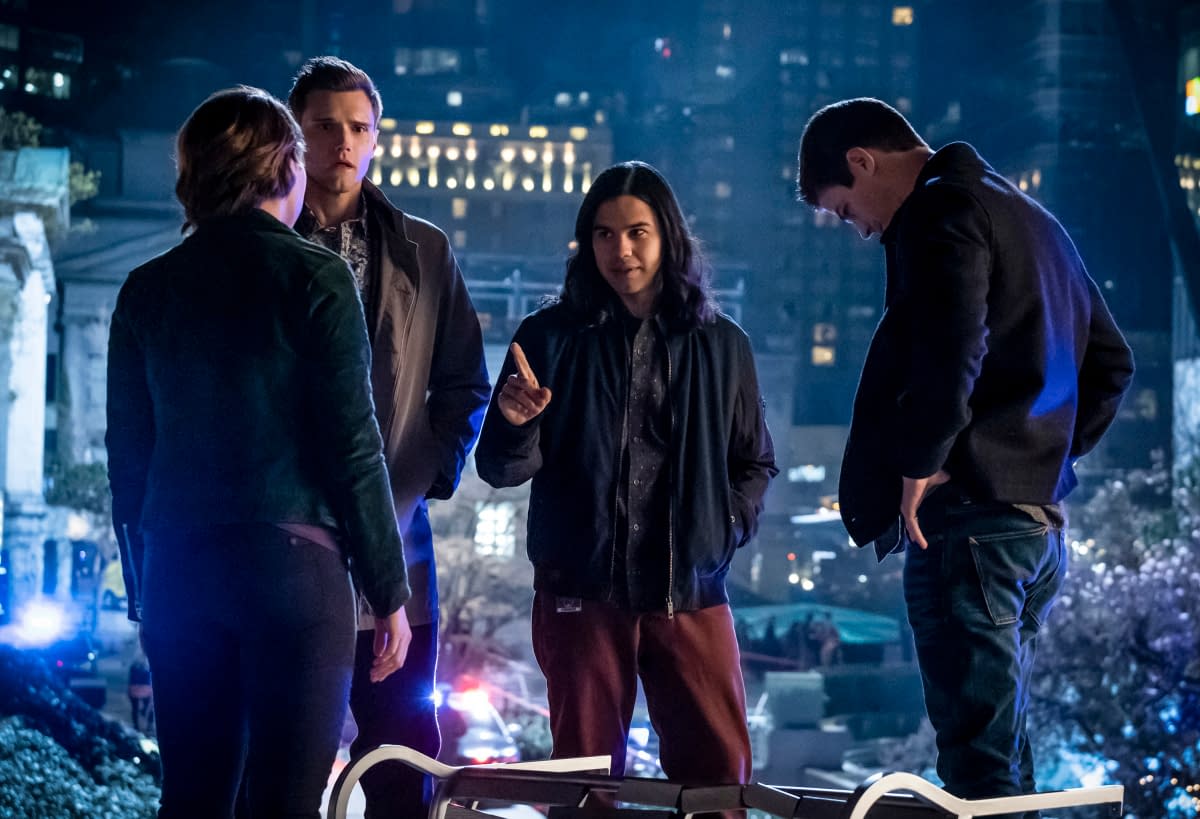 All that said, I did enjoy this episode of The Flash. Certainly much more than the past few episodes of Arrow. The relationships between the characters feel organic and like natural growth. The conflicts in the present and the future are drawing to a head in a way that is meaningful to both, independently and together. I'm looking forward to seeing how the writers wrap up this season next week and whether or not they drop a hint at what's to come next season or not in the finale.
The Flash's season 5 finale airs Tuesday, May 14, at 8 p.m. ET/7 p.m. CT on the CW.
The Flash season 5, episode 22 "Legacy": BARRY FACES OFF WITH REVERSE FLASH – Barry (Grant Gustin) faces off with his oldest, and most formidable nemesis, Reverse Flash (Tom Cavanagh). Gregory Smith directed the episode with story by Lauren Certo and teleplay by Todd Helbing & Eric Wallace.
The CW's The Flash stars Grant Gustin as Barry Allen/The Flash, Candice Patton as Iris West-Allen, Danielle Panabaker as Caitlin Snow/Killer Frost, Carlos Valdes as Cisco Ramon/Vibe, Hartley Sawyer as Ralph Dibny/Elongated Man, Danielle Nicolet as Cecile Horton, Jessica Parker Kennedy as Nora West-Allen/XS, and Chris Klein as Orlyn Dwyer/Cicada; with Tom Cavanagh as Harrison Wells and Jesse L. Martin as Detective Joe West. Greg Berlanti, Sarah Schechter, and Todd Helbing serve as executive producers.