'Arrow' Season 7, Episode 21 "Living Proof" Is D.O.A., Feels a Little 'Lost' [SPOILER REVIEW]
Welcome back to Bleeding Cool's continuing look at the seventh season of the CW's Arrow. Like last week, this week's episode pulls narrative shenanigans in an effort to attempt to hide from the viewer the fact that there's not much going on here. Heading into the season finale, the episodes should be building to a crescendo – not fizzling out. It feels like the writers are betting everything on nailing a "surprise" ending in next week's season finale… but we'll get to that in a moment.
https://www.youtube.com/watch?v=BXVPuh06mcM
Arrow season 7, episode 21 "Living Proof": OLIVER IS PUT TO THE TEST — Oliver (Stephen Amell) finds himself in a precarious position. SCPD shows up with a warrant for Felicity (Emily Bett Rickards). Gordon Verheul directed the episode written by Oscar Balderrama & Sarah Tarkoff.
What happened in terms of moving the storyline forward, you ask? Very little:
● The SCPD got the subway surveillance tape showing that Team Arrow was complicit in the murder of two security guards and the subsequent cover up.
● Team Arrow escaped from the collapsed building.
● Emiko stole some of Oliver's arrows from headquarters. There, she learned that Felicity is pregnant.
● Emiko posed as the Green Arrow and stole the bio-weapon from the SCPD.
That's it.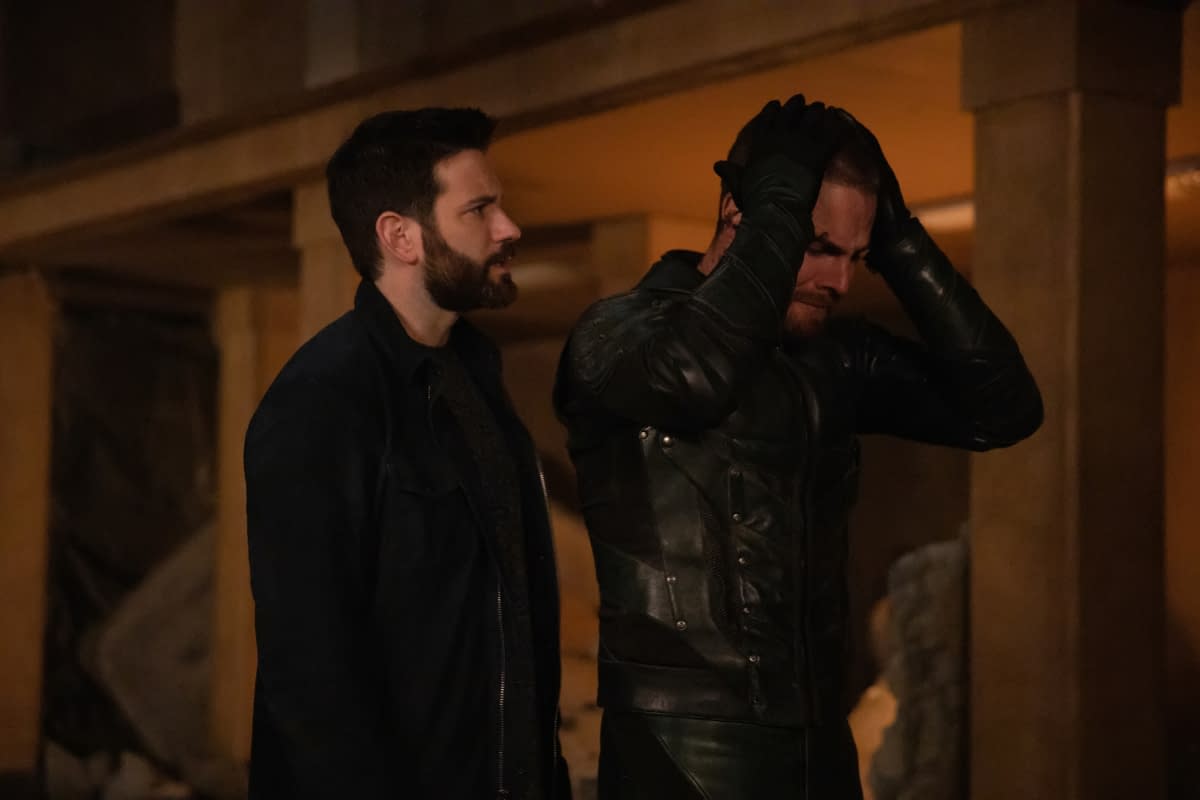 "But, character moments?", you ask? Let's touch on those…
● Dinah got mad at Roy for killing the subway guards, but changed her mind when Roy risked his life to save the team – pretty much bringing her back around to where she was when the episode began.
● Oliver went from being prepared to kill Emiko to deciding not to kill Emiko – pretty much bringing him right back to where he was about two episodes ago.
Seeing a pattern here?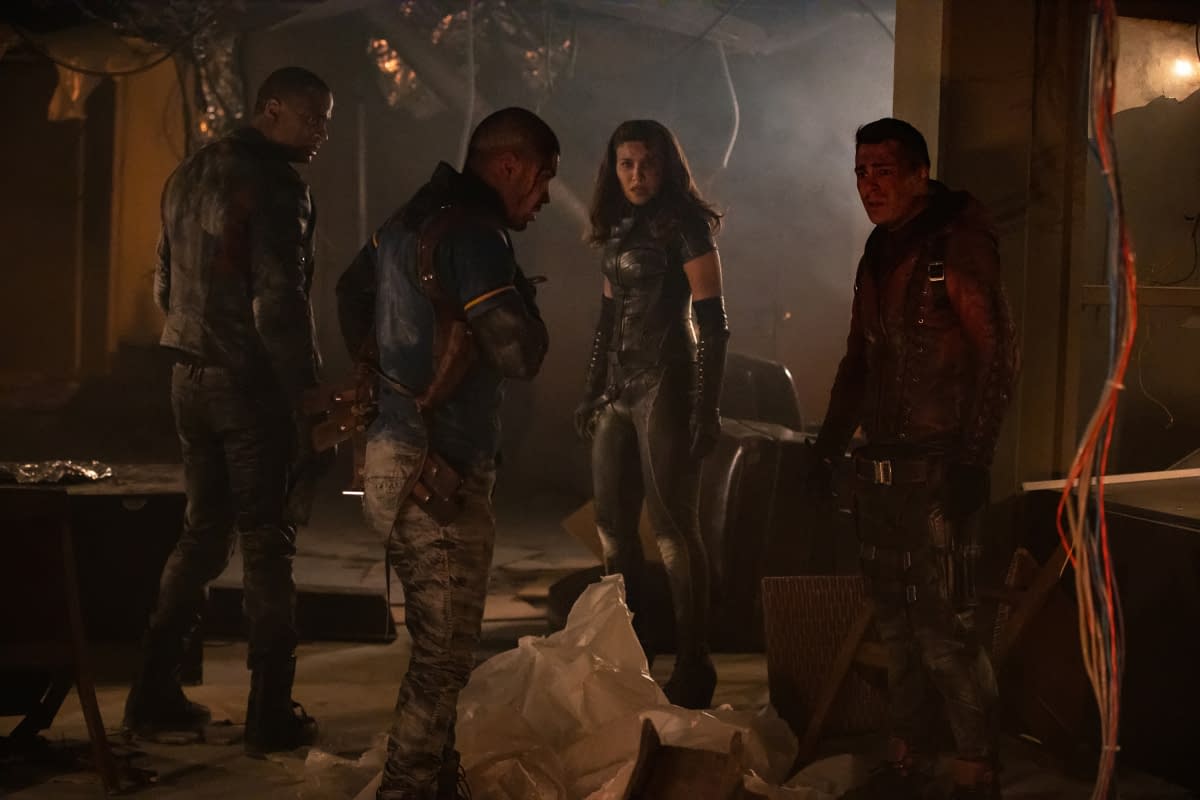 Do you remember the third season of Lost? The writers were spinning their wheels, giving us filler episode after filler episode. Did you ever wonder about the time that Jack got a tattoo on his back from Bai Ling? You got an episode that explained that particular piece of inconsequential trivia. It was toward the end of that third season that the showrunners and the network negotiated an end date for the series.
Earlier this season, Arrow was given its end date. Unfortunately, the past few episodes are "Jack's tattoo"-type of episodes: just biding time until we can get to this season's finale next week, then shift attentions into series finale mode. Last week, we got the unreliable narrator telling us a bunch of lies throughout the bulk of the episode, finally giving us a couple of minutes of the truth to move the pieces into place for this week's episode. Tonight, we got a good third of the episode (if not more) in the form of a hallucination that (as stated above) served to do nothing but bring us back to where we've recently been with Oliver.
In fact, if these past two episodes didn't exist then I don't know that there would be much lost when next week's season finale airs.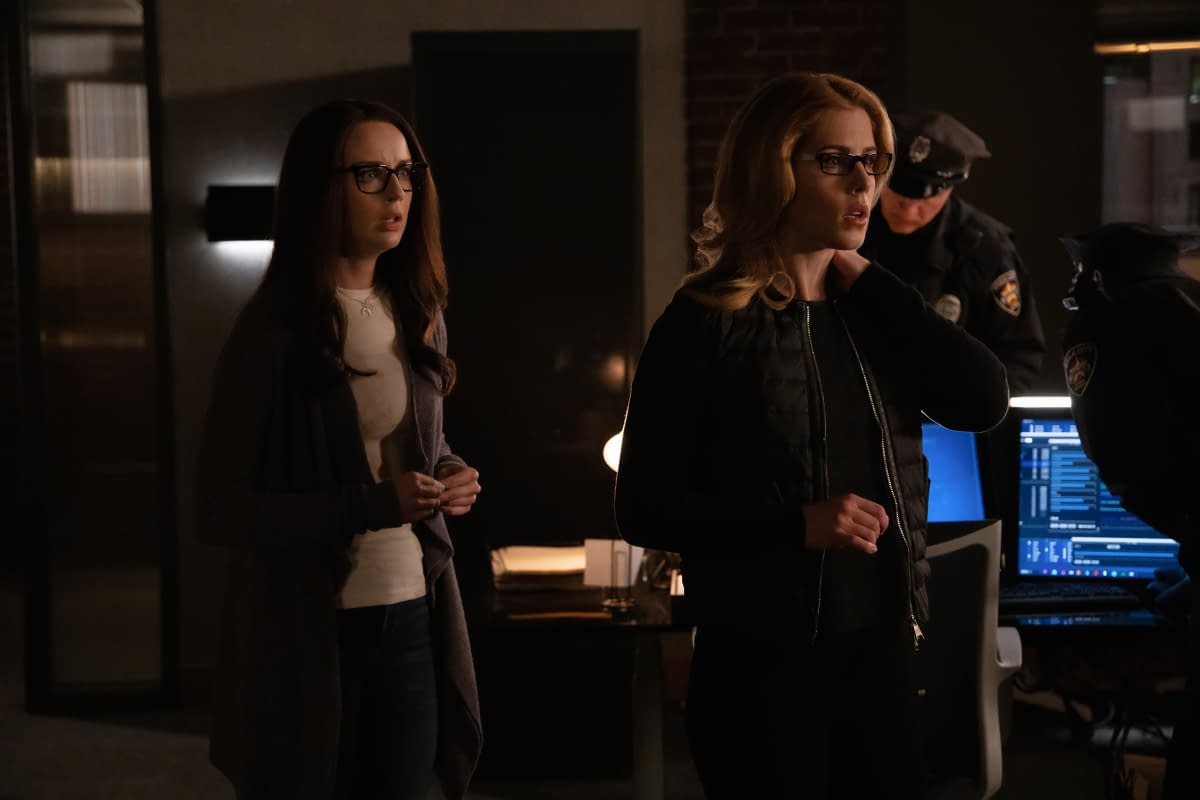 So where are we headed with all this? It feels like everything hinges on a "twist" in the conclusion to the future storyline. Oliver has spent the season trying to redeem Emiko (minus the past few episodes), but like us, he is pretending like those episodes don't exist since he's back on the redemption train.
During his hallucination, Oliver saw that killing Emiko is metaphysically/metaphorically the same as killing the people who he loves. Is anyone going to be shocked when Oliver lets Emiko go in the present timeline next week and she shows up to save the captured Felicity, Will, Mia, et al in the future timeline? Isn't that who's being referenced in the episode title "You Have Saved This City"?
That's where it seems we're headed towards, folks: multiple episodes of attempting to hoodwink the viewer so that the writers can say "gotcha!" in the finale. Here's hoping I'm wrong – we'll know next week when the Arrow season 7 finale airs Monday, May 13, at 9 p.m. ET/ 8 p.m. CT on the CW.
Arrow season 7, episode 22 "You Have Saved This City": FAMILY TIES — The battle between Oliver (Stephen Amell) and Emiko (Sea Shimooka) comes to a boiling point which brings back some familiar faces and leaves others in dire jeopardy. James Bamford directed the episode written by Beth Schwartz & Rebecca Bellotto.
CW's Arrow stars Stephen Amell as Oliver Queen/Green Arrow, David Ramsey as John Diggle/Spartan, Emily Bett Rickards as Felicity Smoak, Echo Kellum as Curtis Holt/Mr. Terrific, Katie Cassidy as Laurel/Black Siren, Rick Gonzalez as Rene Ramirez/Wild Dog, Juliana Harkavy as Dinah Drake/Black Canary, Colton Haynes as Roy Harper, and Kirk Acevedo as Ricardo Diaz. Greg Berlanti, Marc Guggenheim, Beth Schwartz, and Sarah Schechter serve as executive producers.