'Arrow' Season 7, Episode 22: Can "You Have Saved This City" Save This Season? [PREVIEW]
The CW's Arrow wraps up its seventh and final full (20+ episode) season Monday night, May 13. Oliver's struggle for Emiko's soul in the present day storyline comes to a head, with Emiko possessing a weapon that can wipe out the city (of course… it is May). In the future, the surviving members of Team Arrow and those who are Team Arrow adjacent have been rounded up by GalaxyOne in the company's bid to take over Star City, then the world. It feels like there's a lot of heavy lifting left to do to connect these two stories together in one final episode this season.
https://www.youtube.com/watch?v=tMTa0DpLnZ8
Arrow season 7, episode 22 "You Have Saved This City": FAMILY TIES — The battle between Oliver (Stephen Amell) and Emiko (Sea Shimooka) comes to a boiling point which brings back some familiar faces and leaves others in dire jeopardy. James Bamford directed the episode written by Beth Schwartz & Rebecca Bellotto.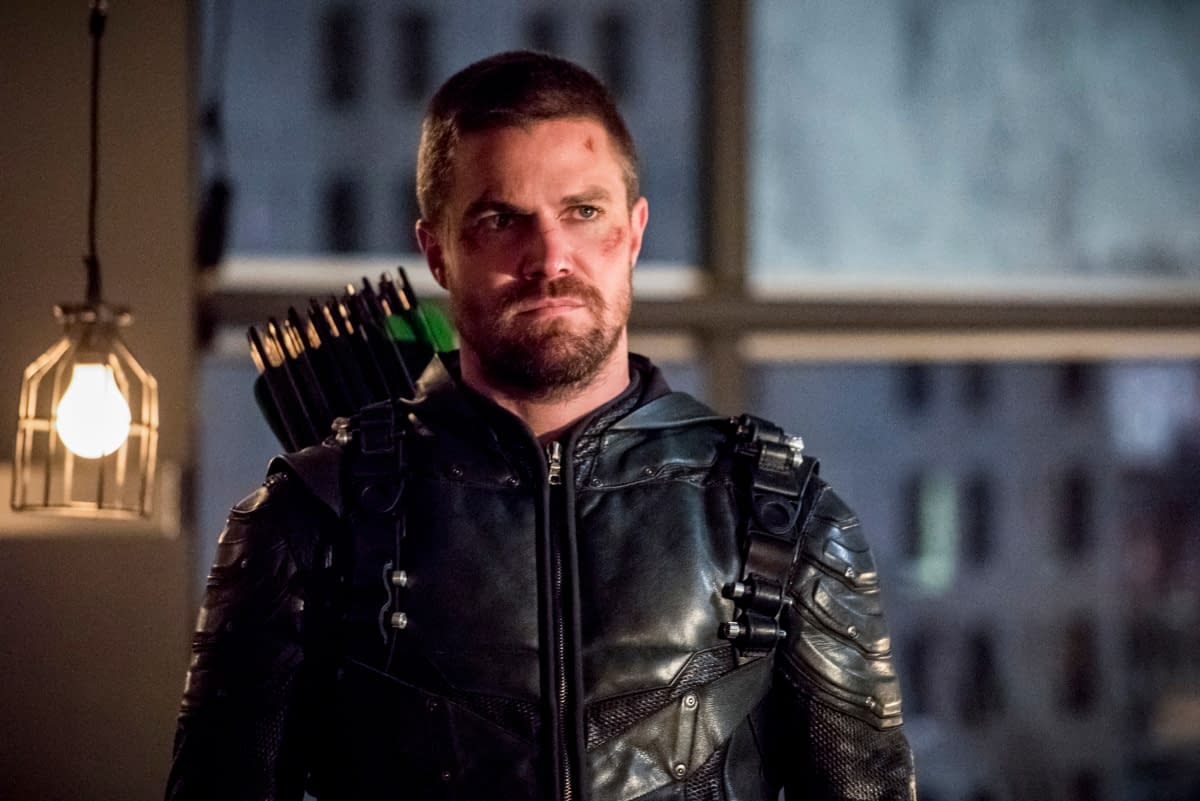 This episode marks Emily Bett Rickards' final episode portraying Felicity Smoak, as the actress will not return as a series regular in next fall's 10-episode limited run. Who else might we see on the screen, perhaps for the last time? Based on the promotional photos below, Echo Kellum as Curtis Holt/Mr. Terrific, Michael Jai White as Ben Turner/Bronze Tiger, and Kate Cassidy as Laurel Lance/Black Siren will return for the episode. This season's 150th episode, shot mostly as a faux documentary on the Green Arrow, brought us a number of familiar faces in cameo role or using footage from previous seasons, so it's really anyone's guess who might pop up during the season finale.
The Arrow season seven finale airs Monday, May 13 at 9 p.m. ET/ 8 p.m. CT on the CW.
The CW's Arrow stars Stephen Amell as Oliver Queen/Green Arrow, David Ramsey as John Diggle/Spartan, Emily Bett Rickards as Felicity Smoak, Echo Kellum as Curtis Holt/Mr. Terrific, Katie Cassidy as Laurel/Black Siren, Rick Gonzalez as Rene Ramirez/Wild Dog, Juliana Harkavy as Dinah Drake/Black Canary, Colton Haynes as Roy Harper, and Kirk Acevedo as Ricardo Diaz. Greg Berlanti, Marc Guggenheim, Beth Schwartz, and Sarah Schechter serve as executive producers.