The Mandalorian Season 3 Opener Reveals Cara Dune's Fate (SPOILERS)
Well, it didn't take long into the third season of Disney+ & Lucasfilm's The Mandalorian to learn Cara Dune's post-Gina Carano fate.
---
Earlier this week, Dave Filoni and Rick Famuyiwa (director; Season 3, Episodes 1, 7 & 8) revealed that the fate of Cara Dune was discussed by Jon Favreau and the creative team and that it would be addressed during this season of the Pedro Pascal-starring The Mandalorian. For those who need a reminder, after months of controversial social media posts that promoted far-out conspiracy theories & pseudo-science, a final line was crossed in an Instagram Stories post where Carano supported an allegory between conservatives and what Jewish people suffered in Nazi Germany (see below). Well, it didn't take long for us to get that answer, so we're throwing on the "MAJOR SPOILERS AHEAD!" sign and throwing down an image spoiler buffer to offer you a heads-up (without spoiling the rest of the episode).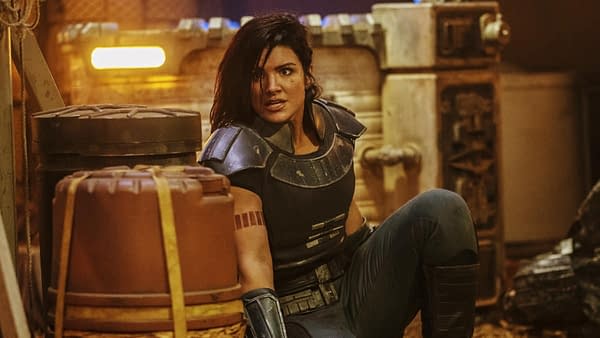 So remember that preview scene that was released showing Din Djarin (Pascal) & Grogu and Greef Karga (Carl Weathers) catching up on old times (since some time has passed)? Well, after a little nostalgic ass-kicking in "Chapter 17: The Apostate" (directed by Famuyiwa and written by Favreau), Greef shares that he needs a new marshal now that Dune's been "recruited by special forces" (insert your own joke here) "after she brought in Moff Gideon [Giancarlo Esposito]" (who "was sent off to a New Republic war tribunal"). We have a feeling we'll be seeing Esposito's Moff Gideon return a lot sooner than a Carano-portrayed Cara Dune – just sayin'… no spoilers!!!
The Mandalorian/Gina Carano: A Look Back
In May 2021, an article in Variety noted Lucasfilm President Kathleen Kennedy's update on Rangers of the New Republic and how it was "not currently in active development." Now "not currently in active development" didn't mean the project was dead since the narrative direction of the series was never officially confirmed. But then November came around, and Kennedy seemingly put the final nail in the coffin with an update revealing that the work that was done on "Rangers" was not going to waste. "We'd never written any scripts or anything on that. Some of that will figure into future episodes, I'm sure, of the next iteration of 'The Mandalorian,'" Kennedy said during an interview with Empire.
Of course, Carano getting the boot from Lucasfilm & Disney+'s original "Star Wars" spinoff series earlier that year after months of controversial social media posts that peddled whackjob conspiracy theories & half-assed pseudo-science while finding ways to insult the very fanbase that actually allowed her to collect a paycheck from "The Mouse" had a whole lot to do with that. It culminated in an Instagram Stories post where Carano supported comparing the "persecution" that she believes conservatives were enduring (especially with the COVID pandemic) with what Jewish people suffered in Nazi Germany. Check out a screencap of the image Carano posted above, which was reportedly the streaming service's final straw. Of course, the post was taken down to make it seem like nothing ever happened, which is why it's always good to have screencaps (we made out thoughts known on Carano having no one to blame bur herself here, here, here, here, and here).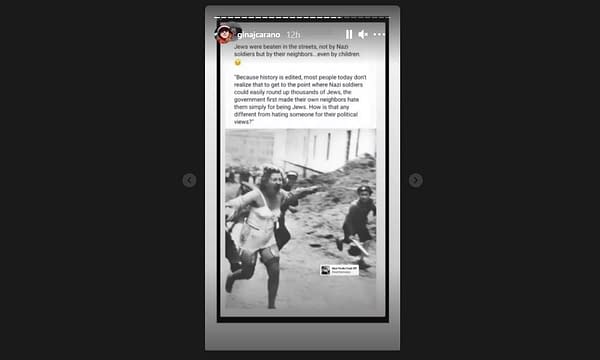 ---
---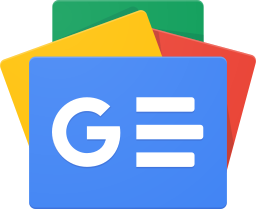 Stay up-to-date and support the site by following Bleeding Cool on Google News today!