The Mandalorian: Watch Ludwig Göransson Whip Out His Big Recorder
As fans of Disney+'s The Mandalorian continue counting the days down until the show's second-season return this fall (more on that in a minute), the streaming service has been filling their wait time with some cool "look-backs" at the first season. The eight-episode docuseries Disney Gallery: The Mandalorian took viewers on a behind-the-scenes tour of the entire production process, and along the way, we got to meet Ludwig Göransson (Black Panther). The Academy Award-winning composer created the main title score for The Mandalorian, and now we get a chance to see Göransson performing the composition for ourselves in the following music video- and folks? It's "recorder-rific"!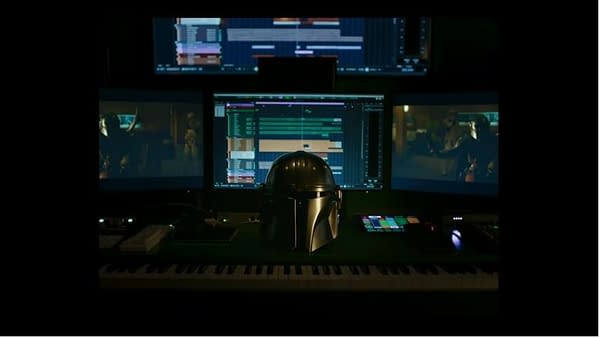 As we mentioned earlier, the live-action Star Wars spinoff series has been having a pretty good run of things during its off-season, all COVID-19 things considered. Rosario Dawson, Timothy Olyphant, Temuera Morrison, Katee Sackhoff, and Michael Biehn are either confirmed or reported to be joining the second season, with series creator Jon Favreau confirming October was still the premiere month and that he was returning to direct. Joining him in the director's chair this season are EP Dave Filoni, Peyton Reed (Ant-Man), Robert Rodriguez (Sin City), cast member Carl Weathers, Rick Famuyiwa (Dope), and Bryce Dallas Howard (Dads), with Sam Hargrave (Extraction) running second-unit to amp up the action.
Set between the events in Return of the Jedi and The Force Awakens, showrunner Jon Favreau and Dave Filoni's (The Clone Wars) The Mandalorian takes place after the fall of the Empire and before the emergence of the First Order and follows a lone gunfighter in the outer reaches of the galaxy far from the authority of the New Republic. Disney+'s The Mandalorian stars Pedro Pascal, Gina Carano, Nick Nolte, Giancarlo Esposito, Ming-Na Wen, Carl Weathers, Emily Swallow, Omid Abtahi, Werner Herzog, Taika Waititi, Bill Burr, and Mark Boone Jr. star.