FOX's The Masked Singer is on fire! Tuesday's bonus episode brought the feels, as another shocking contestant falls out of the competition. Some performance got a little cheeky, while others moved viewers to tears. And guest judge T-Pain brought his A-game to one of the second season's best episodes yet.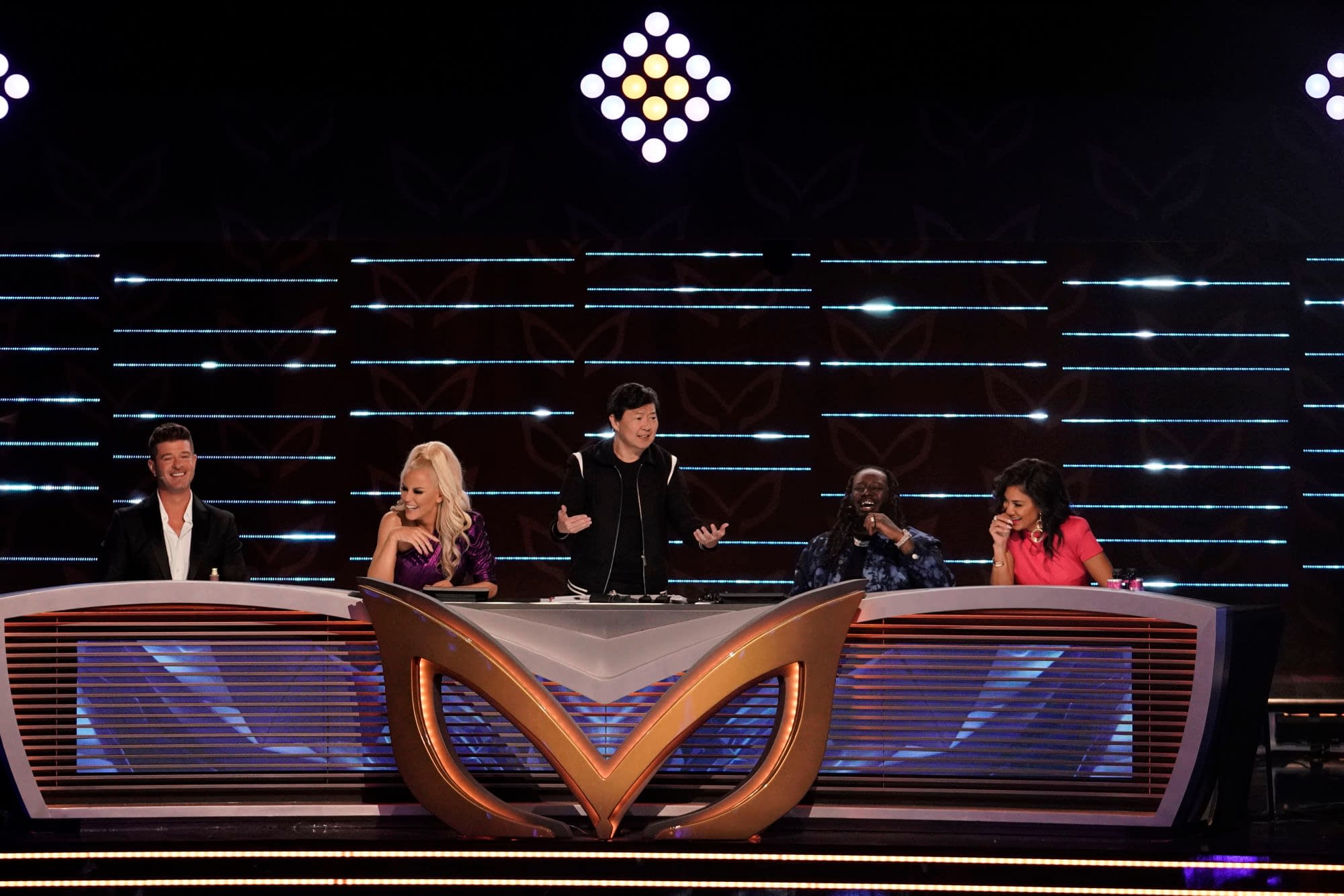 Let's recap!!! MAJOR SPOILERS ahead…
FOX
https://youtu.be/azsT0khUDEY
LEOPARD
https://youtu.be/GZnAmWemgO4
THINGAMAJIG
FLAMINGO
https://youtu.be/maRrK4rN5UM
TREE
https://youtu.be/3HEA8vUdbOU
ROTTWEILER
https://youtu.be/UyKQArmtBXA
They skipped the fun-filled showdown and jumped straight into…
The Reveal!
Ana Gasteyer's reaction to her reveal is the best celebrity response to The Masked Singer that we've seen in two seasons. LOL! I love this…
Did you just see what happened on @themaskedsinger? #treemask #themaskedsinger #RachelRay #curlers #whatshappening @MaskedSingerFOX @robinthicke @kenjeong @NicoleScherzy @JennyMcCarthy #RachelRay pic.twitter.com/Ze1qz7Wq1s

— Ana Gasteyer (@AnaGasteyer) December 11, 2019
"The Masked Singer": Tiff's Takes
I loved this episode! From Fox's hilarious and smooth wink at all the Jamie Foxx guesses to Rottweiler's goosebump-making performance of "Someone You Loved." It was all thoroughly entertaining. It was especially fun having T-Pain on the judges panel bringing his Season 1 insights. He could related to all the contestants after wearing that Monster mask all season. His joke about his Thingamajig cousin was adorable! Once again, I was totally shocked by the unmasking. I never would've guessed Gasteyer. Although the holiday spirit makes sense in retrospect…
Tree is….

OMG!!! Ana Gastyer. Damn I never saw that coming. I love it.

Perfect reveal during this season 😉#TheMaskedSinger pic.twitter.com/nGIqggwiBk

— Tiffany Tchobanian (#TiffsTake🎬) (@TalkTVwTiffany) December 11, 2019
Now, onto the guesses! Not much has changed LOL
I stand by my original hunches and have gained new perspective on some other theories:
● Fox is without a doubt Wayne Brady. He showcased his sense of humor with that epic performance of "Blame It."
● Leopard still sounds like Seal, although those clues totally threw me. Until I found an answer to that tennis clue – Seal is participating in the Chris Evert Pro-Celebrity Tennis Classic.
● Flamingo is SO Tia Mowry after that Sister, Sister clue! Sticking with my gut from last time.
● Like most viewers, I've turned to Googling "Maryland celebs" for more clues and that didn't even help me identify Thingamajig! His reveal is probably going to blow my mind.
● I've been puzzled by Rottweiler for most of the season, but I've come around to the idea that he actually is Chris Daughtry. That performance of "Someone You Loved" was so moving. I think he's trying hard to hold back that gruff and raspy rocker tone in his voice to showcase his smoother tone.
It reminded me of his touching American Idol performance of "Have You Ever Really Loved A Woman." Actually, I had forgotten how many great performances he delivered on that show!
You'll get sucked into a Daughtry/AI wormhole on this channel:
FOX's The Masked Singer airs Wednesday nights at 8 p.m. ET/7 p.m. CT. Tweet along and guess with me (@TalkTVwTiffany) while watching the show live on the west coast (that's PST, just in case).