The New Adventures of Winnie the Pooh Production Cel Hits Auction
The classic world and characters of Winnie the Pooh that was introduced by A. A. Milne in 1926 got new life in 1988 in the form of a cartoon. That cartoon, The New Adventures of Winnie the Pooh, is where many lifelong fans of the franchise know these iconic characters. The series ran for four seasons, telling tales of Pooh, Christopher Robin, and all of their friends from the Hundred Acre Woods, including Piglet, the breakout character Tigger, and many more. Fans of this classic can head over to Heritage Auctions now to bid on a production cel and animated set-up from the classic, iconic series.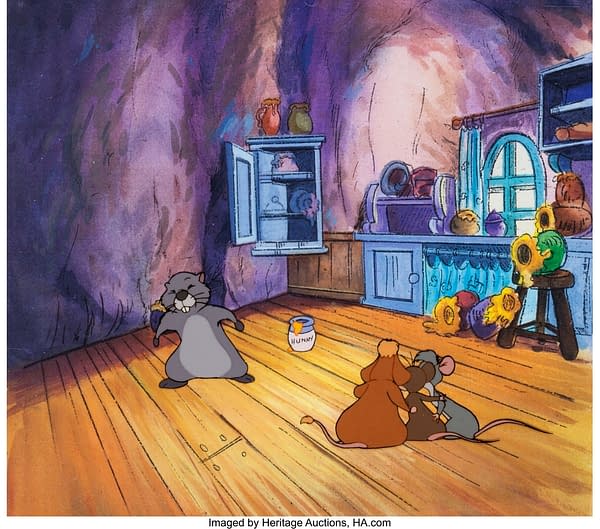 Here is a photograph that shows the full extent of this stunning cel featuring Gopher.
With the cel comes the following animation drawing showing Pooh and the crew: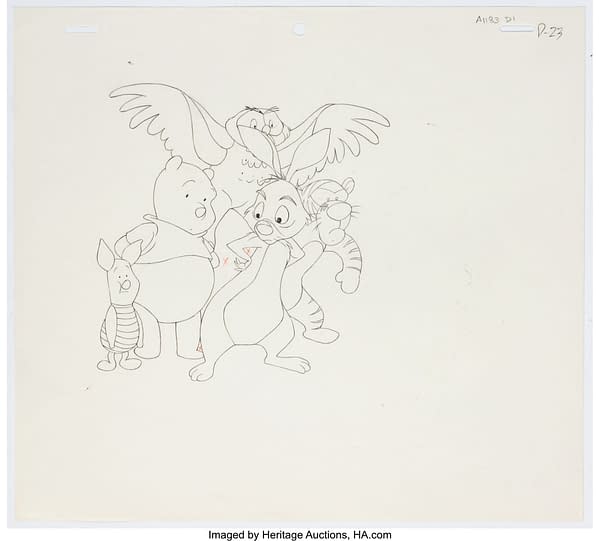 The full listing goes like this:
Offered in this lot is an adorable hand-painted production cel setup from the Emmy award-winning Disney TV series The New Adventures of Winnie the Pooh. The vertical 12 field 2-cel setup features Gopher and 3 mice who together measure 6.5" x 3". The setup is over a print background for presentation purposes. Accompanying this rare production piece is an original animation drawing of Pooh, Piglet, Rabbit, Tigger and Owl from this popular series. The 4" x 4.5" graphite image is rendered on 10 field paper and numbered D-23 in the upper right corner. Both the cel and drawing show minor handling and condition for the lot is Very Good.
Good luck to everyone heading over to Heritage Auctions to bid on this The New Adventures of Winnie the Pooh production cel!