The Sandman Audio Adapt Preview: Death's Not Happy with Her Baby Bro
With Neil Gaiman (American Gods), Dirk Maggs (Good Omens, Anansi Boys), and Audible Originals' first-ever audio production of the author's popular and highly influential The Sandman series set to premiere this Wednesday, July 15, listeners are getting a preview that introduces our ears to one of the characters that fans of the comic book have been waiting to meet: Kat Dennings' (Two Broke Girls, Thor franchise) Death. In the following preview clip taken from the chapter "The Sound of Her Wings," Morpheus aka Dream's (James McAvoy) older sister isn't too pleased with her baby brother right about now:
When The Sandman, also known as Lord Morpheus – the immortal king of dreams, stories and the imagination – is pulled from his realm and imprisoned on Earth by a nefarious cult, he languishes for decades before finally escaping. Once free, he must retrieve the three "tools" that will restore his power and help him to rebuild his dominion, which has deteriorated in his absence. As the multi-threaded story unspools, The Sandman descends into Hell to July confront Lucifer, chases rogue nightmares who have escaped his realm, and crosses paths with an array of characters from DC comic books, ancient myths, and real-world history, including: Inmates of Gotham City's Arkham Asylum, Doctor Destiny, the muse Calliope, the three Fates, William Shakespeare, and many more.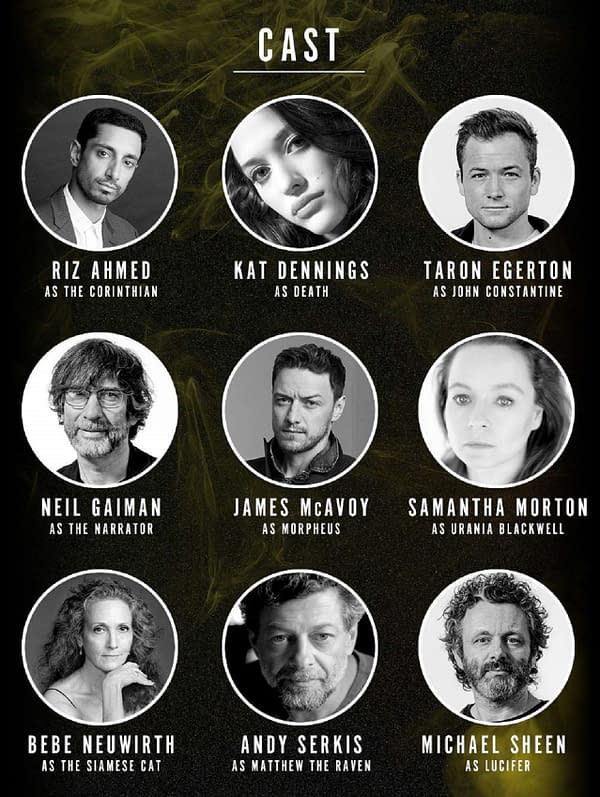 Narrated by creative director and executive producer Gaiman, the adaptation also stars Riz Ahmed as The Corinthian, Justin Vivian Bond as Desire, Arthur Darvill as William Shakespeare, Kat Dennings as Death, Taron Egerton as John Constantine, William Hope as Doctor Destiny, Josie Lawrence as Mad Hettie, Miriam Margolyes as Despair, Samantha Morton as Urania Blackwell, Bebe Neuwirth as The Siamese Cat, Andy Serkis as Matthew the Raven, Michael Sheen as Lucifer, and many more. Maggs serves as executive produces, writes, and directs, with an original score by award-winning composer and musician James Hannigan. While DC Comics' The Sandman consists of ten main graphic novels, three sequel collections, and spinoffs set within Gaiman's universe, Audible's adaptation focuses on the first three volumes in the series ("Preludes & Nocturnes", "The Doll's House", and "Dream Country").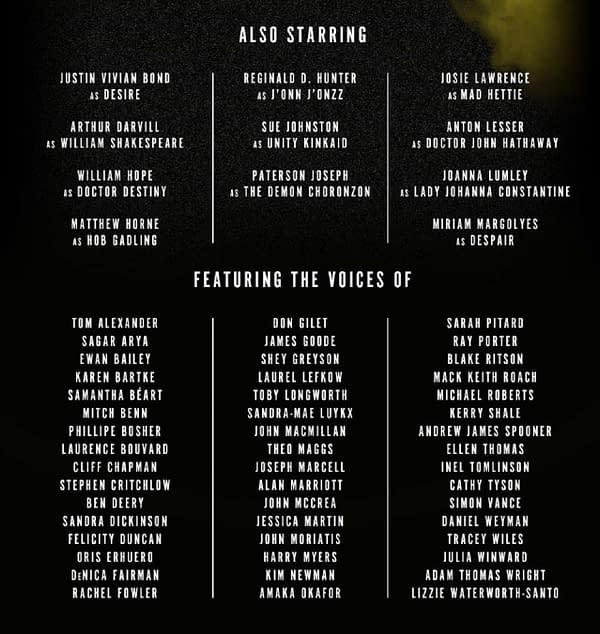 In an interview posted this week with EW, Gaiman revealed that McAvoy's performance was one in particular that stood out for him. "The biggest revelation for me was James McAvoy because we had not cast Morpheus initially. We had to start recording before we had a Morpheus. But once we did cast James, he wasn't available until I think March, so we were going to record everything without him and then put him in. Then that ended up getting delayed because the day they were meant to go into the studio, the world went into lockdown," explained Gaiman.
"So we wound up having to get recording equipment over to his place, and Dirk had to direct him over Zoom. Having said that, all these episodes that I'd heard in rough form with other people playing Morpheus hadn't worked. The moment we had James McAvoy playing him and they were cut together, all of a sudden magic was there. It was real magic, it was astonishing."