"The Sandman": Neil Gaiman on Audio Drama Cast Joining Netflix Series
With Neil Gaiman (American Gods), Dirk Maggs (Good Omens, Anansi Boys), and Audible Originals' audio drama production of The Sandman currently pleasing earholes around the world, it makes perfect sense that talk would turn towards the live-action adaptation of Gaiman's popular and highly-influential comic book series. Netflix ordered the 11-episode series back in 2019, from Gaiman, Allan Heinberg (Wonder Woman, Grey's Anatomy), David Goyer (Hellraiser, Constantine), and Warner Bros. Television Group. Since the news was first announced, we've already learned a few things about the series, like that the comic book's timeline will be tweaked to match more current times and that the team's already thinking/working in "two seasons" mode. Now, we're learning that Gaiman was taking some "notes" during Audible's recording of the audio drama to see what (and apparently who) he could bring over to the streaming universe.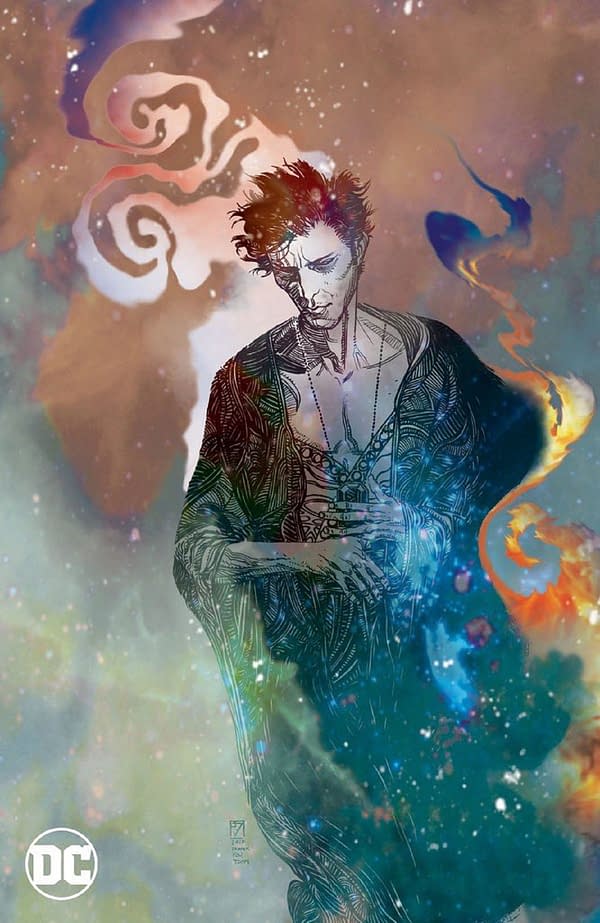 In a recent interview with Radio Times, Gaiman said that he was more than open to the idea of having members of the voice cast make the move to performing in front of the camera. In fact, he reminded us of a recent example of that very thing: "One of the joys of doing audio drama is that you get to try things out. You know, Josie Lawrence played Agnes Nutter on the BBC Radio 4 audio version of Good Omens, and I was determined that she was going to be Agnes Nutter on the telly as well, once I'd seen her do that. She never believed me. She was convinced that was the kind of thing you just say. But I went, 'No, I actually want you on the telly.'" Little did the Audible actors know they were secretly "auditioning": "So it would be definitely fair to say that I've been taking notes."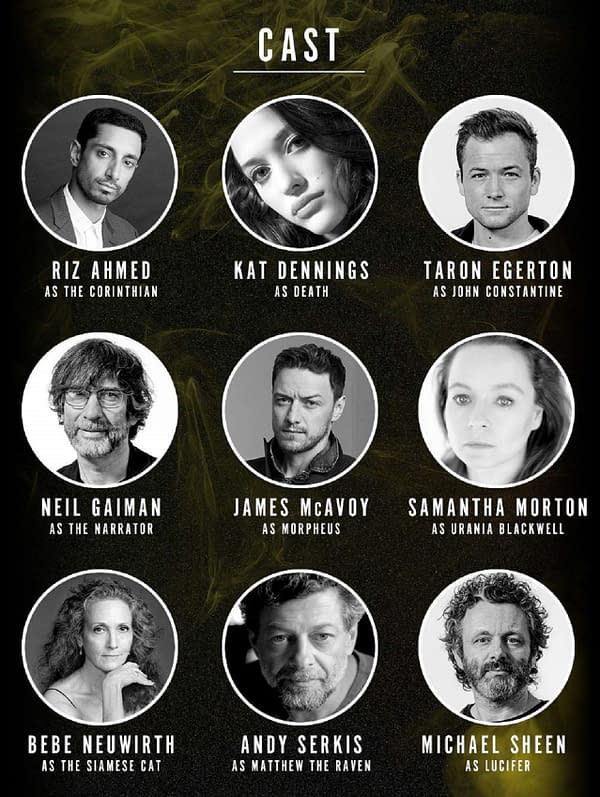 Narrated by creative director and executive producer Gaiman, the audio drama adaptation stars James McAvoy as Morpheus aka Dream, Kat Dennings as Death, Riz Ahmed as The Corinthian, Justin Vivian Bond as Desire, Arthur Darvill as William Shakespeare, Taron Egerton as John Constantine, William Hope as Doctor Destiny, Josie Lawrence as Mad Hettie, Miriam Margolyes as Despair, Samantha Morton as Urania Blackwell, Bebe Neuwirth as The Siamese Cat, Andy Serkis as Matthew the Raven, Michael Sheen as Lucifer, and many more.
Heinberg will write and serve as showrunner on the series, with Gaiman set to executive produce alongside Goyer, with both having been attached to the original New Line feature film effort. Gaiman's multi-genre tale centers on Morpheus, the Lord of Dreams, and the Endless, the powerful group of siblings: Destiny, Death, Destruction, Despair, Desire, and Delirium. Warner Bros. shopped the television project to a number of networks and streaming services – including "family member" HBO, who reportedly passed on the series based on the expected price tag attached. Netflix made the winning bid with a direct-to-series order, seeing the series as a potential "tent pole" for the streamer as Game of Thrones was for HBO.