The Walking Dead: Dead City Sees Negan as Key to Maggie Saving Hershel
With the TWD spinoff series hitting screens this June, the following teaser for The Walking Dead: Dead City offers some storyline clues.
---
Well, that didn't take long. Shortly after being treated to a behind-the-scenes look at AMC's Jeffrey Dean Morgan & Lauren Cohan-starring The Walking Dead: Dead City, we have a new promo for the upcoming spinoff series that clarifies a lot about why these two are teaming up again after all of these (show universe) years. We see that Zeljko Ivanek's character has taken Hershel, and it's pretty clear that Maggie (Cohan) sees Negan (Morgan) as they key to getting him back.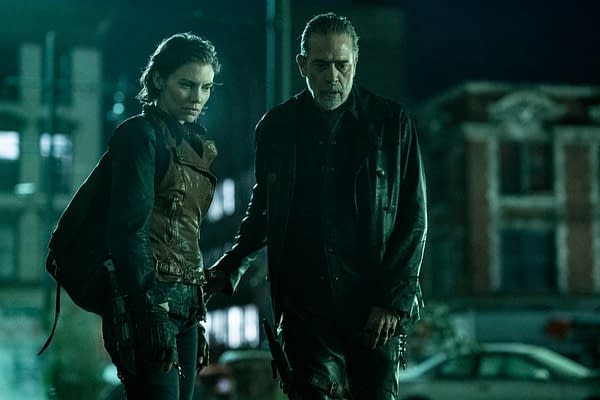 A Look at AMC's The Walking Dead: Dead City
Here's a look at the newest teaser as well as the behind-the-scenes look that was released earlier today, followed by a look back at what we know about AMC & AMC+'s The Walking Dead: Dead City so far:
AMC's The Walking Dead: Dead City follows Maggie (Cohan) and Negan (Morgan) traveling into a post-apocalyptic Manhattan long ago cut off from the mainland. The crumbling city is filled with the dead and denizens who have made New York City their own world full of anarchy, danger, beauty, and terror. In addition to Cohan and Morgan, the series stars Gaius Charles, Zeljko Ivanek, Karina Ortiz, Jonathan Higginbotham, and Mahina Napoleon with TWD CCO Scott M. Gimple, Showrunner Eli Jorné, Cohan, Morgan, and Brian Bockrath as executive producers. Now, here's a look back at the previously-released teaser as well as a look behind the scenes at the spinoff's production, with the TWD spinoff series set to hit screens beginning this June (shortly after Fear the Walking Dead Season 8 Part 1 premieres on May 14th):