"The Walking Dead" Season 10 "Lines We Crossed": Angela Kang, Greg Nicotero Craft Strong, "Spacey" Return [SPOILER REVIEW]
While the cast and crew of AMC's The Walking Dead roll along with their deep-dive production-wise on the tenth season, life in the franchise's universe has become a lot like the NFL: neither have off-seasons anymore. With a strong ensemble cast (and a "Big Bad" fronted by Samantha Morton in an award-earning turn as Whisperers leader Alpha) and richly layered writing, showrunner/executive producer Angela Kang did the near-impossible: made the show feel fresh and dangerous again.
So what's the nicest thing I can say about tenth season opener "Lines We Crossed"? How about it found a way to keep the best aspects of the series while continuing to be bold with its storytelling and how it expands the spotlight to make the series a true ensemble series – times ten! By the end of the episode, it felt like there was never a break to begin with – and that's due in large part to Kang's writing skills and Greg Nicotero in the director's chair.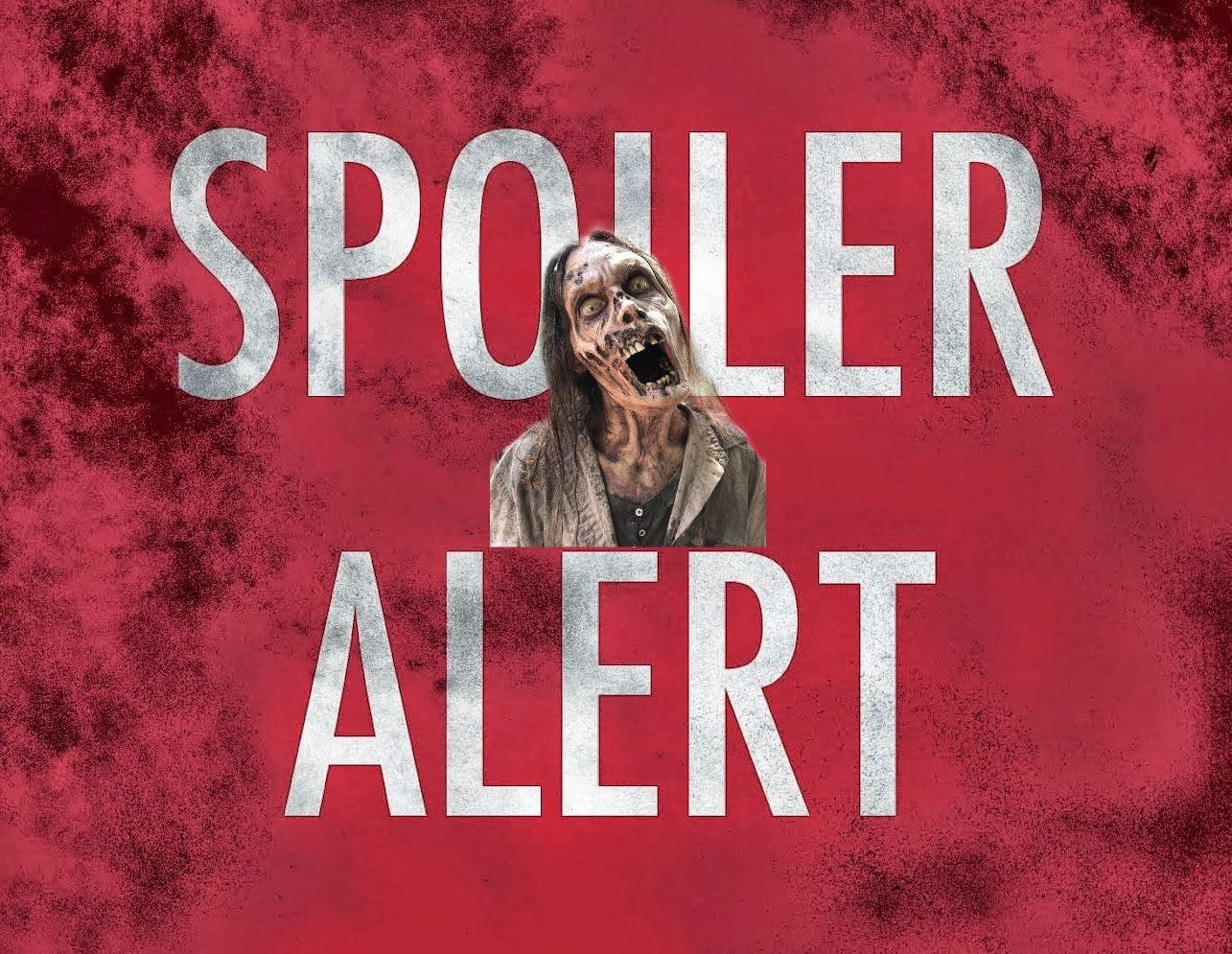 The Walking Dead season 10, episode 1 "Lines We Crossed": The Oceanside group continues to train in case the Whisperers return.
● The opener is probably the best place to start (duh – lol), but I think it best represents what the show has always been about: our heroes don't shy away from a challenge. They learn. The adapt. They survive. As much as Rick wouldn't want to see them heading back into war, he would be proud of the way they've come together (and yes, we already called out AMC for not releasing the real opener ahead of time):
● I continue to dig Luke as a character – hope that's not a death sentence for him.
● To no one's surprise, Judith proves even in these brief minutes why she's an on-screen alpha presence – from her sword action to the way she expresses a mix of emotions upon recovering a Whisperer mask.
● Let me start by getting this out of the way: it's nice have Cyndie back and I hope we see more of her.
● Having Michonne and Aaron be the ones with conflicting views on how they should approach the Whisperers is fascinating, and something I hope continues to be examined throughout the season. Aaron's debate over "hero/villain" roles is an interesting one – though considering the Whisperers left a bunch of her people's heads on sticks makes it a bit harder to get too philosophical in defending the perspectives of those who wear walker skin likes that's normal.
You know what? I'm going to go there: Aaron is like Magneto and Michonne is like Professor Xavier. Nuff said.
● That said, considering all that Aaron's lost (Eric, Jesus, Enid, etc.) and the fact that he hasn't completely lost his metaphorical shit makes his position one worth listening to. And "Fear" can be a useful motivator…
● HOLYCRAPHOWHEARTBREAKINGWASTHIS??? Okay… we got that out of our system. If "The Feels" didn't reach up and grab you during the scene where Judith tells RJ the story of Rick Grimes, then you're a heartless bastard/bastardette. Holy hell… "The Brave Man and the Walkers on the Bridge"? Really? That said, it was nice way to cement Rick Grimes' legacy without being maudlin about it – and I like the idea of Rick becoming a story that's told (at least until he returns).
● Let me be clear: I'm still not sure what I feel about the Rosita/Eugene/Gabriel/Siddiq dynamic. Actually, I kinda do: I'm not liking it – but still willing to give it some time. That said? I want better storylines for Rosita.
● I still think the PTSD that Siddiq is going through will result in us finding out that he helped the Whisperers kill the others to save his own ass – just can't shake the feeling.
● Anyone else decide if Negan sees a kindred spirit in Lydia – or as a means to an end?
● So we meet Dante… and now that we know Lauren Cohan's Maggie is set to return. Hmmm…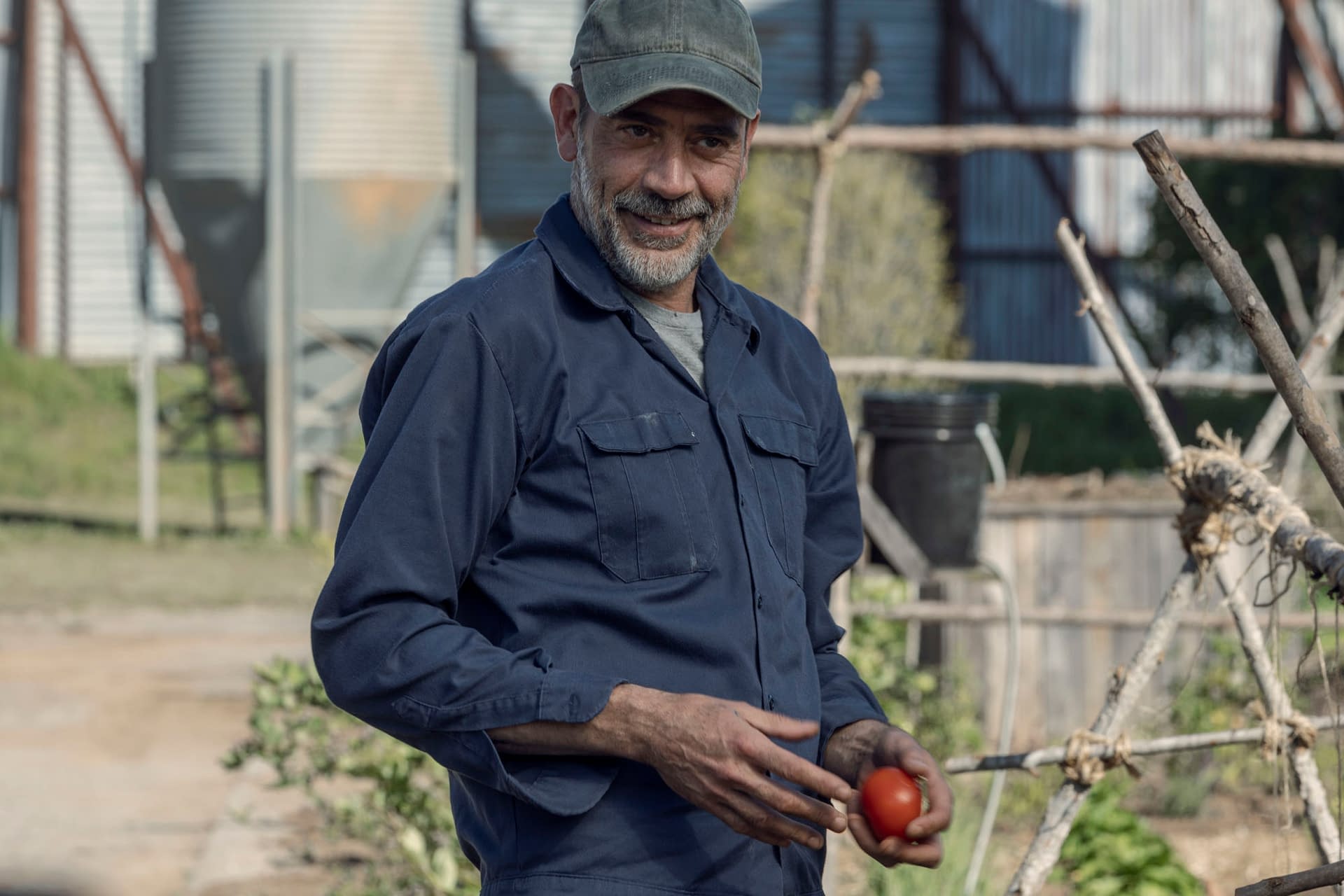 ● Negan taking on the Peter Dinklage/Game of Thrones role is one I like… but considering his backstory, it's understandable that people would be hesitant to take his advice. But his words to Gabriel were wise ones: fear-plus-large-crowds is an equation that never ends well.
● So let's talk about how Connie's also becoming one of our favorite characters. On one hand, she's there and being supportive to Kelly over her growing hearing issues. Next thing we know, she's got Daryl learning ASL while she drops flirty lines like a champ – that southern accent joke? Smooth stuff…
● I'm not sure I can look at Ezekiel the same way again – now that I know about… the birds!!!!
● Seeing the situation flipped and Daryl being the one seeking out a more reclusive Carol was a nice contrast to last season, post-Grimes. Daryl doesn't buy into Carol's bullshit any more than she buys into his – but the motorcycle ride and "for old times' sake" walker takedown was a nice reminder of how things used to be.
● Looks like the Michonne/Aaron battle of beliefs has made its way to Daryl and Carol. We're not saying Carol's still dealing with losing Henry – her want to run away to become a pirate, and have Daryl join her, and all of that screams of someone reaching out for something. If you're like us (and Daryl), you know that "something" might just be Alpha's throat.
● Wonder if AMC's The Walking Dead store already has those "Caryl" friendship bracelets for sale by the time you read this. Not judging! Just sayin'…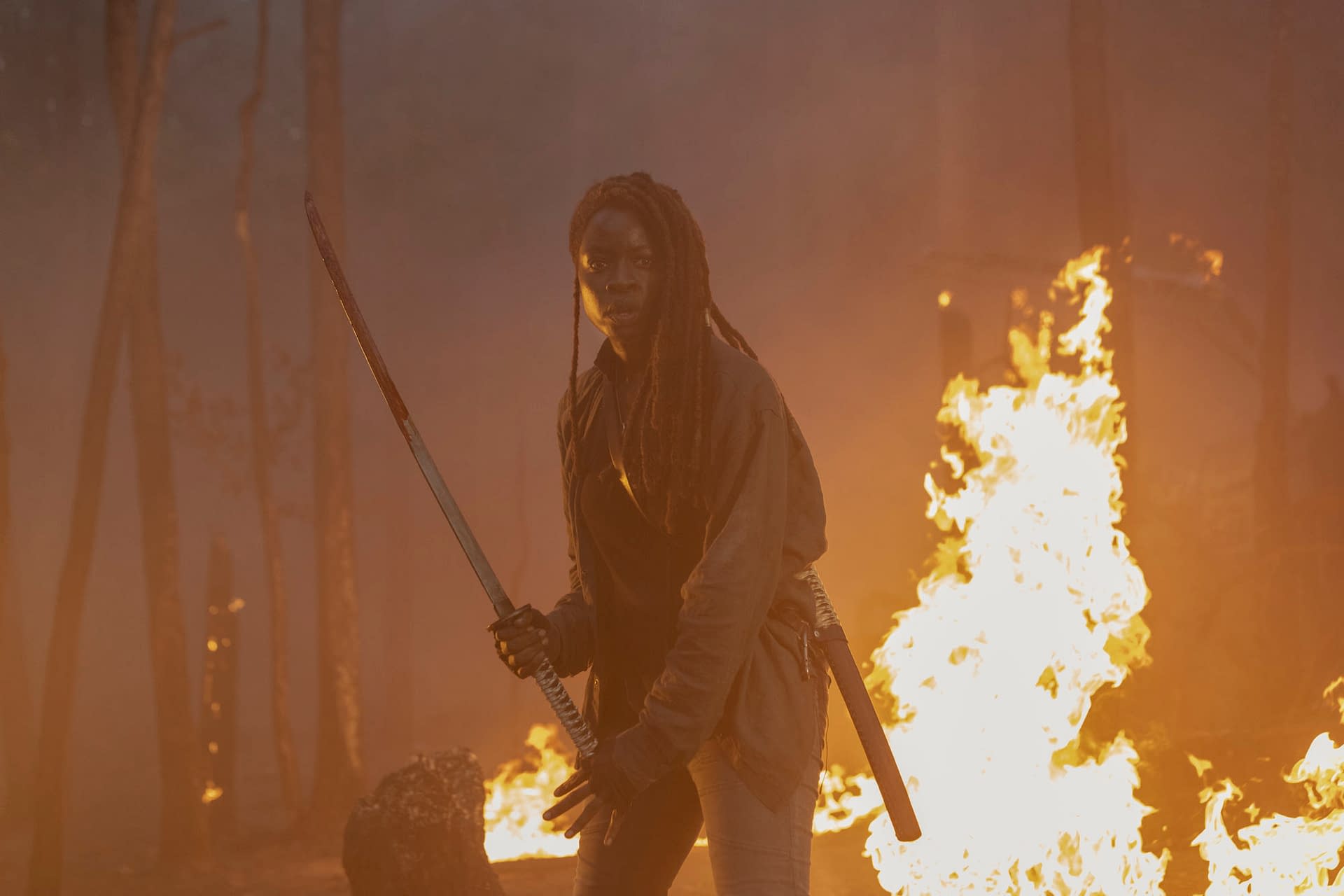 ● The scene at the satellite crash was pretty badass, and bookended the episode nicely. Total respect for what Eugene wanted to do, but yeah. It was in space. With tech he knows nothing about. And did we mention the radiation? Good call, Luke!
● And yet… after all of that bravery and heroism? They still live under the Whisperers' shadow – watching Michonne's fear over being in their territory and Aaron hoping the gesture might "appease" them was both sad and irritating – but not in a bad way. For now, he has me wanting the moment when our heroes push back… and push back hard.
● Ending the first episode with a Carol/Alpha staredown? Yeah – that's how you get us coming back.

The Walking Dead is a story that started 10 years ago with one man trying to find his family. That family grew and gradually communities took shape. They fought and survived, thrived and gave birth to a new generation. It is a tale of humankind and there are more stories to tell.
It is now Spring, a few months after the end of Season 9, when our group of survivors dared to cross into Whisperer territory during the harsh winter. The collected communities are still dealing with the after effects of Alpha's horrific display of power, reluctantly respecting the new borderlines being imposed on them, all while organizing themselves into a militia-style fighting force, preparing for a battle that may be unavoidable.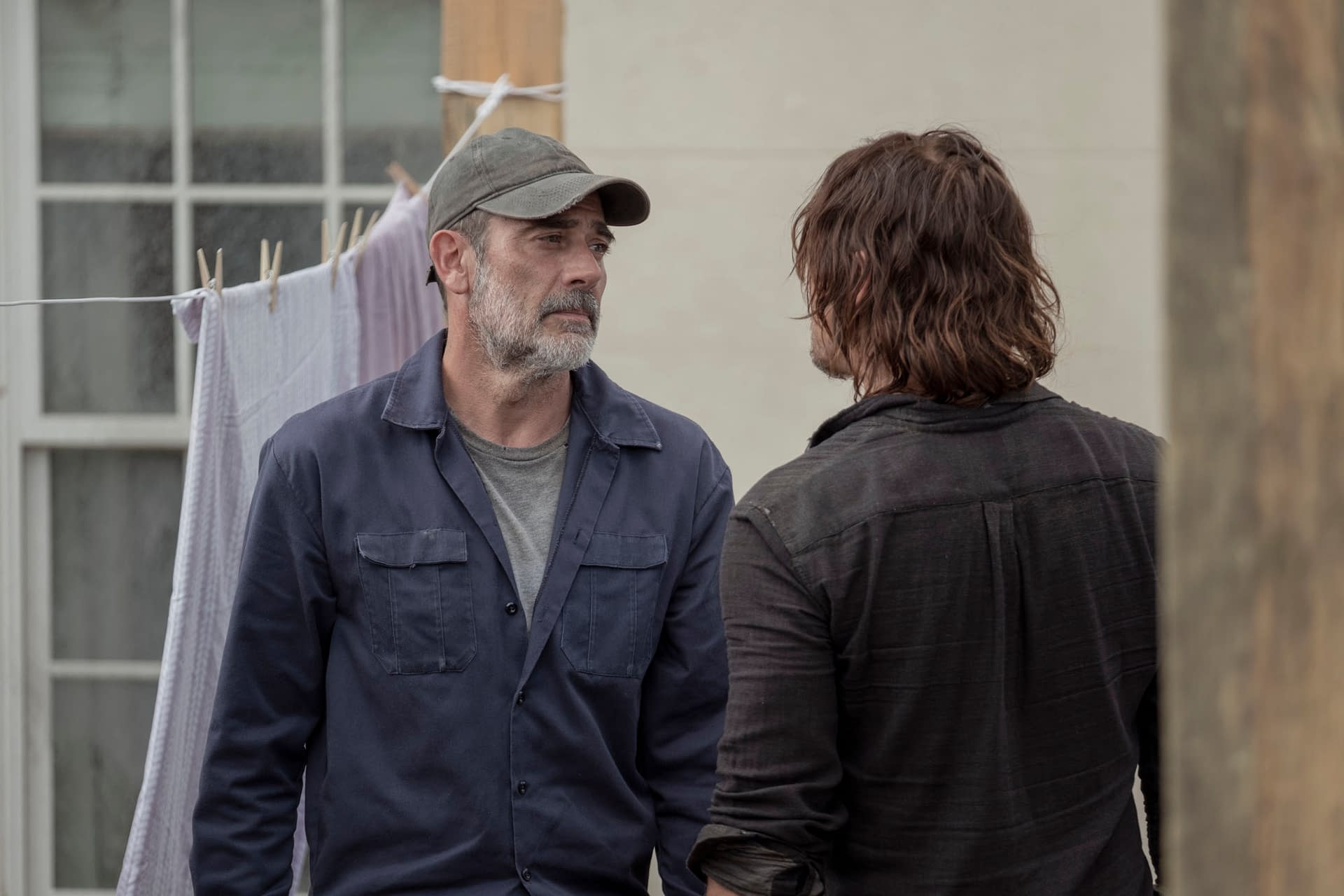 But the Whisperers are a threat unlike any they have ever faced. Backed by a massive horde of the dead it is seemingly a fight they cannot win. The question of what to do and the fear it breeds will infect the communities and give rise to paranoia, propaganda, secret agendas, and infighting that will test them as individuals and as a society. The very idea of whether civilization can survive in a world filled with the dead hangs in the balance.