Sometimes it really does take a woman's touch…
My expectations for this week's episode of AMC's The Walking Dead were pretty high, with promises of revelations and reveals to explain what drove the communities apart – and what hardened Michonne's (Danai Gurira) heart to the idea of opening up Alexandria to others. We know there was a tragic, horrific incident in the past that bonded Michonne and Daryl (Norman Reedus) – and left them with X-shaped "souvenirs" for their efforts… and their apparent guilt. But beyond the images of their scars and a few veiled references, we've pretty much been left in the dark when it comes to the specifics of what happened.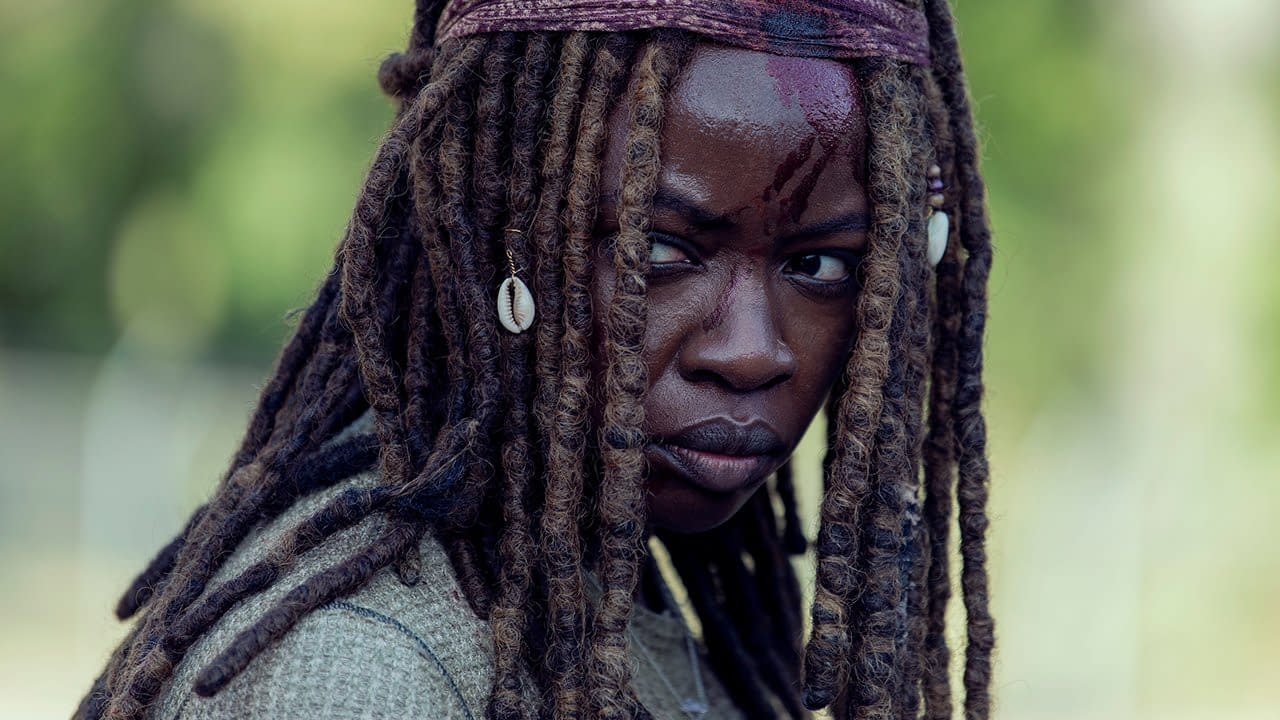 By the time the credits rolled on "Scars," not only did we have the curtain ripped back on the horrifically tragic backstory of what changed Michonne but we were also presented with what might be the best single episode of The Walking Dead in the series run – a dramatic tour de force set-up by writers Corey Reed and Vivian Tse and driven home through an Emmy-nomination worthy performance from Gurira – all under the directorial eye of Millicent Shelton and the keen guidance of series showrunner/executive producer Angela Kang.
The Walking Dead s09e14 "Scars": An outsider's arrival forces Alexandria to rehash devastating old wounds; eye-opening secrets from the past are revealed.
So with that said, let's jump into specifics:
● For a second-half season that has flowed with the themes of "motherhood" and "family," this week's episode grabbed the concepts by the throat and showed the dark side of the bonds we feel twoards those we love – and the lengths we will go to protect them. Gurira essentially played two Michonnes in this episode: pregnant and still reeling from the loss of Rick while still trying to live up to his dream; and one conditioned herself to do what needs to be done to protect the people of Alexandria – even if the Kingdom needs to fall for that to happen.
As much as that alone would be enough to demonstrate Gurira's acting prowess, it's the third Michonne that literally got me to stop typing and stare at the screen in disbelief: the post-apocalyptic Sophie's Choice no woman should ever find herself in. Still dealing with the loss of her love and facing a deep, disturbing betrayal from a "friend," a pregnant Michonne faces a group of broken children willing to murder Judith (Cailey Fleming) for their "belief" – and the only thing that can stop them is Michonne's sword.
So that's what stops them – as a mother-to-be is forced to kill children to save her child and the children of Alexandria.
There's no coming back "right" from that – there's no way you walk away "okay" and unchanged from something like that. When we look back now on how Michonne's been since the time jump, we feel almost apologetic for any ill feelings we've had towards her and her change in philosophy.
We didn't know. There's no way we could've ever known – even when we knew it was something bad. In a way, we were Judith – learning the truth and understanding why Michonne did what she did. We don't judge. We understand.
● With no disrespect to Andrew Lincoln by any means, the combination of losing Rick and the creative influence of Kang has not only contributed to a The Walking Dead "renaissance" in the quality of performances and storylines, but we've seen the show become a truly diverse ensemble cast – in particular, Kang kept her promise when it came to the increased role/presence of women in the series: Alpha, Michonne, Carol, Tara, Magna, Connie, Lydia, and the list rolls along. Kang took the vacuum created by Rick's leaving and filled it with a number of strong characters who are more than able to shoulder the responsibility – resisting the knee-jerk reaction to solely focus on Daryl, with the series all the better for it.
● Jocelyn (True Blood's Rutina Wesley) was one of the more disturbing short-term "big bads" during the series run, with a philosophy pretty similar to Alpha's (Samantha Morton). Very curious to see how Michonne reacts when she hears Jocelyn's words coming out of Alpha's mouth – and don't get me started on what Carol (Melissa McBride) is going to do when she finds out what Alpha's done to Henry (Matt Lintz).
● Only way you're not thinking Children of the Corn during this episode is if you've never read or watched Children of the Corn.
● Another example of Michonne willing to do what she needs to do to protect Alexandria…
Michonne reflects on how the past shaped her present in this sneak of a new #TWD TONIGHT! pic.twitter.com/Vs53e7KVrP

— The Walking Dead on AMC (@WalkingDead_AMC) March 17, 2019
● Speaking of Fleming… while much has been said about her scene with Daryl, it's the mother-daughter moments between Judith and Michonne that are the true highlights. The classic push-pull between mother and daughter, leading to a long-needed opening up about the past. If your heart didn't break and you didn't rock a tear when Judith screamed "Mommy!" when the walker was after her, get your pulse checked.
● Let's not forget about Jeffrey Dean Morgan, whose Negan may prove to be less Lecter-like for Michonne and Alexandria and more as a guiding "cautionary tale" for Judith – and the future. He is honest and open with Judith – even with the ugly things like the killings of Glenn and Abraham – and that's why he knows the little Grimes so well: "She'd smoke out the bullshit. You know that."
● That "hate stare" between Michonne and Jocelyn was insane, and told us everything we needed to know about Michonne's mindset in that moment.
After an intense hour like that, I can't even imagine what's in store for next week's season 9 penultimate episode "The Calm Before"… but the following promo doesn't signal anything good:
The Walking Dead s09e15 "The Calm Before": The fair at the Kingdom is underway, with all four communities coming together in celebration for the first time in years; while some pacts are renewed, other deals will come at a much steeper price. Directed by Millicent Shelton, and written by Corey Reed and Vivian Tse.
AMC's The Walking Dead airs Sunday nights at 9 p.m. ET.