"This Is Us" Season 4 Debuts Perfect "Strangers," Makes Big Splash with "The Pool: Part Two" [SPOILER REVIEW]
Fans have a lot to digest after the first two season 4 episodes of NBC's This Is Us. Creator Dan Fogelman promised epic surprises as this world expands to include new characters. Although "Strangers" did not deliver quite the shocking twists I expected, it did successfully set the stage for an intriguing new season.
Meet the Parents
I'm going to start with my favorite part of the premier, when Jack (Milo Ventimiglia) first meets Rebecca's (Mandy Moore) parents (Tim Matheson and Elizabeth Perkins) and – wait for iiiit – his BFF Miguel (Jon Huertas)!
Dare I say, this might have been more surprising than the new character reveals. I always assumed Jack and Miguel became friends at work, but this meeting is so much sweeter. It shows how Miguel has had Jack's back from the second they met and how he has always been there for Rebecca – even when she didn't know it. *Sigh*
For the record, Jack makes an excellent first impression on Rebecca's parents. He says all the right things and handles their uncomfortable rudeness with grace. Yet her father pulls him aside and says he is not good enough for Rebecca. How DARE you!
Consider the gauntlet thrown because I expect that jerk to get his comeuppance at some point this season (other than Rebecca marrying Jack regardless of what her parents think.) Right?
Now, let's meet the newbies…
The Son Also Rises
An adorable love story unfolds with one of the new characters teased in the Big Three's Birthday surprise promo. We watch as a remarkable young man (Blake Stadnik) navigates through his daily life without letting his visual impairment (twist 1) hinder his hopes and dreams. His meet-cute with Lucy (Auden Thornton) in the diner feels like a page torn from the Pearsons' playbook.
All the signs of his identity are there from the start. He is charming and sincere like Jack. He's a musician and loving dog owner like Kate (Chrissy Metz) and Rebecca. He's funny and thoughtful like Toby (Chris Sullivan). Even from the first promo, I knew this guy was going to be grown-up "Baby Jack" (twist 2). What I couldn't tell at the time is that he'd be blind.
After suffering through the tragedy of miscarriages and fear of losing their premature baby, Toby and Kate will now need to learn how to raise a son who will never be able to clearly see their loving faces. The most young Jack can see are shadows, but that won't prevent him from feeling their love and living a fulfilling life – as we see in the premier.
"The Pool: Part Two" beautifully reveals how Toby and Kate cope with the curveball that comes with Baby Jack's miraculous birth. Rebecca, Miguel, Kevin (Justin Hartley) and Madison's (Caitlin Thompson) support is profoundly heartwarming. Everyone is emotional except for Kate. She dove right into Mama Bear mode and a part of her is in denial until she hears herself.
This Is Us is at its best in these moments. Kate is excited to share a family tradition with her son, she even bought the best TV so they can watch the Steelers together – just like she did with her dad. Except Baby Jack won't be watching the game. Finally the tears start flowing and she needs a moment alone.
After some reflection and overhearing Kevin's not-so-secret confession to his nephew, Kate takes a new approach. Instead of focusing on all the things Baby Jack can't do and freaking out, they are going to focus on his hopes and dreams.
She doesn't want to blind-proof the house and worry about what Baby Jack can't do. Instead, the Pearson and Damon family will support and celebrate everything Jack can and hopes to do. Flashforward to Jack getting married and taking the stage as a singer-songwriter. *Goosebumps*
Wounded Warrior
Cassidy Sharp (Jennifer Morrison) returns home from war as a wounded vet, although you couldn't tell that just by looking at her. She feels disconnected from the husband -Ryan (Nick Wechsler) – and son she deeply missed.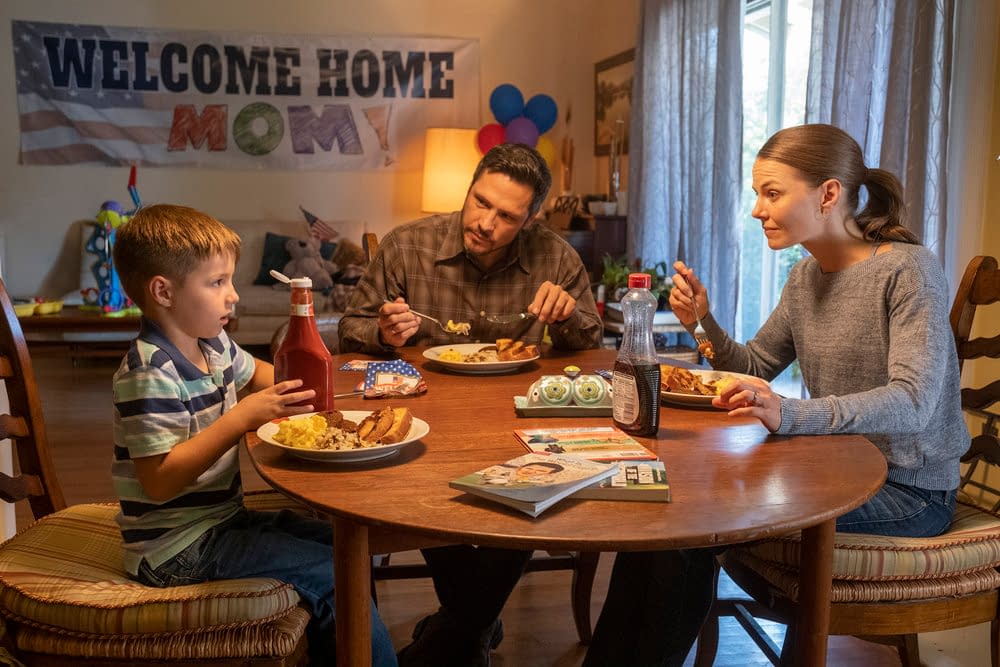 Drinking doesn't numb the pain, it only pushes her family away. Haunted by the past and absent from the present, Cassidy seeks help. Between the suppressed war stories, alcoholism and violent outbursts – we are getting some serious Pearson family vibes. The parallels are eerie. She even feels responsible for the death of an innocent. Collateral damage in war has a ripple effect and this one spans generations. As if that isn't suspenseful enough – this happens!
Is Cassidy Sharp related to Uncle Nicky (Griffin Dunne)? Just because he's been living like a recluse in his trailer doesn't mean that he never had relationships. Cassidy could be his daughter. Unless my original hunch proves to be true…
Kevin meets Cassidy in the third episode. I know, she's married to Ryan. But still. Should we be on love interest alert? Like Cassidy, he's taking great strides to stay sober and be truly present for his family.
As we learn in the second episode, Kevin has been self-aware since a young age. After taking joy in embarrassing his brother, he thinks about his actions and asks Jack if he's a good person. I'm not going to lie, I've spent most of the series mad at Kevin because of his selfishness. But he does check and correct himself so that he can be there when it counts.
He desperately wants to be there for Kate and Baby Jack as we saw in the clip above. He's taking recovery very seriously and doesn't want to slip up this time. The way Kevin cares for that incredibly symbolic plant made me think of this scene from 28 Days:
It's funny because it is so true. Anyhoo, back to the main point…
It might be strange to have two conflicting theories and I really hope to get concrete answers sooner than later. Either they'll be cousins, lovers, or just sympathetic friends who have a lot in common. Although I can't think of any female friends Kevin hasn't slept with. Hell, even cousins if you count Beth's (Susan Kelechi Watson) family – jk! (sort of).
Puppy Love
We learn a lot about young Malik Hodges (Asante Blackk) as he and his family is introduced to the narrative. His father Darnell (Omar Epps) is trying to do right by his son, who turns out to be a dad himself.
Malik must learn how to navigate fatherhood and work ethic with still being a fun-loving teenager. His mom wants him to stay home and take care of his baby, but Darnell knows the importance of reconciling roles as father and child. There are times he needs to be a kid and this BBQ is one of them. Turns out to be fateful event too!
Malik meets Deja (Lyric Ross) and we ship them from the start. We have to! Clearly he's a crucial part of her story. I also noticed the Pearson bumper sticker on Darnell's car, so I have a feeling he'll be excited to meet Randall (Sterling K. Brown).
We see another parallel between these youngsters. Deja has lived on the streets and knows how to tough it out but Randall doesn't want his daughter to be in any danger. While the family settles into Philly, they reach a new milestone and share a cherished tradition.
From grown-up haircuts to riding the bus, we see generations of Pearsons striving to come into their own as teenagers aspiring to be young adults.
This Is Us Season 4 is off to a gripping and goosebump-making start. I'm on the edge of my seat, waiting to see what comes next. Judging from the promo for "Unhinged" and Entertainment Weekly's sneak peek of Timothy Omundson's debut – we are due for an overload of feels galore!
https://youtu.be/oP5nzCTQCcE
Sullivan must be relieved to finally shed the fat suit, but my main concern is – how did Kate not notice that her husband was getting ripped? Hot Damn, Toby!
NBC's This Is Us airs Tuesdays, at 9 p.m. ET/8 p.m. CT.